Summer Recipe Roundup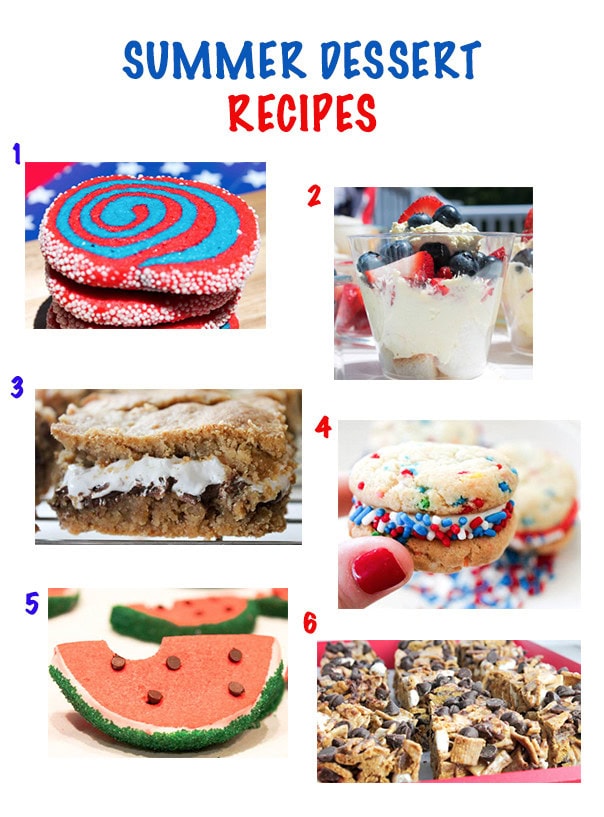 I often get asked for my recommendations of recipes to bring to summer BBQs and cookouts. So I've round up a few of my favorite go-to summer recipes from the archives. From gooey s'mores bars to no-bake treats and a few patriotic desserts to go with your red-white-and-blue theme this fourth, I've got you covered with some delicious recipes this summer!
1. Firework Pinwheel Cookies – These are the perfect cookie for a July 4th dessert table. They are a bit more time consuming to make, as they require being rolled and frozen before slicing them, but they will stay really well on an outdoor picnic table. You can change the flavor of these by substituting water melon extract in place of the vanilla extract for an extra summery taste.
2. Summer Berry Fruit Trifle Cups – I have been making a variation on this recipe for years. What started out as a recipe for fruit dip by mixing instant vanilla pudding powder with milk and vanilla, I've upped the ante on a traditional trifle with fresh summer berries, light angel food cake and vanilla cool whip. You can serve this individually, deconstructed, or in a large trifle bowl. If you're heading to a picnic, check out my tips in this recipe with OXO storage containers on how to prep in advance.
3. Peanut Butter S'mores Bars – THESE are my FAVORITE thing to eat ever. Hands down. Winter, spring, summer or fall. You can make a non-PB variation too with this recipe, but if you're a peanut butter and s'mores lover, this is the recipe for you. These are wicked easy to make with some peanut butter cookie dough, marshmallow fluff and Hershey's chocolate bars. They also get better as they warm up outside, and are all ooey-gooey with chocolate, peanut butter and marshmallow goodness. I'd say they stay fresh for a few days, but I've never seen them last longer than a few hours!
4. Mini Patriotic Funfetti Sandwich Cookies – Funfetti Cookies are my go-to for any party, but I love that these are mini and very patriotic for the fourth. And like any good Funfetti recipe, these are ready to go in less than an hour, very easy to transport and will be a crowd pleaser no matter who the group is. You can keep this simple by just having vanilla frosting, but if you're feeling extra red-white-and-blue then grab some food coloring to get your America on.
5. Watermelon Sugar Cookies – I've been meaning to re-make these for the blog, since these were done in the early days before I knew how to take proper photos. Nevertheless, these cookies are both delicious and adorable. They take a little more patience than most of my cookie recipes, but the watermelon extract will definitely surprise people when they bite into a cookie that not only looks like a mini watermelon, but tastes like one too! I'd recommend making these a day in advance if you're going to bring them to a cookout.
6. Indoor S'mores Bars – Last but not least, this no-bake treat is the s'mores version of a Rice Krispie treat. Using Golden Grahams cereal, melted marshmallows and chocolate chips, this recipe is simple to make and doesn't require you to turn the oven on in the hot summer. This is my go-to recipe if I am making something last minute or need something that will last outdoors for a while. The ooey-gooy'ier the BETTER with these marshmallowy treats.
Going through all of these recipes from the archives has given me lots of inspiration for new recipes this summer, so stay tuned!