Bakery Style Peanut Butter Cookies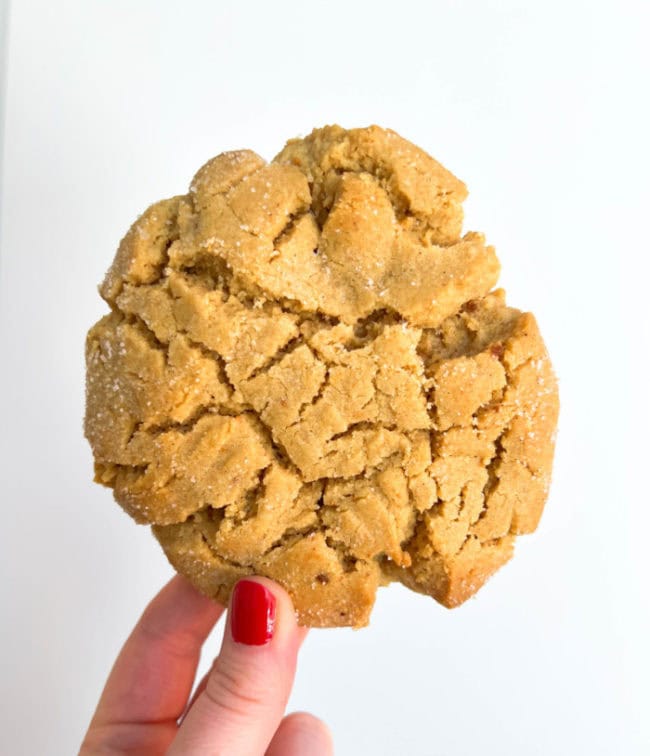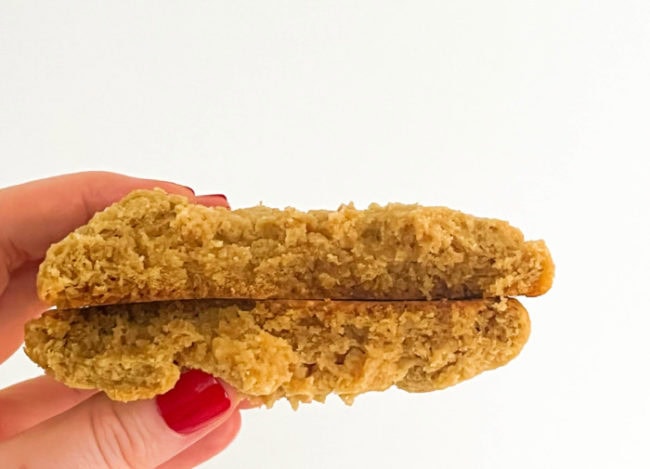 I have been very into extra large bakery style cookies ever since visiting a Levain Bakery in NYC over the summer. Their giant chocolate chip cookie was one of the best cookies I've ever had, and I cannot wait until the Levain Bakery opens in Boston later this year.
Last week Cookies & Dreams sent me a box of their giant bakery style cookies just in time for Boston getting 2+ feet of snow. Their giant peanut butter cookie was SO delicious that I just knew I had to try to make a version myself. These Bakery Style Peanut Butter Cookies were even taste tested and approved by my pregnant across-the-hall neighbor.
If you wanted to add a little extra texture to these, you could also add in a 1/2 cup of chopped peanuts or 3/4 cup of peanut butter chips. Otherwise they are delicious just as is if you follow the recipe.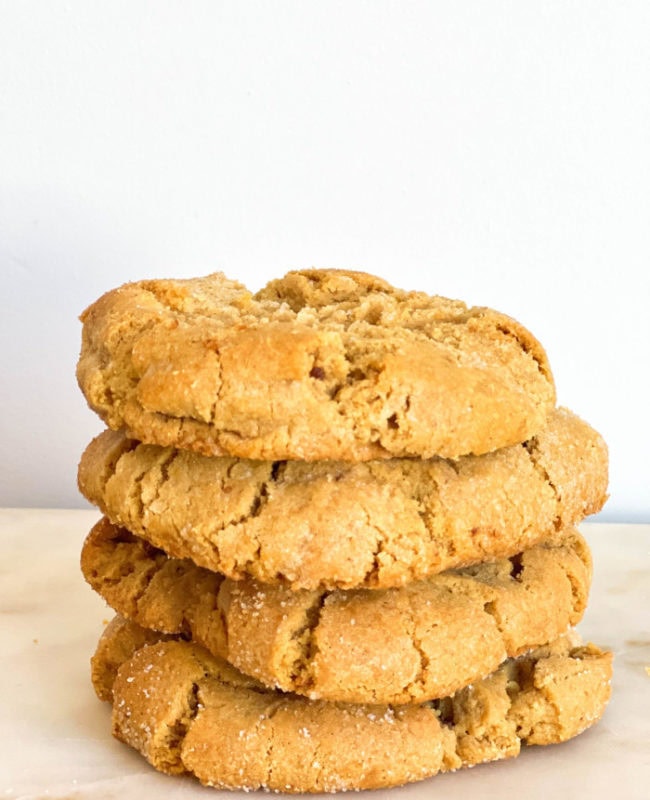 I'm so excited to participate in this Valentine's event (again). This is the sixth year for our event and we want to continue to make a difference in the fight against pediatric cancer. Cancer is the #1 cause of death of children by disease in the U.S. There are 40,000 U.S. children actively battling cancer right now. The National Cancer Institute's budget for childhood cancer is less than 4%. It's such a small number and that's why I got involved.
And with the ongoing pandemic, children are still being diagnosed with cancer. It's imperative that we raise awareness and continue to raise funds to fund the ongoing pediatric cancer research!
Our goal is to raise at least $3000. Because these three companies: OXO, Mediavine amd Dixie Crystals have each pledged to match our donations raised through this campaign up to $3000! That means when we raise $1, it turns into $4!
Thank you to so many of you who have already donated, please help us reach our goal so we can get the full matching donations and help us make an even huge difference! Donate here today.
I hope you enjoy these cookies and help us make a difference by donating to Cookies for Kids' Cancer!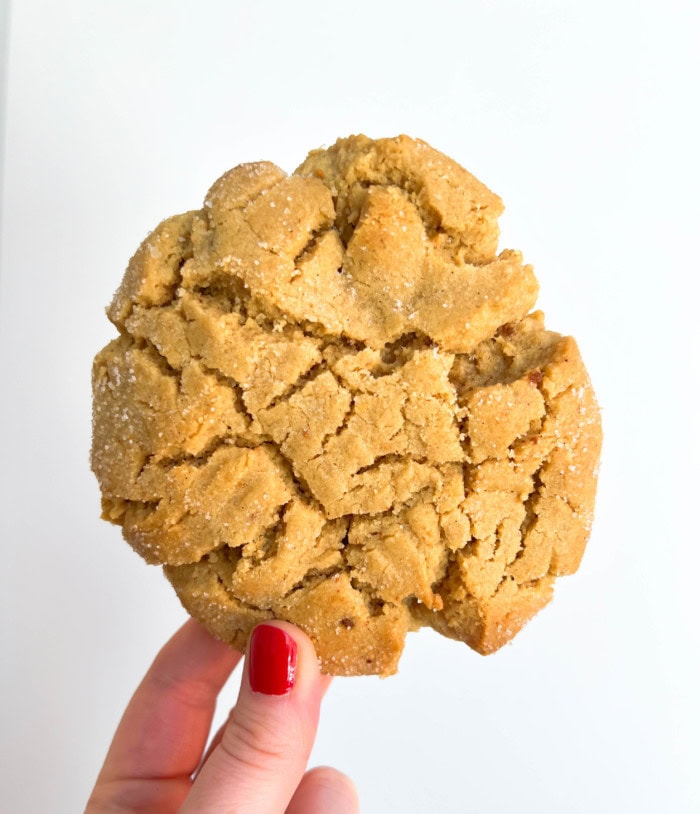 Yield: 12 Large Cookies
Bakery Style Peanut Butter Cookies
Total Time
2 hours
33 minutes
These bakery style peanut butter cookies are oversized, sweet, salty and absolutely delicious.
Ingredients
1 cup butter, softened
1 1/2 cups peanut butter (do not use natural PB)
1 1/2 cups light brown sugar
1/2 cup granulated sugar
2 eggs, room temperature
1 teaspoon vanilla bean paste (or extract)
1 tablespoon milk
2 teaspoons baking soda
1 teaspoon baking powder
1 tablespoon cornstarch
3 1/2 cups all-purpose flour
Extra granulated sugar for rolling
Instructions
Cream together the butter, peanut butter, brown sugar and granulated sugar in a large mixer.
Slowly beat in the eggs, vanilla bean paste and milk until combined. Scrape down the side of the bowl before adding the dry ingredients.
Sift together the flour, baking soda, baking powder and cornstarch. Very slowly with the mixer on the lowest speed add in about a half cup of the dry ingredients at a time, continuing to mix just until they are fully incorporated.
Cover the bowl in plastic wrap and chill for at least 2 hours.
Preheat the oven to 350 degrees F and line 3 baking sheets with parchment paper or sil-pats.
Using a large cookie scoop, divide the dough into about 12 even-size extra large balls of dough (about 1/4 cup each). Roll them into smooth round balls and then roll in a bowl of granulated sugar to coat.
Place the cookies at least 2 inches apart on the baking sheets and lightly press down with a fork twice, making a criss cross pattern on the top. These are thick cookies so you don't need to press down too hard.
Bake at 350 degrees for about 16-18 minutes, until the edges are lightly golden. Remove the cookies on the oven and let them finish setting on the tray for about 5 minutes before transferring to a wire rack to finish cooling. Enjoy!
Make sure to check out all of the great recipes as part of this Valentine's day event!
Heart Shaped Thumbprint Cookies from Julie of The Little Kitchen
Red Velvet Cheesecake Swirl Brownies from Melissa of Persnickety Plates
Little Debbie Strawberry Shortcake Rolls Ice Cream from Rose of Rose Bakes
Salted Dark Chocolate Pistachio Cookie Bars from Jessica of A Kitchen Addiction
Red Velvet Swirl Cheesecake Brownies from Julie of Back To My Southern Roots
Dark Chocolate Covered Strawberry Latte from Lisa of Taste Cook Sip
Chocolate Valentine's Day Cake for Two from Faith of An Edible Mosaic
Chocolate Petit Fours from Carlee of Cooking With Carlee
Iced Sugar Cookies from Nina of Crazy for Cookies and More
Valentine's Fudge from Raquel of Organized Island
Pink Gin Fizz from Caroline of Caroline's Cooking
Cherry Chocolate Chip Cake from Stefanie of Stef's Eats and Sweets
Flourless Chunky Peanut Butter Blossoms from Colleen of Faith, Hope, Love, & Luck Survive Despite a Whiskered Accomplice
Valentine's Day Oatmeal M&M Cookies from Kelly of Kelly Lynn's Sweets and Treats
Gluten free peanut butter cookies from Holly of A Baker's House
Gluten Free Vanilla Cake with Pink Buttercream Frosting from Elaine of Small Farm Big Life
Small Batch Chocolate Chip Cookies from Courtney of Courtney's Sweets
Small Batch Chocolate Cupcakes from Lisa of Blogghetti
Valentine's Day M&M Cookie Bars from Jaclyn of Crayons & Cravings
Red Velvet Baked Doughnuts from Sue of It's Okay to Eat the Cupcake
Soft Iced Pumpkin Cookies from Laura of Untwisted Vintage
Guava Pink Peppercorn Margaritas from Courtney of Cook Like a Champion
Sugar Cookie Cups from Kelsey of Dance Around the Kitchen
Chewy Buckwheat Chocolate Chunk Cookies with Sea Salt from Lisa of Garlic & zest
Shortbread Hearts of Love from TammyJo of The Chocolate Cult
Valentine Sugar Cookies from Gwynn of Swirls of Flavor
Rhubarb Raspberry Tart from Betsy of The JavaCupcake Blog
Sugar Cookie Cups from Kelsey of Dance Around the Kitchen
Best Stout Beer Tiramisu from Linda of Ketchup with Linda
Creamed Chipped Beef from Rebekah of Kitchen Gidget
Bakery Style Peanut Butter Cookies from Becca of The Salted Cookie
Candy Trains from Sarah of Sarah Cooks the Books
Star Wars Grogu Heart Cookies to Support Cookies for Kids Cancer from Jenn of justJENN recipes
Peanut Butter Buckeyes from Nicole of For the Love of Food
Heart Meringues Recipe from Jennifer of The Rebel Chick
Rye Bourbon Dark Chocolate Chunk Cookies from Erin of The Spiffy Cookie