Oatmeal Butterscotch Pecan Cookies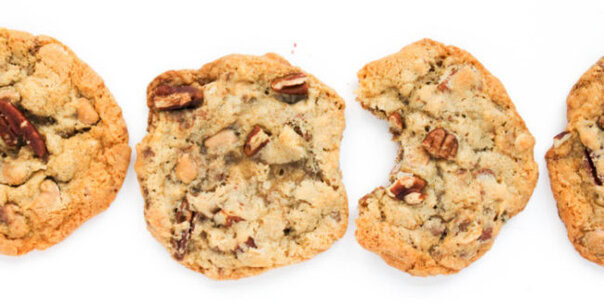 Recipe ideas come from all over. Sometimes I'm inspired by seasonal flavors. Or a dessert at a restaurant sparks an idea. Most times my recipe inspiration comes from whatever is on sale in the baking aisle at Target. But the inspiration for these Oatmeal Butterscotch Pecan Cookies is simple: I needed to clean out my baking cabinet. I had a few half opened bags of different things, and containers that only had a few scoops left in them, so I decided to kill two birds with one stone by organizing my baking cabinet and making a new recipe at the same time. And that's how these surprisingly delicious southern beauties were born.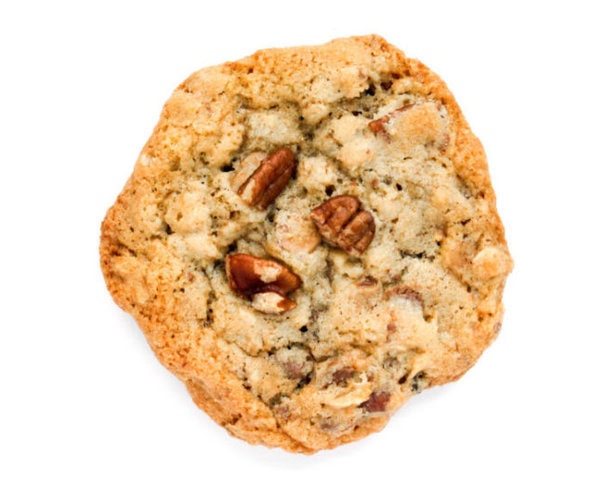 I'm not going to argue with the Bill Nye's of the world that there is some science that goes into baking. BUT, I am a firm believer that baking is not as hard as everyone else makes it seem. I have a lot of people tell me they prefer cooking over baking because they can just throw a bunch of things into a pan and it turns out alright. Well, that's pretty much my approach to baking. I have a few good base cookie recipes down in my head and then I just try different ingredient combinations. Sometimes they turn out meh, but for the most part they are usually all pretty good. Can't go wrong with that salty sweet synergy my friends.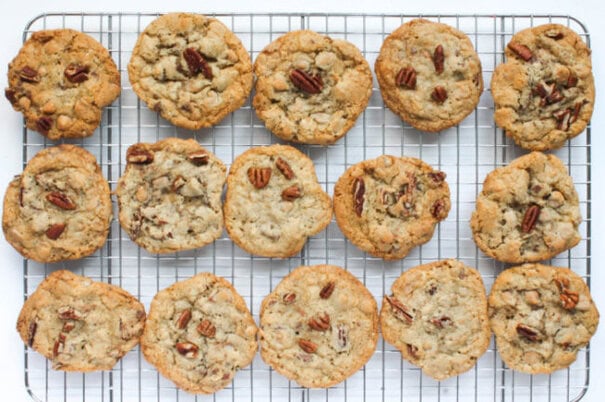 Like in this recipe for example. I wanted to put in baking powder. But then I accidentally put in baking soda instead. So I just added a half teaspoon of baking powder, and they turned out just how I wanted them. Happy accidents. Maybe that should be the title of my first cookbook. I have learned that you do need to achieve a decent ratio of cookie dough to add-ins, to make sure that it sticks together enough to form a cookie when baking.
Whenever I bake cookies with nuts in them, I like to save at least a half a cup to the side to put on top before baking. This usually results in your kitchen smelling absolutely amazing, and the nuts to get all nice and toasty and crunchy. In my opinion, the best cookies are crunchy on the outside while still soft and chewy on the inside. And that's what these cookies are perfectly.
So the next time you find yourself with a bunch of half-opened bags of ingredients in your baking cabinet, try out these base cookie recipe and mix in your add ins! Or if you're a by-the-book-baker, grab some pecans, oats, toffee bits and butterscotch chips to whip up these Oatmeal Butterscotch Pecan Cookies. Enjoy y'all!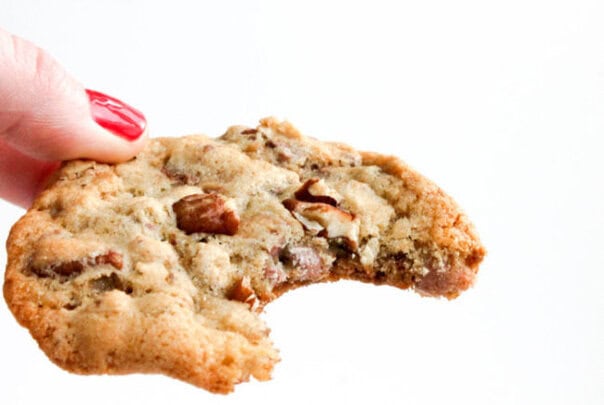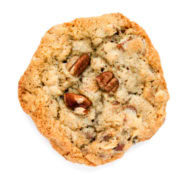 Oatmeal Butterscotch Pecan Cookies
Yield: 36 Cookies
Prep Time: 10 Minutes
Cook Time: 25 Minutes
Total Time: 35 MInutes
This recipe was born out of a bunch of half-opened bags of ingredients left in my baking cabinet, and the result was a delicious treat!
Ingredients:
3/4 cup butter, softened
3/4 cup granulated sugar
3/4 cup light brown sugar
2 eggs
1 1/2 teaspoons vanilla extract
2 cups all-purpose flour
1 teaspoon baking soda
1/2 teaspoon baking powder
1/2 teaspoon salt
1 cup old fashioned oats
1 cup butterscotch chips
1 cup toffee bits
1 cup pecan pieces
Directions:
Preheat the oven to 350 degrees F. In a large mixing bowl beat together the butter and sugars. Mix in the eggs and vanilla extract and beat until creamy. Scrape down the side of the bowl with a spatula before adding the dry ingredients.
In a separate bowl mix together the flour, baking soda, baking powder and salt. On a low speed, slowly mix the dry ingredients into the batter just until incorporated. Add the oats and mix on a low speed until evenly distributed.
Fold in the butterscotch chips, toffee bits and pecan pieces.
Use a medium cookie scoop to place even-size balls of cookie dough on a sil-pat or parchment lined baking sheet, making sure to leave at least an inch and a half between cookies as these will spread. Bake at 350 degrees for 12-14 minutes, or until the edges are lightly golden.
Let the cookies set on the baking sheet for a few minutes before transferring to a wire rack to finish cooling. Enjoy!