Funfetti Sprinkle Cookies
What the world needs now is Funfetti cookies. Clearly Nestle knew that because this summer they released vanilla cake flavored Funfetti morsels to allow us all to jam in more Funfetti flavor than we ever thought humanly possible. And damn they are delicious. These Funfetti Sprinkle Cookies are soft and chewy with a delicious cake like flavor, and lots of jazzy rainbow sprinkles.
I have been a Funfetti aficionado since the third grade. That's a long time ago. Like 1995 I think. Damn I'm old. Anyway, my mom discovered the hidden gem of Funfetti at one of those elementary school citizen assembly after party things where parents have to bring baked goods, or at least take some Oreos out of the packaging and put them on a nice doily. So one mom had made Funfetti Cookies which won the Pillsbury bake-off in 1990, and they were so good all the moms ate them and hid them from the kids. I can't blame them. Anyway, let me tell you a few things about the OG Funfetti cookies.
The best thing about the frosted Funfetti cookies is that they are ready start to finish in LESS THAN 30 minutes. Love this. I don't enjoy anything that takes me more than an hour to make, so Funfetti cookies are my spirit cookie. And for someone who dislikes cake, but likes frosting, those cookies are AH-mazing. My mom always taught us to never show up anywhere empty handed, so whenever I went to a friend's house or had friends come over last minute, I'd whip up a batch of Funfetti cookies. It's how I made friends as a child, and now as an adult. I've always been super cool, clearly.
So when I saw that Funfetti was making a vanilla cake flavored chip, my brain exploded a bit. Can the world handle that much Funfetti flavor? CAN I HANDLE IT? So I tested this recipe a few times until I felt like it was just perfection. And these are so so good. And easier to transport than the OG frosted version, but still made in pretty much record time. I made the final tweaks on the recipe on Halloween and then tested them on my next door neighbors, who ate about six of them in about 10 minutes. I found these chips at my local Stop & Shop when I went one morning before work to buy Broccoli and came out with six bags of these (true story). They are also available at some Target stores as well.
So if you're a Funfetti stan, or just love vanilla cake but want a quick and easy to transport version of that in cookie form, whip up a batch of these Funfetti Sprinkle Cookies and enjoy!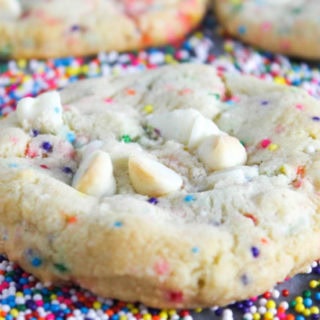 Yield: 32 Cookies
Funfetti Sprinkle Cookies
These cookies are packed with Funfetti chips and lots of colorful sprinkles.
Ingredients
1 cup butter, softened
1 1/4 cups granulated sugar
2 teaspoons vanilla extract
1 egg
2 ½ cups flour
1 tablespoon cornstarch
1 teaspoon baking soda
½ teaspoon baking powder
½ teaspoons salt
½ cups Rainbow Jimmie Sprinkles or 1/2 cup rainbow nonpareils
1 ½ cups Funfetti chips
Instructions
Preheat oven to 375 degrees and line your baking sheets with parchment paper or sil pats and set aside.
In a large mixing bowl, beat together the softened butter and sugar until it starts to get fluffy. Scrape down the sides of the bowl.
On a medium speed slowly beat in the egg and vanilla extract until well mixed.
In a separate bowl, sift together the flour, cornstarch, baking soda, baking powder and salt. On a slow speed, slowly mix the dry ingredients into the batter just until incorporated.
Fold in the sprinkles and Funfetti chips until evenly distributed.
Use a medium cookie scoop to place even-size balls of dough at least an inch and a half apart on your prepared cookie sheet. Press a few of the remaining Funfetti chips on top of the balls of dough.
Bake at 375 degrees for 11-13 minutes, or until the edges are lightly golden. Let them sit on the baking sheet for five minutes before transferring to a wire rack to finish cooling. Enjoy!