Peanut Butter S'mores Bars
For some reason, every time I think of s'mores all I can think of it is a bunch of people with picket signs chanting "What do we want? S'MORES! When do we want them? Now!" Is that weird? I mean honestly though, have you ever met anyone that you like who doesn't like s'mores? Probably not because S'mores are just about as American as baseball and apple pie on the fourth of July. And who can forget that scene from the Sandlot where Smalls doesn't know what a s'more is and the other kid says "You're killing me Smalls!"
I've loved s'mores since I was just a little teeny thing down the Cape.  Not surprising at all, but that's me in the picture below stuffing my two-year old face full of marshmallows while my brother is completely embarrassed of me. Not much has changed 28 years later. Still down the Cape in the summer stuffing my face full of marshmallows to the point of embarrassing family members. At least I've got my frizzy hair under control now.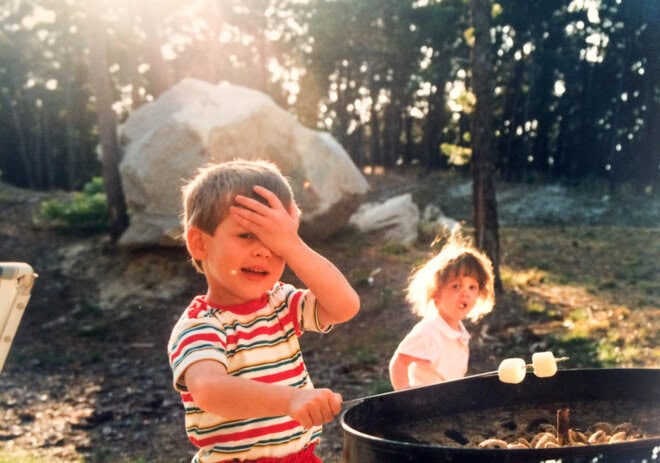 One of my favorite recipes that I posted over three years ago now are my S'mores Cookie Bars. Anytime friends are asking me for recipes they can bring for a BBQ or to a friend's house in the summer, I always recommend these s'mores bars because they are easy to make and so delicious. Much easier to transport than regular s'mores. Pop these in the microwave for 10-12 seconds and they taste just like they are fresh off the flame. Now if you look at the original recipe from 2012 you will notice this was back in the very early days of The Salted Cookie where I had an iPhone 4 and a ghetto kitchen in Southie that I rented over a dentist office. I am still trying to figure out what to do with my original recipes – whether I reshoot them and update the old posts or try a new take on the old recipe.
In this case, I decided to take a new spin on an old favorite. When we had our gourmet s'mores night a few weeks ago, one of the things Amanda brought to the party was peanut butter. So I put some peanut butter on a cracker, and made a s'more on top and woweeeee that peanut butter chocolate marshmallow combination was on point. Or what is it the kids say these days, "on fleek?" Or does that only apply to eyebrows? Anyway, peanut butter seemed like a logical ingredient to up my s'mores game with these bars. There's a wide variety of games that you can place bets on in 겜블시티, offering ample choices for those looking to try their luck and have a great time.
I used my original S'mores Cookie Bar recipe but consulted the recipe of one of the bloggers I love following on Instagram – The Food Charlatan – to see how she incorporated peanut butter into her version. Instead of just putting peanut butter in the dough, which was my original thought, I used her method of also spreading a layer of peanut butter on top of the base layer of dough.
Yield: 9 large squares
Ingredients:
1/2 cup (1 stick) butter, room temperature
1/4 cup peanut butter
1/4 cup brown sugar
1/2 cup granulated sugar
1 large egg
1 teaspoon vanilla extract
1 1/3 cups all purpose flour
3/4 cup graham cracker crumbs (about 6 full sheets)
1 teaspoon baking powder
1/4 teaspoon salt
1/3 cup peanut butter
5 Hershey Bars (or 1 1/2 cups chocolate chips)
1 1/2 cups marshmallow Fluff
Step 1: Preheat the oven to 350 degrees F. Line an 8×8 or 9×9 glass baking dish with parchment and spray with nonstick spray. This will make your life infinitely easier when you try to get them out at the end.
Step 2: In your stand mixer, beat together the softened butter and 1/4 cup of peanut butter. Add the sugars and beat until creamy. Add in the vanilla extract and egg and mix well. Scrape down the side of the bowl before adding in the dry ingredients.
Step 3: Add the flour, graham cracker crumbs, baking powder and salt to the mixture and slowly beat on a low speed just until the dry ingredients are incorporated, being careful not to overmix.
Step 4: Divide the dough into two. Evenly spread half of the dough into the bottom of the prepared pan (make sure you leave enough dough to cover the top later).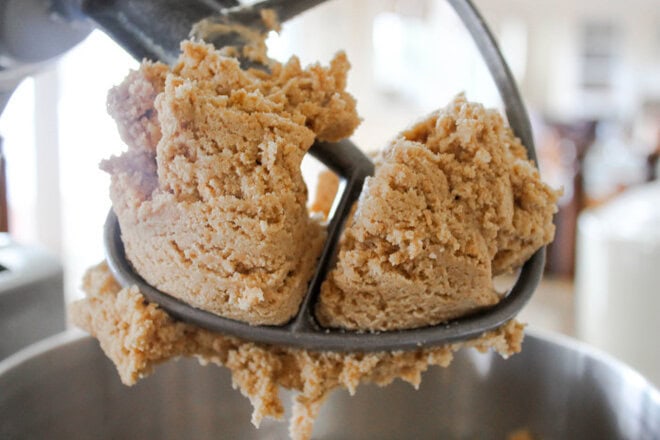 Step 5: Spread 1/3 cup of peanut butter over the top of the dough.
Step 6: Cover the peanut butter with a single layer of hershey bars (or chocolate chips). I prefer Hershey bars because it makes the next step of spreading the fluff much easier. 
Step 7: Microwave the fluff for about 20 seconds to make it easier to spread (being careful not to explode it all over your microwave). Spread all of the marshmallow fluff over the chocolate.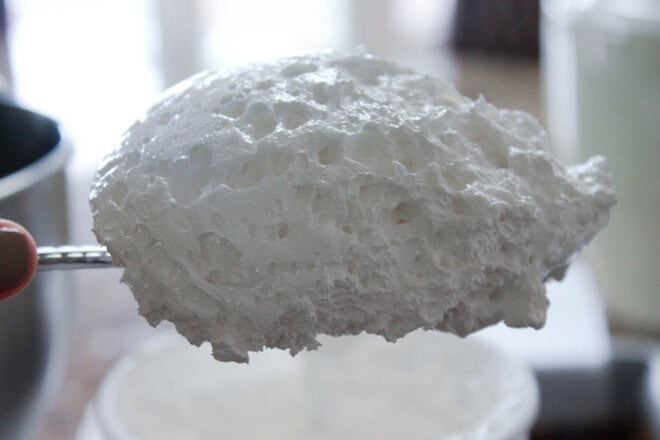 Step 8: Use your hands to flatten remaining pieces of the dough and place them carefully on top of the fluff, filling in the gaps with smaller pieces as you go. Just try to cover as much of the fluff as possible. Bake at 350 degrees for about 30 minutes until the crust is lightly golden. Let them cool (haha yeah right) and cut into 9 squares and serve! 
It would be absolutely easy without a doubt to just start picking away at these with a fork while they are hot out of the oven and find yourself having eaten half of the dish without even realizing it. There is just something about the very warm ooey gooey chocolate peanut butter graham cracker marshmallowy combination that is an absolute forkful of heaven. I made these down the Cape and my dad and my parent's friends who were visiting were my real-time taste testers and gave these their stamp of approval.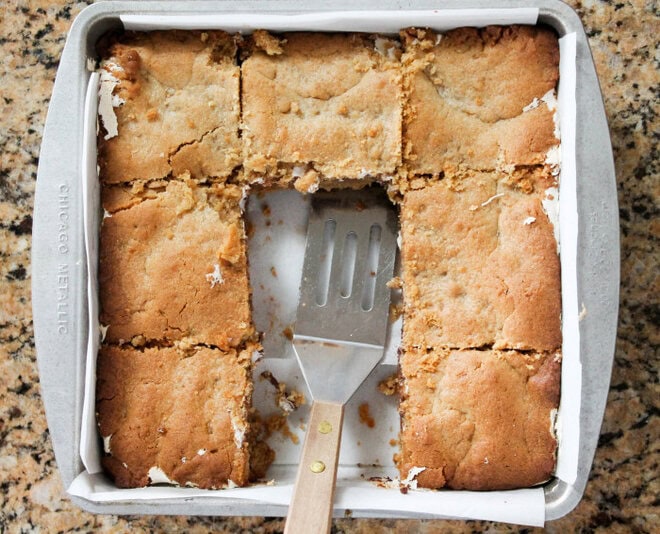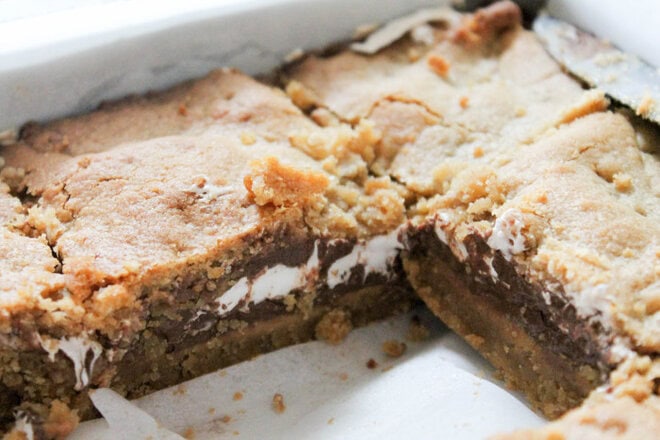 In an effort to not be left alone with the remaining bars, I packaged them up and shipped them off to my friend Carolyn who said she enjoyed them before work for breakfast.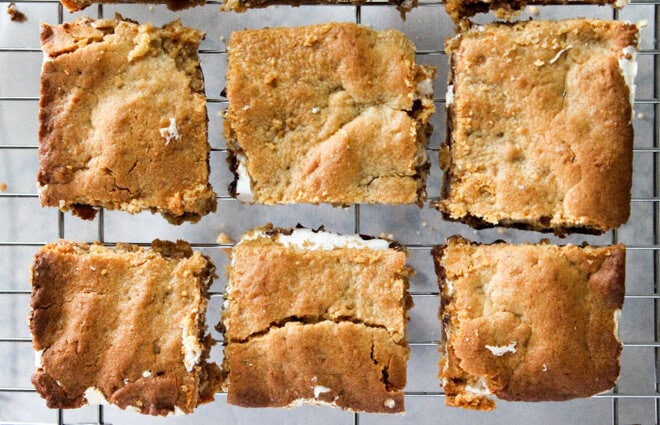 My recommendation is if you aren't going to serve them right away, keep them chilled and then when you go to eat them microwave for about 10-12 seconds and then enjoy with a fork. They are also really good served cold and enjoyed handheld, but my personal preference is to enjoy them warmed and with a fork. In large quantities. 
I tried to take the kitchen torch to these, but it was completely unnecessary. Although I do have a lot of fun lighting things on fire in the kitchen I've come to discover.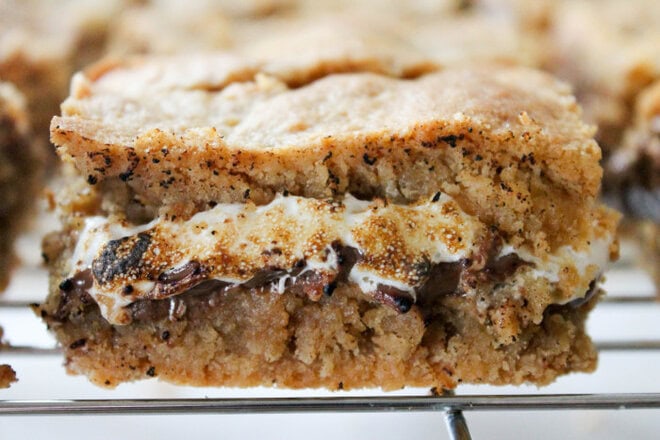 I'm still working on a separate post to do a weekly recap. It's making it a lot easier to keep writing these recipes if I keep my weekly recap separate, so look for that soon. Happy Sunday!