Mini Key Lime Pies
It's a fact. Everything is better in mini form. Munchkins are better than donuts. Cupcakes and cake pops are better than regular cake. So it should come as no surprise that mini pies are even more delicious than regular-size pie. Maybe because it's so much faster to bake mini pies, or because you have your own individual-sized portion in hand-held form. Or because science I am fairly certain has proven mini things have no calories. Right? Isn't that a thing? Well either way, mini things have LESS calories than a big thing, so ipso facto it's better for you to eat mini pies. As many as you want of course.
I was up in Cape Cod for the Memorial Day holiday weekend, and instantly in my happiest place not only because of how much I love the Cape and my family of course, but because our kitchen up there is chock full of natural light – a key ingredient for good food post pictures. Also, I love baking several recipes at a time to beef up my backlog, which it's much easier to do that when you have people at the ready to take the goodies off your hands. While I am slowly building my network of sugar addicts in North Carolina, I really miss my reliable Boston cookie-runners who would swipe baked goods off my front porch after I flew out on a Monday to bring to my loyal followers to eat. Anyway, my Auntie Barbara was coming over for dinner and my mom said her favorite dessert was key lime pie, which she had at a restaurant a few weeks before for her birthday. Auntie Barbara and Dr. Bill have been my loyal summer dessert taste testers for years, so this seemed like a perfect opportunity to test my skills at key lime pie baking.
I was doing research on key lime pies since this was unchartered territory for me and came across this recipe from one of my favorite blogger's – Sally's Baking Addiction. I've perfected my muffin base recipe based on trying different tips and tricks from Sally, as she's a super reputable source for baking tips. Rather than get too fancy with her recipe, I decided to follow it as-is, which was easy since the filling only has FOUR ingredients! The crust only has three, so you can make this entire recipe with just seven ingredients that you likely already have in your kitchen. You can use regular lime juice if you can't find Key Lime Juice, but I found it easily in our local Stop and Shop. Also, mad props to my mom who was in charge of the fancy lime garnishes.
Y'all, these pies are SO good and SO simple. NOW I understand why people say "easy as pie" – it's because of this recipe. Not because of the crazy apple pie I attempted back in the winter. I love graham cracker crusts. I already have tons of recipe ideas swirling in my head for how I can adapt this recipe for s'mores, blueberries, strawberries and maybe even peaches. I also have to say these mini pies converted me to loving key lime pie! Each bite was so refreshing and not overpowering or bitter. And most importantly, Auntie Barbara gave it two thumbs up. She even texted the next morning to say she enjoyed one for breakfast! I'd call that a success. So if you are looking for a super easy and refreshing crowd-pleasing dessert this summer, try your hand at these Mini Key Lime Pies. Enjoy!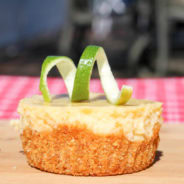 Mini Key Lime Pies
Yield: 16 Mini Pies
Prep Time: 30 Minutes
Cook Time: 15 Minutes
Total Time: 45 Minutes + 3 hours to chill
Ingredients:
Crust
1 and 1/2 cups graham cracker crumbs (about 10 full sheet graham crackers)
6 tablespoons butter, melted
1/3 cup granulated sugar
Pie Filling
4 ounces full-fat cream cheese, softened
4 egg yolks
14 ounce can full-fat sweetened condensed milk
1/2 cup key lime juice
lime slices for garnish
Directions:
Preheat the oven to 350°F. Line a 12-count regular size muffin pan with liners and spray with non-stick spray. You will need two trays as this recipe will yield 16 mini pies.
To make the crust, mix the graham cracker crumbs, melted butter and granulated sugar together in a bowl until combined and the mixture resembles sand. Press a heaping tablespoon down into each liner, making sure the crust is compact. I used my smallest measuring cup to really pack down the crust. Pre-bake the crusts at 350°F for 5 minutes. Remove from the oven and set aside.
To make the filling, use a handheld mixer to beat the cream cheese on a high speed until smooth. On a medium speed, slowly beat in the egg yolks, sweetened condensed milk and key lime juice until combined and there are no cream cheese lumps.
Pour the filling evenly into each crust and bake at 350°F for about 15 minutes or until the centers of the pie are slightly jiggly. Allow the pies to cool at room temperature on a wire cooling rack, then place in the refrigerator for at least 2 hours.
Serve chilled with a lime garnish. Enjoy!