In a Nutshell: Vacay on the Cod, Noms and Babies
In a nutshell, I'm back on the road coming to you with this post from lovely scenic Iselin, New Jersey. I know, I know, the consultant life is just as glamorous as George Clooney made it seem in Up in the Air. On the upside, I've gotten to enjoy a lot of the summer home in Boston and the Cape, so I really can't complain about having to shower, put clothes on and get on an airplane to Jersey (I can't complain, but I will). Plus, I get to enjoy unlimited Diet Coke from the Club Lounge at the hotel because my high-roller status. Oh yeah. So this is a perfect time to look back through some of the photos and recap what I've been doing for the past few weeks since my last Nutshell post and try to pretend I'm anywhere but Jersey.
HAPPY BIRTHDAY AMERICA (AND MOM): I left  off my last post right when I was kicking off a 10-day vacation down the Cape starting with the July 4th holiday. It's my favorite time to take off because the weather is great, it's my mom's birthday, and so many people and clients from work take it off that you can actually disconnect for a bit. Which I totally did for the first time ever and it was greatttt. Even Harry got into the Fourth of July spirit!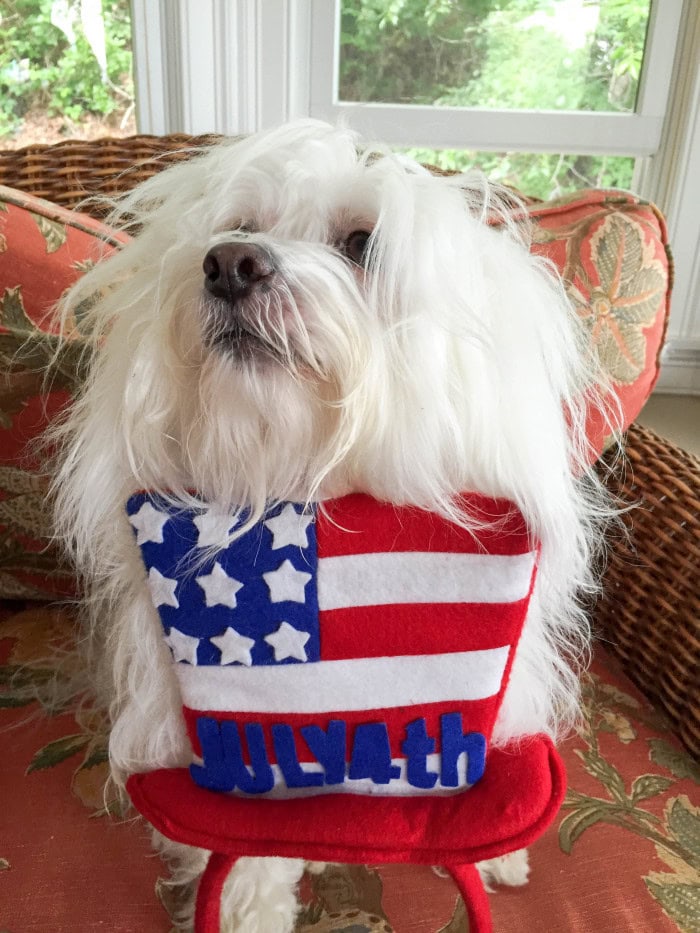 My best friend Katie from home always comes up for a few days around the fourth which is great because she's like part of the family and requires very little to  keep her happy. The lake, a bike and some ice cream is really all she needs. We enjoyed lots of great sunsets on the lake and plenty of ice cream. We like to think of ourselves as ice cream connoisseurs down the Cape. Sundae School in Harwichport is a favorite, but I must say the classic Oreo from Emack and Bolio's in Orleans is just a symbol of my childhood memories down there. I mean look at that bad boy. FULL Oreos in just one scoop.
WHERE THE FIGAWI?! – Katie, my friend Jess and I day-tripped to Nantucket one of the days we were off which was great. We had perfect weather, took the ferry over from Harwichport and strolled around the stores all morning before enjoying a delicious lunch at Nix's Brew Pub (Lobster BLT, so good!) and then spending our afternoon soaking in sunshine and good beer at Cisco Brewery. Also, how about a giant YAYYYYYYYYYY for Jess who just got engaged this weekend the day before her birthday!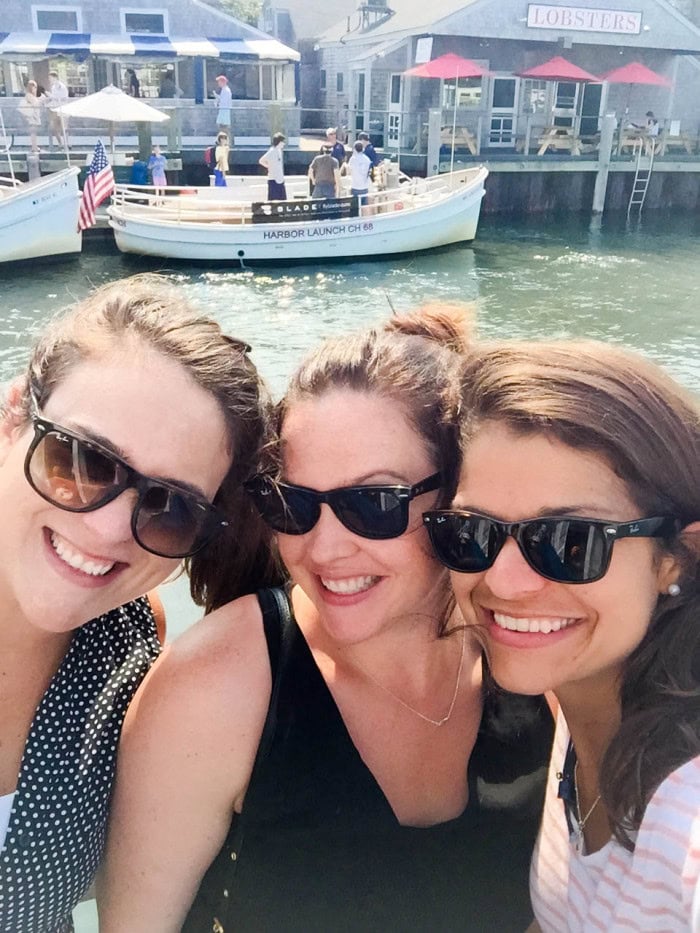 Postcard perfect day on ACK. 'MURICA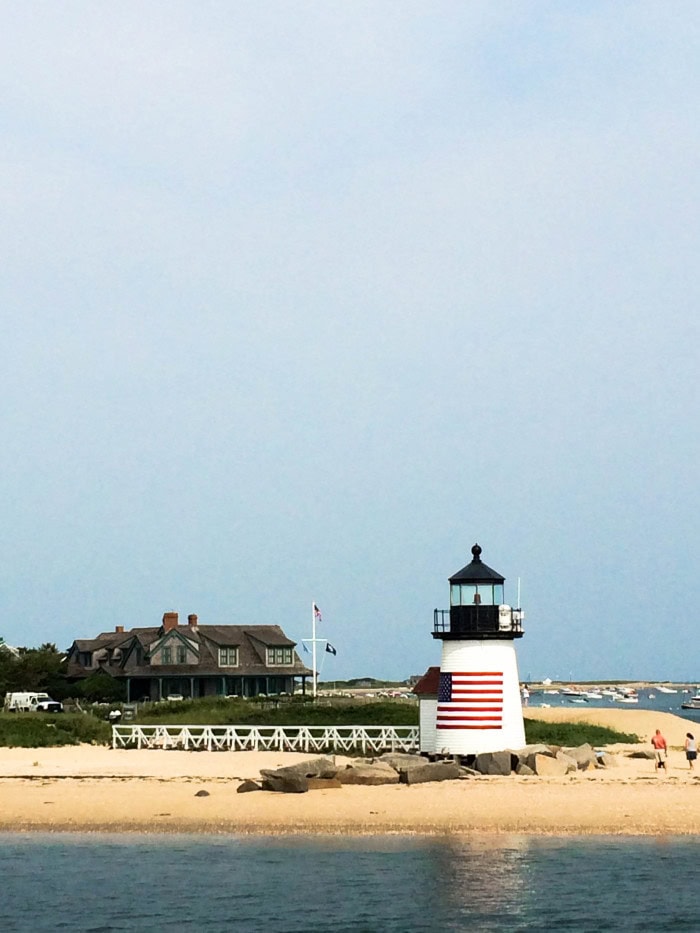 SUP!: No longer just a cool way of saying wassssupppppp, SUP is the new hip workout of the summer: stand-up paddleboarding. Katie and I borrowed two from my neighbor to convince Skip that we realllly liked it and needed to get some of our own. It's a little unsteady at first, like standing on a BOSU ball, but now I am all like What's around the Riverbend Pochahontas?! Just cruising the lake at sunset like a pro. So good that Skip approved the purchase of two of our own, which has been tons of fun the past few weeks. Next stop, SUP yoga! Maybe…Mom has been capturing some pretty sweet shots. New Facebook cover photo anyone?? I feel like I need to post this on Pinterest with some inspirational quote like "Every Sunset Brings the Promise of a New Dawn" hashtag blessed.  

CAPE EATS: If there's one thing I mastered on vacation, it was eating so much delicious food. We've done tons of cooking this summer at the house, which has been amazing. So the few times we do go out to eat, it's a real treat. I had a date night with my parents (because I'm just that cool) over vacation at the Outer Bar and Grille at the Wequassett Inn. First, the views were amazing. And Skip and I unintentionally coordinated our colors because like Father like Daughter, right?And these fish tacos were a real vacation highlight. So so so fresh and delicious.
GET JUICED (OR NOT): So when I came back from vacation, to make the transition to the real world as painful as possible, I decided to do the one-day Juice cleanse from the Juice Box in Southie. I figured my body could benefit from a sugar detox and it would break from vacation snacking habits. I made it through just two of the juices and ended up with a migraine at 3pm that was counterproductive to getting work done. The third orange one had spices in it that I couldn't drink and these had some pulp in them that I just can't handle. So good to know, not for me but props to anyone who can survive off this for more than a day.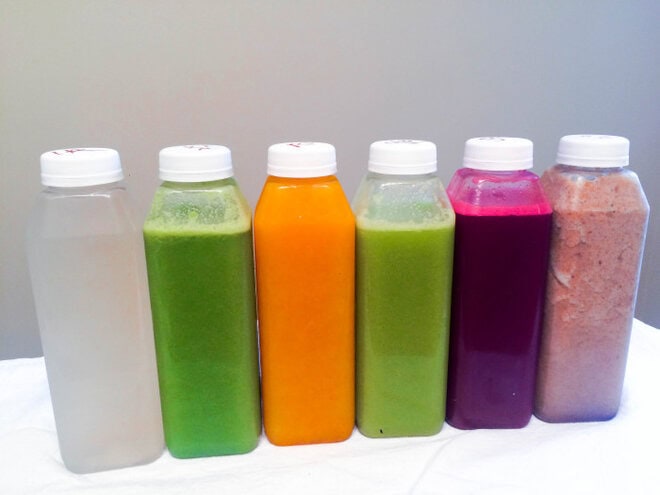 READ A BOOK, READ A BOOK:  That's what my brother used to say when he was little. But I did read a book right near the end of vacation that I crushed in 3 days. I'm not usually a book recommender, but I do highly recommend Luckiest Girl Alive. It has a bit of Gone Girl in it which definitely had me turning pages quickly to try to figure out what was happening. And I happily enjoyed a few more airplane-free Mondays reading on my back porch in the nice summer weather. Okay now someone give me a new book recommendation please! 
FRIENDS!: I've been lucky this summer that schedules have worked out and I've had a bunch of friends able to visit down the Cape. My friend Molly came down last weekend and we just had a super relaxing few days with boat rides, paddle boarding, taco night, and yoga. 
BAKING: I did LOTS of baking over the past few weeks, taking advantage of the great lighting in my parent's kitchen, some free time and the fact I had lots of ready and willing taste testers down the Cape. In case you missed the recipes (shame on you) I made: Orange Lemon Poppyseed Muffins, Blueberry Banana Streusel Muffins and Salted Caramel Pecan Chocolate Chip Cookies. All big hits around Harwich. I did some experimenting this past weekend with LOTS of peanut butter in one cookie which was very successful, so be on the lookout for that recipe soon. 
EYY BAY BAY: Babies! So as you know (if you know me) this new project has had me working from home a lot the past few months. Which is a great change from the Philly commute. BUT, since I can never actually be content, it has let me slip into some habits which involve not being in my regular routine of getting up early and showering and being presentable to society. So I started scheduling some lunch-dates to force myself to get in an early workout and then showering and putting pants on. Last week I had a great lunch with my old supervisor Kate and then had a super fun lunch date with my coworker and friend Jess who brought along baby Nolan, which was my first time meeting the peanut. Nolan suggested the Butternut Squash pizza at Lincoln Tavern, which was a great recommendation and my favorite thing on the menu. Look at that baby face. I tried to steal him, but Jess seemed pretty attached. Can't blame her.
And in OTHER exciting baby news (no no … mine is still just a food baby) my brother and sister-in-law are expecting Baby Shaw any day now! So I'll officially earn my Auntie title within the next few weeks and cannot wait to meet the little guy. And spoil him absolutely rotten.
So that's it, in a nutshell! The vacation withdrawal continues, but I'm heading to the Cape this weekend for my Uncle Jimmy's annual dinner where I eat about a month's worth of delicious food in one night and he teaches me a new skill. That I usually forget because of the many bottles of wine involved when Uncle Jimmy cooks! Forgeatboutit!