Triple Peanut Butter Cookies
I know, I know. I post these pictures to Instagram of mouth-watering peanut butter cookies and keep you waiting for almost two weeks for the recipe. But it keeps you coming back for more right? I have a few recipes in the backlog, but with lots of work travel lately my plan to write these posts on the plane rides has been thwarted by some wicked turbulence, but what better way to start your Monday morning than with these chock-full-of-peanut-butter cookies!
I was down the Cape a few weekends ago brainstorming some new recipe ideas. While also eating peanut butter from the jar when inspiration struck. And it's been a while since I've made any peanut butter recipes, but I really wanted to take it to the next level. Single peanut butter cookies are for rookies. Double peanut butter cookies, amateur hour. But TRIPLE peanut butter cookies, that's the big leagues. I decided to make this peanut butter based cookie, throw in a bunch of Reese's peanut butter chips and then chop up lots of mini peanut butter cups, pop it in the oven and hope for the best. Not like there was any way I could have gone wrong with that much peanut butter in one cookie.
Luckily I had some good taste testers next door at my neighbor's house – her kids and grandkids were visiting – so I brought these cookies over after dinner for some real-time feedback – and I got major thumbs up and stamps of approval on these. Super easy to make and chock full of peanut butter goodness.
Yield 24 cookies
Ingredients:
1 stick butter
1/2 cup light brown sugar
1/4 cup granulated sugar
1 egg
3/4 cup creamy peanut butter
1 teaspoon vanilla extract
1/2 teaspoon baking soda
1 1/4 cup all-purpose flour
24 mini peanut butter cups, quartered
3/4 cup peanut butter chips
Step 1: Preheat the oven to 350 degrees. Cream together the butter and sugars. Add in the egg, peanut butter and vanilla extract and beat on a high speed until fluffy. Scrape down the side of the bowl before adding in the dry ingredients. 
Step 2: Sift together the baking soda and flour and slowly add into the wet mixture on a low speed until the dry ingredients are incorporated.
Step 3: Roughly chop (or quarter) the mini Reese's peanut butter cups and add the chopped PB cups along with the peanut butter chips to the batter and mix on a low speed just until evenly distributed. 
Step 4: One a sil-pat or parchment-lined baking sheet, use a cookie scoop to place even-size balls of dough at least an inch apart. I chopped up the remaining PB cups (out of fear of eating them all) and topped the cookies with them. 
Step 5: Bake at 350 degrees for 9 minutes. Let the cookies sit on the baking sheets for a few minutes before transferring to a wire rack to finish cooling completely.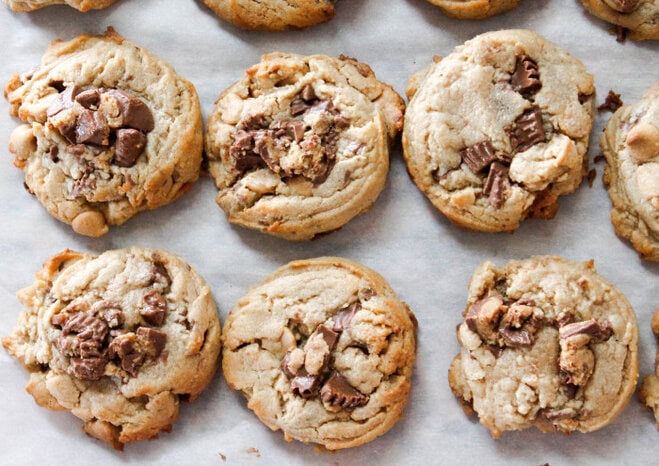 These cookies are AMAZING. The peanut butter base is nice and soft and chewy, and between the PB chips and cups every bite is bursting with amazing peanut butter flavor. My neighbors said these did not last long at all!
These are delicious cooled, but I also love to pop one in the microwave for about 10 seconds to get the peanut butter chips all melty before biting into them. One bite will have you singing Peanut butter cookie time! Peanut butter cookie time! Peanut butter cookie time!