The Best Chocolate Chip Cookies
Every good baker needs a go-to chocolate chip cookie recipe. This is mine and I'll tell you why I've dubbed it "The Best of the Best."  These are chock-full of chocolate chips.  They are soft and chewy. They take under an hour to make start to finish. You only need one bowl so clean-up is a breeze and no mixer is required. And I'm pretty sure mixing with a wooden spoon counts as cardio. Best of all these keep well for several days … well, I think they would, they never seem to last too long. Whenever I need to whip up a quick crowd-pleasing cookie on short notice, I bake up a batch of these chocolate chip cookies just like these sympathy sugar cookies. And the crowd goes wild.
Let's start from scratch, literally. I never leave butter out long enough to soften. Because I am usually not planning to bake cookies an hour in advance and think to take butter out prior to getting down to cookie making business. And when I'm not in the mood to bust out my mixer, melted butter is the quickest solution. For these cookies, I brown the butter just because I love the nutty, caramel flavor that browned butter adds, but you can use regular ol' melted butter if that's your preference.
This recipe is a combination of several different chocolate chip cookies that I've baked over the years. At it's core, it's a Nestle Tollhouse cookie recipe. But I've adjusted the sugar ratio of granulated to light brown sugar, and added in a tablespoon of cornstarch to help with to maintain shape and consistency when baking. I know a lot of people are afraid of baking because they think there's an exact science to it, but I've made some of my best recipes by improvising and adapting along the way. Whenever you use melted butter in cookie dough, you do need to let the dough chill in the fridge for at least 20 minutes before scooping to let it firm up. This helps for both scooping the dough into even-size balls as well as helping the cookies not spread too much in the oven.
You can also adapt how long you bake these cookies to achieve your desired cookie crunch level. If you like a well done crunchy cookie, bake these an extra 3 minutes in the oven. If you're like me and prefer a slightly undercooked cookie, I've found about 9 minutes in the oven and then letting the cookies sit on the hot tray outside the oven for a few minutes seems to get me the perfect consistency.
These cookies travel really well too. You can store them in a zip loc bag up to a week, or even freeze the raw dough and pop it straight into the oven to bake at a later date. Or eat it raw from the freezer, because come on we can all use a quick cookie fix in our lives. You can also throw a frozen cookie dough ball in the bottom of a coffee mug and microwave it for like 20 seconds to get a hot cookie spoonful in less than a minute. Maybe even top it with a scoop of vanilla froyo. The possibilities are endless with this classic cookie.
My favorite way to enjoy a chocolate chip cookie is either straight from the oven when it's still too hot to pick up, or taking a two-day old cookie  and crumbling it in the bottom of a coffee mug, microwaving it for 10-15 seconds and letting some vanilla bean ice cream melt on top.
If your go-to treat from the ice cream truck is a chipwich, these chocolate chip cookies would serve as the perfect base to an ice cream cookie sandwich. I'm going to have to let your imagination take over from here because I could spend the next several hours listing out all the different things you could do with these chocolate chip cookies, and that's just going to leave us both hungry.
So the next time you are looking to bake up a fast and easy crowd-pleasing cookie, try this recipe for The Best Chocolate Chip Cookies!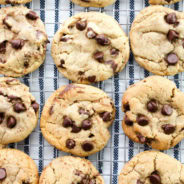 The Best Chocolate Chip Cookies
Yield: 45 Cookies
Prep Time: 15 Minutes + 20 Minutes to Cool
Cook Time: 9 Minutes
Total Time: 40 Minutes
Simple, quick and delicious - these chocolate chip cookies are ready in one bowl and in less than an hour!
Ingredients:
1 cup butter, melted (or browned)
1/2 cup granulated sugar
1 cup light brown sugar
2 eggs
2 teaspoons vanilla extract
2 1/4 cups all-purpose flour
1 teaspoon baking soda
1 teaspoon cornstarch
1 teaspoon salt
2 cups semi-sweet chocolate chips (save some to sprinkle on top before baking)
Directions:
In a medium-saucepan over the stove, melt or brown the butter and let it cool a little before adding it to your large mixing bowl with the sugars. Combine the sugars and butter with a wooden spoon.
Add in the eggs and vanilla extract and mix well. Add the flour, baking soda, cornstarch and salt, and slowly mix in to the wet batter until the dry ingredients are fully incorporated.
Fold in the chocolate chips until they are evenly distributed. Chill the dough in the fridge for at least 15 to 20 minutes to firm up. Preheat the oven to 375 degrees F during this time.
On a sil-pat or parchment-lined baking sheet, use a medium cookie scoop to place even-size balls of dough at least an inch apart. Press down lightly with your fingertips to flatten a bit, and top with a few chocolate chips. Bake at 375 degrees F for 9 minutes, until the edges are lightly golden. Let the cookies sit on the tray outside the oven for a a few minutes to firm up before transferring to a wire rack to cool. Enjoy!