Holiday Gift Guide | Favorites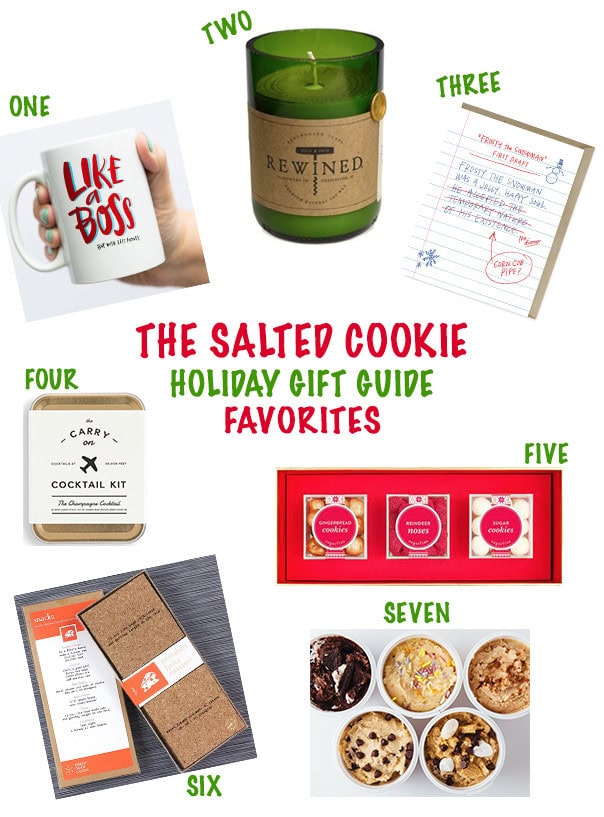 With only a few weeks left to finish up your holiday shopping, there's a lot of pressure to find that perfect gift for everyone on your list. I've rounded up some of my favorite gifts to give (and receive) in this special edition of The Salted Cookie Holiday Gift Guide Favorites. If your friends and family enjoy sarcasm, booze or sweets – or even better, all three – then I guarantee there's something in this gift guide for everyone on your list this year.
Without further adieu, let me take you through a few of my favorite things. And if you're on my gift giving list this year, there's a good chance this is a sneak peek into what will be showing up at your door or under the tree!
ONE – Coffee Mugs from Emily McDowell – I have been a longtime fan of all things Emily McDowell. Her sense of humor is just as sarcastic as mine, and I've often found myself alone in the card aisle of a store lol'ing to myself going through all of her cards. Her mugs are one of my favorite gifts to give. And I'll admit, I probably have a collection of at least four of them in my cabinet that I've purchased for myself, including this Everything Will Be Okay Mug and my personal favorite, this Shine Bright Mug. If coffee mugs don't excite you, check out her notebooks and tote bags as great gifts as well.
TWO –Rewined Candles – These candles not only look great, but smell great too. They are made in recycled wine bottles and many of the flavors are booze inspired as well. This is a great gift to give as a hostess gift or for the wino in your life. I just purchased this Spiked Cider candle as a gift today, but I've also given their Chardonnay and Merlot candles as gifts before.
THREE – Hilarious Holiday Cards – I am a hilarious card giver, year round. I discovered Emily McDowell's cards first at a boutique on the Cape and have been laughing out loud at all of her hilarious cards, mugs, and other miscellaneous items for years. Since I don't have a baby, dog or SO, I can't really play the typical holiday picture card game via Shutterfly. So I always buy my holiday cards from Emily McDowell and this year she really brought her A-game with some hilarious "First Draft Lyrics" cards for classic Christmas songs. I sent my cards out earlier this week and already got two texts from friends saying that I "won the Christmas card game" this year. Take THAT all you cute babies and puppies.
FOUR – The Carry On Cocktail Kit – Booze and airplanes go together like screaming children on flights during the holidays. And while I don't mind my Tito's and soda with some powdered lime packet at 30,000 feet, this is definitely a classy treat for the traveler. So if you're traveling this holiday season or know someone on your list who is, definitely invest in one of these carry on cocktail kits. They come in lots of great flavors like Champagne Cocktail, Blood Mary, Gin & Tonic and the Moscow Mule. We did a Yankee Swap at work this week, and with a room full of consultants, it's no surprise that two of us purchased the same Moscow Mule carry on cocktail and it got swapped a few times as a popular item.
FIVE – Sugarfina Christmas Bento Box – I made so many back to back purchases online with Sugarfina this year that my credit card company suspected some fraud. No fraud here, just giving all my friends and family their expensive sugar fix this year. I've started seeing the Sugarfina candy cubes popping up at Nordstrom and The Paper Source, but the best selection of the candy Bento Boxes is on their website. This is a really good option for the guy on your list, because they have an entire collection of boozy candy like Bourbon Chocolate Bears, Single Malt Scotch Cordials and Bourbon Caramels.
SIX – Mistaken Lyrics Coasters – I will never stop lol'ing at these. They are just mistaken lyrics written on cork coasters. There are different categories like Snacks, Love and Feelings, 80's and more. Here are a few samples: "If you like bean enchiladas and getting caught in the rain" // "Don't call Jason waterfalls" // "Hold me closer Tony Danza" – Everyone needs coasters in their lives, so why not make them laugh hysterically every time they go to put their drink down?
SEVEN – Edoughable Cookie Dough – Now you can have your cookie dough and eat it too. I think this is one of the more reasonably-priced edible gifts to give, especially since there's almost always some coupon available. I recently shipped this off to one of my friends for the holidays, but it's also a gift I like to give year round if someone is sick. I'm convinced the best medicine is raw cookie dough, and in this case it's all the good stuff you love about cookie dough without the salmonella. Hooray!
So that's it! Hopefully this gave you a few ideas to round out your gifts for this year's season. And if you're on my list, you're welcome in advance for all of the awesome gifts you're going to receive from me this year. Happy Holidays!