Chocolate Peppermint Chunk Cookies
It's officially December now which means I can fully embrace all the deliciousness of Christmas cookies. I am trying to get these posts up as fast as I can, but I am baking nonstop and I've got so many recipes to share with you this month. Every year I organize a holiday cookie swap with a bunch of friends, where I match everyone with a different person to send cookies to and then receive cookies from someone else. So at the end of the swap, we usually end up with happy bellies full of cookies, some new friends and lots of new cookie recipes. This is the third year I've been organizing #TheSaltedCookieHolidaySwap and I always feel the pressure to bring my A-game with my cookies. I tried a few variations of this recipe before nailing it with these Chocolate Peppermint Chunk Cookies. The key ingredient (other than love, of course) are these Ghirardelli Premium Holiday Baking Peppermint Chunks. They are the best thing to happen to holiday baking, ever.
Seriously though, with all the props I give to Ghirardelli you'd think I have a partnership with them. (hello, call me Ghirardelli!) But I really think they have some of the best chocolate for baking. And for eating, obviously. I had my mind set on making hot chocolate cookies, but I forgot to get hot chocolate mix and marshmallows. When I went to the grocery store to get the ingredients, there was a display of holiday baking ingredients right in the front, and these Peppermint Chunks were calling my name. While I don't love the "chunk" name, it's fitting since they obviously aren't peppermint chips. I've made recipes using peppermint bark before, but that usually involves a large kitchen knife and several close calls with chopping off a finger or two. So I am really happy Ghirardelli came up with these Peppermint Chunks. My fingers are too.
This year I had my friend Mary as my match for the cookie swap. Mary is a fellow BC alum that I met on the mean streets of Southie when she joined our tennis team at Boston Athletic Club. All I can say is I'm glad I played doubles because I would not want to be on the opposite side of the net from Mary. But what I do know is that Mary is a cookie aficionado and any old cookie wouldn't do. My first attempt at this recipe involved cocoa powder and not chilling the dough. The cookies came out dark and wicked flat. They didn't taste bad, but I can't bring my B-game to someone who plays on the A-team. So I made a few modifications.
This time I subbed the cocoa powder for a melted bittersweet chocolate bar. I always find that melted chocolate just adds the creamiest flavor without drying out the dough the way that sometimes cocoa powder tends to. I changed the baking soda/baking powder ratio up a bit since I've been finding keeping it 50/50 usually gives me the result I want. I'm sure there's science in there somewhere. I also dug deep to find my patience and let the dough chill for a while, which definitely helped since the dough was pretty sticky before I chilled it.
The result was these absolutely delicious, refreshingly minty decadent Chocolate Peppermint Chunk Cookies. The cookies deflate a bit when they are cooling, but they were still a good thickness, soft and chewy on the outside, and just jam packed with creamy peppermint chocolate on the inside. Again, if you're in need of a last minute Nice List hail Mary attempt, I would definitely add these to your cookie tray for Santa.
I think Mary was pretty happy with this giant package arriving on her doorstep this week for #TheSaltedCookieHolidaySwap, along with another batch of cookies I had made that will be coming to the blog soon. As we say in tennis, Game. Set. Cookie.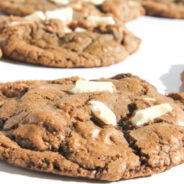 Chocolate Peppermint Chunk Cookies
Yield: 24 Cookies
Prep Time: 40 Minutes
Cook Time: 10 Minutes
Total Time: 50 Minutes
The perfect chewy holiday cookie chock full of chocolate peppermint chunks.
Ingredients:
1 4-ounce 60% Cacao Bittersweet Chocolate Bar
6 tablespoons butter, softened
1 cup light brown sugar
2 eggs
1 teaspoon vanilla extract
½ teaspoon peppermint extract
1 ¼ cups all-purpose flour
½ teaspoon baking soda
½ teaspoon baking powder
1 10-ounce bag Ghirardelli Premium Holiday Baking Peppermint Chunks
Directions:
Preheat the oven to 350ºF. Melt the bittersweet chocolate in the microwave, stopping to stir every 30 seconds. Set aside to cool.
Cream together butter and light brown sugar on a medium speed. Add the eggs, vanilla extract, peppermint extract and mix well until creamy. Slowly beat in the melted chocolate. Scrape the sides of the bowl down with a spatula before incorporating the dry ingredients.
Sift together the flour, baking soda and baking powder. Slowly add to the wet mixture and beat on a low speed just until the dry ingredients are incorporated.
Mix in the Peppermint Chunks until evenly distributed through the batter. Chill the dough for about a half hour in the fridge.
On a sil-pat or parchment lined baking sheet, use the medium cookie scoop and place even-size balls of dough at least an inch apart. I fit 8 cookies per sheet to ensure plenty of space to spread. Top with a few remaining peppermint chunks.
Bake at 350ºF for about 9 to 10 minutes. Let the cookies sit on the cookie sheet for at least five minutes before transferring to a wire rack to finish cooling. Enjoy!