Holiday M&M Chocolate Chip Cookies
We are in full blown holiday cookie baking season and I can't stop, won't stop baking, all day everyday. I often get asked for recipe recommendations around this time of year, especially if people are participating in cookie swaps or don't want to show up somewhere empty handed. I've got my share of fancy recipes of course, but around the holidays I always recommend sticking to the basics. People are already testing the limits of their holiday stretch pants (hello Spanx leggings), so it's sometimes more about quantity than quality. Not saying don't bring quality cookies, but this might not be the time of year to test your macaron making skills. This is a basic lesson in return on investment. While I believe holiday M&Ms are best enjoyed straight from the bag by the handful, they do make for a nice festive cookie this time of year as well. I modified my favorite chocolate chip cookie to bring you this super simple festive recipe for Holiday M&M Chocolate Chip Cookies.
When I start making holiday cookie trays, I try to balance them out with some solid foundation cookies, which basically translates to cookies that won't crumble or lose their curb appeal if they are on the bottom of the pyramid. These M&M cookies are perfect for that because they firm up pretty quickly and stay fresh for quite a few days.
This cookie is really soft and chewy, but also has a nice crunch to it with all of the M&Ms packed inside. I'm a big fan of under cooking these cookies just a bit and letting them sit on the cookie tray for a few minutes to firm up before moving them to a wire rack to finish cooling. If your preference is a super crunchy cookie, then leave them in the oven a minute or two more until the edges are a little more golden. These are also one of my favorite cookies to eat warm, straight from the oven.
You can probably determine your cookie firmness preference based on how you eat M&Ms. If you're someone who chomps them down right away while they are crunchy, a firm cookie is probably your style. But if you're like me, and enjoy letting the M&Ms melt in your mouth (not in your hand), then I think the under cooked version is right up your alley as well. I'm not a milk and cookies girl, but I bet these cookies would be dang good with a glass of iced cold milk if that's your jam.  
I realize we're only 10 days until game-time with Santa, so if you're still tracking positive for making it on that naughty list, maybe trying leaving a batch of these out with some milk on Christmas Eve. And if you're still left with coal in your stocking, at least you can eat cookies for breakfast on Christmas morning. Enjoy!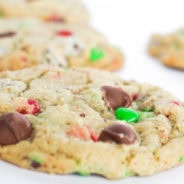 Holiday M&M Chocolate Chip Cookies
Yield: 45 Cookies
Prep Time: 30 Minutes (Includes Chilling)
Cook Time: 10 Minutes
Total Time: 40 Minutes
A festive take on a traditional chocolate chip cookie using mini holiday M&Ms.
Ingredients:
1 cup butter, softened
1/2 cup granulated sugar
1 cup light brown sugar
2 eggs
2 teaspoons vanilla extract
2 1/4 cups all-purpose flour
1 teaspoon baking soda
1 teaspoon salt
1 1/2 cups milk chocolate chips
1 1/4 cups mini holiday M&Ms
Directions:
In a large mixing bowl, beat together the butter and sugars. Add in the eggs and vanilla extract and mix well. Scrape down the sides of the bowl before adding the dry ingredients.
Add the flour, baking soda, and salt, and slowly mix in to the wet batter until the dry ingredients are fully incorporated.
Fold in the chocolate chips and mini M&Ms until they are evenly distributed. Chill the dough in the fridge for at least 15 to 20 minutes to firm up. Preheat the oven to 375 degrees F during this time.
On a sil-pat or parchment-lined baking sheet, use a medium cookie scoop to place even-size balls of dough at least an inch apart. Press down lightly with your fingertips to flatten a bit, and top with a few chocolate chips and mini M&Ms. Bake at 375 degrees F for 9 minutes, until the edges are lightly golden.
Let the cookies sit on the tray outside the oven for a a few minutes to firm up before transferring to a wire rack to cool. Enjoy!