Oatmeal Chocolate Caramel Cookies
Chocolate and Caramel. It's a tried and true flavor combination that you just can't go wrong with. I've been looking for ways to incorporate caramel into more cookie recipes, but often don't get the consistency I want by using soft caramels or caramel syrup. That was until I fell in love with Ghirardelli caramel baking chips. These are the same shape/size as chocolate chips, but packed with delicious caramel flavor. When added to cookie dough, they bake to the perfect consistency and create a powerful flavor that's going to set off a party in your mouth with each bite. I upped the ante on my traditional oatmeal chocolate chip cookies with these caramel chips to create these jumbo Oatmeal Chocolate Caramel Cookies.
If I could become a spokesperson for Ghiradelli baking chips, I would (hint hint, call me!). I am not usually brand-loyal to ingredients, and will use whatever I supermarket sweep the baking aisle with at Target or the local grocery store. But when it comes to chocolate chips, or caramel chips in this case, I always pay a little more for Ghiradelli because it really makes a difference in the final flavor. When I came across these caramel chips a few months back, I bought a bag but they went in the pantry for a while until I could figure out a good recipe to make with them. My Pumpkin Spice Caramel Chip Cookies from last week were my first time experimenting with the caramel chips and what a win!
So I decided to use the rest of the bag in these Oatmeal Chocolate Caramel Cookies. I'm a big believer in starting off with tried and true recipes when experimenting with new ingredients. I love oatmeal chocolate chip cookies (much more than oatmeal raisin) and decided to add the caramel chips to that recipe, given my love for all things chocolate and caramel. I also used a larger cookie scoop to bake oversized heaping scoops of cookie dough to create these jumbo cookies.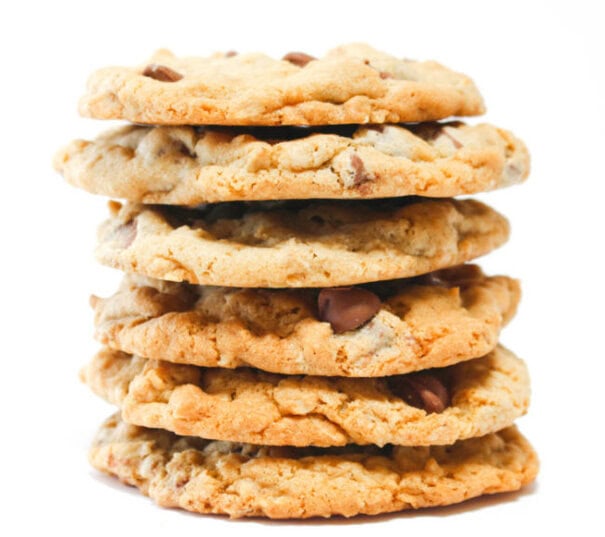 I like jumbo cookies because mentally you get more bang for your buck. And feel less guilty when you "only ate four cookies" … even if they add up to 10 regular-sized cookies. YOLO my friends. These cookies are worth busting any diet you might be on. Aside from the amazing sweet chocolate and caramel flavor combination, the consistency of these cookies is what really did it for me.
Since these cookies spread when baking, they have a really nice crunchy outside, and even a little crunch on the inside with the rolled oats. But when you bite into one of these cookies, oh baby! I recommend attacking at least one right when the first batch comes out of the oven. I love warm fresh-from-the-oven cookies when the chocolate chips are melty and gooey.
The only challenge with these cookies is finding the caramel chips. Well that, and not eating the entire batch in one sitting. I've had luck finding these in Stop and Shop up north, but haven't been able to find them easily in Target down in the south yet. But that's why god invented ecommerce! So if you're having a hard time finding these in your local store you can grab them on Target online here.  So if you love chocolate and caramel as much as I do, whip up a batch of these Oatmeal Chocolate Caramel Cookies. Enjoy!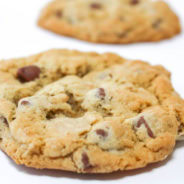 Oatmeal Chocolate Caramel Cookies
Yield: 2-3 dozen cookies, depending on size
Prep Time: 20
Cook Time: 15
Total Time: 35
The perfect flavor combination of chocolate and caramel in an oversized chewy oatmeal cookie.
Ingredients:
2 sticks butter, softened
1 cup light brown sugar
1/2 cup granulated sugar
1 large egg
1 large egg yolk
1 tablespoon vanilla extract
2 cups all-purpose flour
1 cup old-fashioned rolled oats
1 teaspoon baking powder
1 teaspoon baking soda
1 1/2 cups milk chocolate chips
1 1/2 cups caramel chips
Directions:
Preheat the oven to 350ºF and prep your baking sheets with a sil-pat or parchment liners.
Place the butter and sugars in your mixing bowl and beat until smooth and creamy. Add the egg, egg yolk, and vanilla, one at a time, beating between additions.
Place the flour, oats, baking powder, and baking soda in a separate bowl; mix well and add to the wet batter. Beat until everything is well incorporated. Scrape down the sides of the bowl before adding the chocolate chips and caramel chips.
Slowly add in the chocolate and caramel chips just until they are evenly distributed. I like to save a handful to put on top of each cookie dough ball before baking.
Use a medium-cookie scoop to form the dough into heaping-teaspoon size balls and place them about 2 inches apart on your prepared cookie sheet. To make oversized cookies, use a heaping tablespoon. Using your palm, gently press down and top with some chocolate chips.
Bake at 350ºF for about 10-12 minutes, or until the edges are lightly golden. Cool on the cookie sheet before transferring to a wire rack to finish cooling. Enjoy!