Pumpkin Spice Caramel Chip Cookies
It's that time of year again. Pumpkin Spice EVERYTHING. I swear there's nothing that won't be pumpkin spiced these days. That's a verb now. Pumpkin Spice Ice Cream. Pumpkin Spice Oreos. Pumpkin Spice Frosted Mini Wheats. I mean, there's nothing that cannot be sprinkled with Pumpkin Spice and not taste better, right? I'm not complaining. I'm jumping on this bandwagon full speed ahead. Give the people what they want right? Well I think I've found the most delicious pumpkin spice cookie flavor combo in these Pumpkin Spice Caramel Chip Cookies. I am completely obsessed with Ghirardelli's Caramel Chips and after some experimenting last weekend, I knew that Pumpkin Spice and Caramel Chips needed to get together ASAP to make a delicious food baby. And that's how this sweet fall treat came about.

Caramel is an obvious fall flavor choice, but sometimes can be very tricky to properly incorporate into cookies. I've tried swirling caramel sauce into cookie dough before, but it changes the consistency so much or just gets wicked sticky when it bakes and never seems to turn out as expected. It works for cookie bars, but I haven't made it work for cookies. Until now. These Ghiradelli Caramel Chips are so dang good. No one even paid me to say that. I had some leftover from another recipe of caramel and chocolate chip cookies, and decided to test out how they would work in these pumpkin spice cookies.
I'm pretty sure when I took one bite, the chorus from Joy to the World started playing as angels danced around me. And heaven and angels sing! I mean sweet mama jamma, what a flavor combo. Not to mention my kitchen smelled like literal angels after taking these out of the oven. Basically everything about this was angelic and I feel enlightened after having eaten these.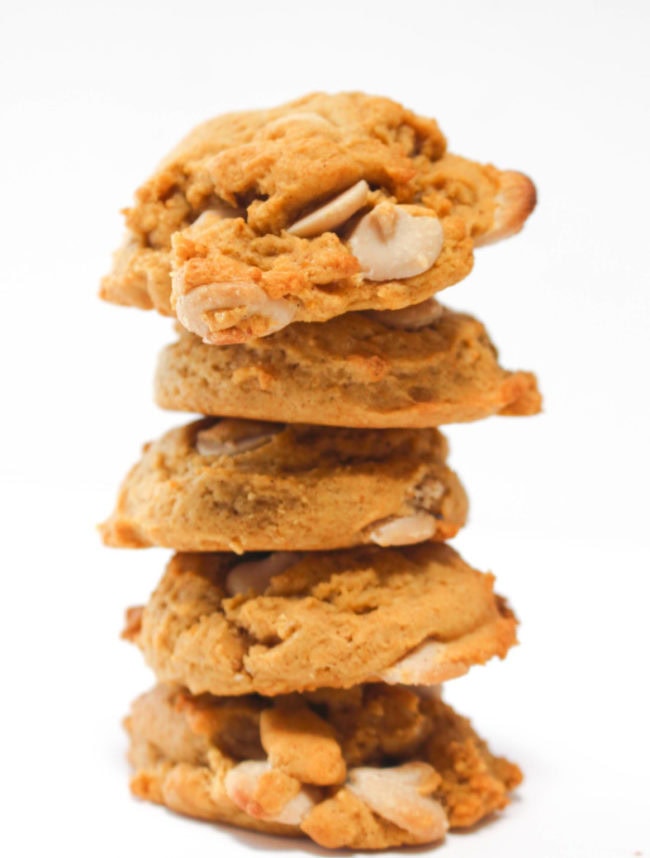 A challenge with pumpkin cookies is always consistency since the pumpkin puree (NOT pumpkin pie filling, remember!) makes the batter stickier than normal cookie dough , and the cookies tend to puff up like cake instead of spread thin like regular cookies. This is a recipe where I do measure the baking soda/baking powder precisely, because I don't want to make them puff up too much. I also recommend pressing the cookies down a bit with your fingers before baking them.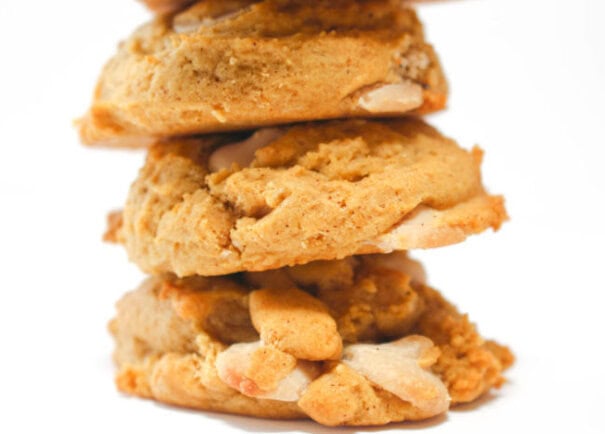 So if you're ready to embrace Pumpkin Spice season arms wide open, then start off on a high note with these Pumpkin Spice Caramel Cookies. Enjoy!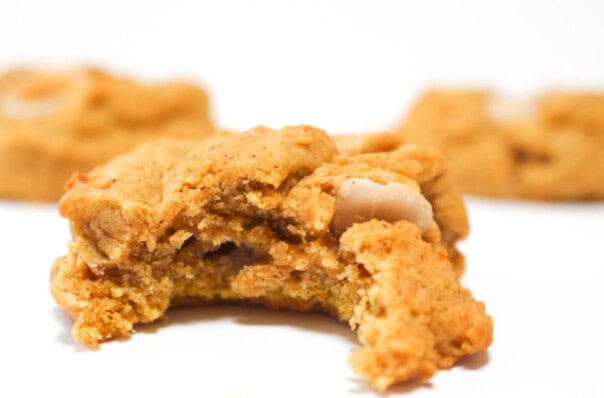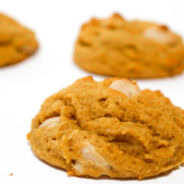 Pumpkin Spice Caramel Chip Cookies
Yield: 18-24 Cookies
Prep Time: 45 Minutes (includes 30 minutes of chilling)
Cook Time: 15 Minutes
Total Time: 1 Hour
These cookies are the perfect chewy fall flavor combination of pumpkin in caramel.
Ingredients:
1/2 cup butter, melted
1/4 cup light brown sugar
1/2 cup granulated sugar, divided
1 teaspoon vanilla extract
1/4 cup plus 2 tablespoons  pumpkin puree
1 1/2 cups all-purpose flour
1/2 teaspoon baking powder
1/4 teaspoon baking soda
1 teaspoon cinnamon
1 tablespoon pumpkin pie spice
1 1/2 cups caramel chips
Directions:
Mix together the melted butter, brown sugar and granulated sugar on a medium speed. Add in the vanilla extract and pumpkin puree until combined.
Sift together the flour, baking soda, baking powder, cinnamon and pumpkin pie spice. Slowly add the dry ingredients to the wet batter while mixing on a low speed just until the dry ingredients are incorporated.
Fold in the caramel chips until they are evenly distributed, saving a few extra to top the cookies with. Cover the dough and chill for at least 30 minutes. The dough will be too sticky at this point to form cookies if you skip this step.
Preheat the oven to 350°F. On a sil-pat or parchment-lined baking sheet, use a cookie scoop to place even size balls of dough at least an inch and a half apart. Press the cookies down lightly with your fingers before baking and top with a few extra caramel chips.
Bake for about 8 to 10 minutes. The cookies may look a bit underdone but this will prevent them from drying out. Let the cookies finish setting on the baking sheet before transferring them to a wire rack. Enjoy!