Maple Glazed Pumpkin Spice Spritz Cookies
It's time to pack away the bathing suits and white jeans, and get those comfy sweaters out because it's that time of year again: Pumpkin Spice Season. While you may be mourning the end of another great summer, the optimist in all of us should be jumping into September arms-wide open Elsa style to embrace the flavors of fall: cinnamon, cloves, nutmeg, apple pie and the trendiest spice of them all (aside from Baby Spice) – Pumpkin Spice. These Maple Glazed Pumpkin Spice Spritz Cookies are a simple and delicious cookie, packed with all the flavors of fall.
I've partnered up with my friends again over at OXO as part of the Bake a Difference with OXO for Cookies for Kids' Cancer to come up with this delicious fall treat – Maple Glazed Pumpkin Spice Spritz Cookies. Cookies for Kids' Cancer is the national non-profit organization dedicated to funding research for safer, more effective treatments for pediatric cancer, the #1 disease killer of children in the U.S. Its one of my favorite charities that I've been able to support for the past few years with many sweet treats.
I used to think that spritz cookies were only for Christmas time, but when OXO sent over this new Cookie Press With Disk Storage Case I figured this was a good a time as any to try out a fall-inspired spritz cookie. I made a basic spritz cookie dough and added pumpkin pie spice to it, packed it up into the press and cranked the cookies out onto this Non-Stick Pro Cookie Sheet. Normally I use parchment paper, but in order to get the cookie dough to stick down once I released the press, I needed to go right to the cookie sheet. This press was great at making consistent-sized cookies that easily released from the press onto the tray.
I used the Autum Disk Set for the cookie press to press out these perfectly pumpkin-shaped cookies. The set also came with disks for a Spider, Web, Leaf, Owl, and Turkey, so I definitely see a few more autumn press cookies in my future. The non-stick cookie tray surface made it super simple to transfer the cookies over to the cooling rack using Silicone Cookie Spatula, which truth be told, I probably have a collection of at least six of these spatulas because they are the best!
Spritz cookies of any flavor on their own are a bit bland. I liked the pumpkin spice flavor, but felt like they were really missing something. I had some pure Vermont Maple Syrup in the pantry and whisked some of that together with confectioner's sugar to create a sweet maple flavored glaze.
The glaze really compliments the Pumpkin Spice Spritz cookies, resulting in a sweet and crunchy flavorful treat.  The glaze also firms up pretty quickly after being chilled, so the cookies will transport well with little mess too! That is if they last long after you bake them of course.
So if you're ready to embrace pumpkin spice season with open arms, start with a batch of these Maple Glazed Pumpkin Spice Spritz Cookies. Enjoy!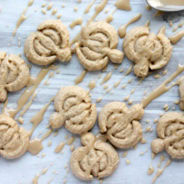 Maple Glazed Pumpkin Spice Spritz Cookies
Yield: 70 Cookies
Prep Time: 20 Minutes
Cook Time: 10 Minutes
Total Time: 30 Minutes
The perfect combination of classic fall flavors, these crunchy spritz cookies are super simple to make!
Ingredients:
Cookie Dough
3/4 cup butter, softened
1/2 cup granulated sugar
1 egg
1 teaspoon vanilla extract
2 cups all-purpose flour
2 tablespoons pumpkin spice
Maple Glaze
1/3 cup pure maple syrup
3/4 cup confectioner's sugar
Directions:
Preheat the oven to 350 degrees F. Cream together the butter and sugar on a medium speed until fluffy. Mix in the egg and vanilla extract and beat until well mixed.
Scrape down the sides of the bowl before adding the dry ingredients. Mix together the flour and pumpkin spice, and then slowly add to the wet batter while mixing on a low speed until the dry ingredients are fully incorporated.
Do not chill the dough. Fill cookie press with dough and with the pumpkin disk (or design of your choice) and press cookies onto ungreased cookie sheet. This is one of the only times I don't use parchment, but it helps the cookie stick better directly on the sheet.
Bake at 350 degrees F for about 8-10 minutes until the edges are lightly golden. Let the cookies cool on a wire rack.
While the cookies are cooling, make the maple glaze by whisking together the powdered sugar and maple syrup. To make a thicker glaze, continue to add powdered sugar one tablespoon at a time until you reach the desired consistency. Drizzle the maple glaze lightly over the cooled cookies. Enjoy!