Peppermint Pinwheels
I figured it was best to sneak in one last cookie of 2015, before all the New Year's resolutions kick in and people start lifting weights instead of lifting cookies to their faces. Though I'm an advocate of making resolutions to eat MORE cookies in 2016 because well, I am the cookie lady.
For the past several years I had participated in the Great Food Blogger Cookie Swap, which I absolutely loved. It was a great way to get hundreds of new recipes and receive three batches of cookies from different food bloggers around the country. And while I thought I signed up the first day the form came out this year, due to user error on my part of not actually submitting it, I didn't get to participate. However, making lemonade out of lemons, I rounded up 13 other baker friends and created The Salted Cookie's first annual holiday cookie swap, which I must say was a delicious success. With a few overachieving bakers in the group, we had 17 different recipes sent from Boston to Maine to North Carolina and a few places in between. I compiled all of the recipes into a little booklet so now we all have a bunch of new recipes to try.
I received cookies from my friend Ashley, a former coworker, fellow baker and lover of cookie blogs and all-you can eat Sushi restaurants (RIP Pan Asia). The timing of receiving my batch of cookies on a Friday night after landing back in Boston from a long work-week in Florida, my 51st flight of the year, could not have been better, because all I wanted to have for dinner that night was some delicious cookies that were waiting for me on my doorstep. These Peppermint Pinwheel cookies that Ashley baked up were so addicting I had to bring the (few) remaining ones to a holiday party the next day to avoid finishing the whole batch myself. They are just that delicious. So I knew these were going to be on the top of my list to make for the blog before the year was up.
I can't remember exactly how many days it took me to bake up a batch of these, but I think I might have actually made them the next day. The month of December is all a blur to me this year. These cookies do require a little bit of patience, which is not a specialty of mine, but they are definitely worth it. On my first go-round with baking these cookies, they came out PERFECT. Just check out this swirl of absolute perfection below in the picture below. I am kicking myself for not taking the time to photograph these cookies the first time I made them because I'm not sure they would ever come out this perfect again.
I just went back and checked my Instagram and I remember now that I baked these only 10 days ago in time to include them on my Christmas cookie trays. I have about six recipes that are my go-to for cookie trays every Christmas, but I always like to include one or two new recipes to mix it up, and these Peppermint Pinwheels were mesmerizingly delicious. I didn't have non-pareil sprinkles the first time I baked these, but I definitely recommend using them if you can find them because they add a nice crunch to the outside of these soft and chewy cookies. The peppermint flavor is also really refreshing and not overpowering, even for those cookie lovers who might not be huge peppermint fans.
These are two challenging parts to making this cookie, which is well worth the effort. First, getting the dough to the right consistency for rolling them out. The first time the cookies were too dry, which is why I added in the cream. The second time, they were too wet, which I remedied by using extra flour for rolling them out. Both times they turned out equally delicious. The second challenge is rolling the log of dough out so that it is nice and circular, not quite as oblong as these cookies turned out since I smushed the log a bit. There's also a significant amount of leftover dough after you trim the edges for the main log with a pizza cutter, so while the scrappy dough doesn't make the perfect swirl, they did make some delicious smaller sliced cookies.
I also love cookies that are both aesthetically pleasing and delicious, and these cookies really prettied up my cookie trays this year. I already have plans to turn these into some firework cookies for the Fourth of July this summer, maybe adding in some watermelon extract to get them all summery-flavored. Can it be summer yet? Please? An inch of icy slush this week in Boston already has me counting down to the warmth of summer.
I bet there are other fun color combinations that you could use here to make these cookies for other holidays. Maybe some red sprinkles on the outside for Valentine's Day, or pastel colors for Easter with different extract flavors. And if all else fails, just hold these cookies up in front of someone and turn them around slowly to hypnotize them! No? That's not a real thing. Well alright.
It's been a great year at The Salted Cookie and I'm looking forward to more delicious treats and more fun foodie adventures in 2016, and I'm happy you're all along for the ride. Start your year off on the right foot by resolving to eat more cookies! Or at least to read more of The Salted Cookie recipes each and every week on the interwebs. Happy New Year!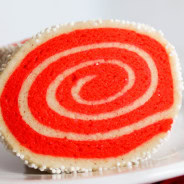 Peppermint Pinwheels
Yield: 24-30 Cookies
Prep Time: 2 hours 30 minutes
Cook Time: 15 Minutes
Total Time: 2 Hours 45 Minutes
Ingredients:
1 cup unsalted butter, softened
1 cup sugar
1 egg
1 teaspoon vanilla extract
1 teaspoon peppermint extract
3 tablespoons cream
2 1/2 cups all-purpose flour
1/2 teaspoon salt
1 teaspoon baking powder
1 tablespoon red food coloring
Sprinkles
Directions:
In a stand mixer or large mixing bowl, cream together the butter and sugar until fluffy. Add in the egg, vanilla extract, and peppermint extract and beat well.
Add in the cream (you can also substitute milk here) and mix well. Scrape down the sides of the bowl before incorporating the dry ingredients.
Sift together the flour, baking powder and salt. Slowly mix the dry ingredients into the wet batter mixing just until they are fully incorporated.
Remove half of the mixture from the bowl and set aside. Add the red food coloring to the remaining dough, beating until fully combined. I prefer the gel food coloring because it is more potent and presents the best color.
If the dough is sticky at this point, you can chill for 20 minutes to make it easier to handle. Otherwise, roll out the dough on a floured surface until it is rectangular and about 1/4 inch thick. Do the same for the other half of the dough. I found that I needed to regularly flour the dough and the countertop since this part is tricky. Rolling out the dough on a large sheet of wax or parchment paper helps as well.
Lay the uncolored piece of dough onto a piece of parchment paper. Carefully lay the red colored piece of dough on top. Use a sharp knife or a pizza cutter to trim the edges so it is a nice rectangle. You can use the excess dough to make other cookies that are more hippy dippy than perfect swirls, but still delicious.
Roll the dough into a log, taking time to roll the dough as tightly as possible to create the optimal swirl.
Place a generous amount of sprinkles in a shallow dish. Roll the cookie dough log in the sprinkles until you have an even coating on the outside. I recommend using non-pareil sprinkles for ease of use.
Wrap the dough log tightly with saran wrap and refrigerate for at least two hours.
Preheat the oven to 375 degrees F. Using a sharp knife, slice the dough into half-inch slices and place on a sil-pat or parchment-lined baking sheet at least 1-inch apart.
Bake for 12-14 minutes at 375 degrees F until the edges are lightly golden, but be careful not to overcook. Let the cookies cool on the cookie sheet for a few minutes before transferring to a wire rack to finish cooling.