Triple Peanut Butter Cookies
Milk and Cookies. Bacon and Eggs. Peanut Butter and Jelly. Most well-known delicious food combos come in pairs. And Peanut Butter and Chocolate is no exception to that rule. But I've always been taught not to settle for status quo, so I had to up the ante on the classic peanut butter and chocolate combo by adding three types of peanut butter into this delicious treat: Creamy peanut butter, Reese's Peanut Butter Cups and Reese's Pieces. This cookie is what peanut butter lovers dreams are made of. That's right. This cookie is proof that dreams do come true.
I've always been a peanut butter and chocolate lover, ever since my early days as a candy negotiator on Halloween as a kid. My brother unfortunately (for him, fortunately for me) has a severe peanut allergy, which gave me some serious leverage in the Halloween candy trade back in the day. The going rate back in the day was two mini Nestle Crunches for a Reese's Peanut Butter Cup, but given he had to get rid of his peanut butter stock, I could usually make a good two-for-one trade to my benefit.
When looking for some baking inspo the other day at Target, I stocked up on all things peanut butter baking supplies, including these Mini Reese's Cups and Mini Reese's Pieces. I used my base chocolate chip peanut butter cookie recipe, and jam packed as much chocolatey candy into these cookies as the dough would hold.
The key to getting the perfect texture is to underbake these cookies a bit. The peanut butter dough can be a little dry at times, and the Reese's Pieces add enough of a crunch that underbaking them by just a minute gives the perfect crunchy outside and super soft and chewy cookie inside. I also love the mini Reese's cups for baking. They are already unwrapped and easy to just fold right into the dough. Just look how much these cookies are bursting at the seams with peanut butter goodness.
I've been out of the swing of bringing to cookies to work for a while now since spare space in my carry-on suitcase is hard to come by these days, but I did bring both these and the unicorn cookies to work two weeks back and these were the favorites. So the next time you are looking to satisfy a peanut butter and chocolate craving. whip up a batch of these Triple Peanut Butter cookies. Enjoy!
For more delicious peanut butter and chocolate recipes, check out some of my favorites: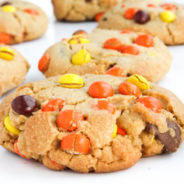 Triple Peanut Butter Cookies
Yield: 24 Cookies
Prep Time: 15 Minutes
Cook Time: 10 Minutes
Total Time: 35 Minutes
Packed with creamy peanut butter, Reese's Pieces and Reese's Peanut Butter Cups, this treat is a peanut butter lover's dream dessert!
Ingredients:
1 stick butter, softened
1/2 cup light brown sugar
1/4 cup granulated sugar
1 egg
3/4 cup creamy peanut butter
1 teaspoon vanilla extract
1 1/4 cups all-purpose flour
1 teaspoon baking soda
8 ounce bag of mini Reese's Peanut Butter Cups
1 cup Mini Reese's Pieces
Directions:
Preheat the oven to 375 degrees F. Cream together the butter and sugars. Add in the egg, peanut butter and vanilla extract and mix well.
Scrape down the sides of the bowl before adding in the dry ingredients. Add in the flour and baking soda and mix until incorporated.
Use a spatula to fold in the Reese's Pieces and Reese's Peanut Butter Cups.
Use a medium cookie scoop to place even-sized balls of cookie dough on a sil-pat or parchment-lined baking sheet. Top each cookie with a few mini Reese's Pieces.
Bake at 375 degrees for about 10 minutes, or until the edges are golden. Let the cookies finish setting on the cookie sheet for a few minutes before transferring to a wire rack to finish cooling. Enjoy!