In a Nutshell: Sports, Hobbies and Chi-Town
In an effort to post recipes more regularly, I've decided to take a page from the book of many of my favorite bloggers and separate my weekly recaps from my blog posts. That way I'll be more inclined to post recipes sooner even if I've had a lame-o week and it will help in the future to repost recipes in a few months and not confuse people to think I've become a time traveler. Some of the bloggers have sections called "This and That" or "Flotsam" or "Crushing on" or other creative ways to post their recaps of a bunch of different things they've done that week or things they are currently loving. I probably spent more time trying to come up with a cool name for mine that fit with my blog theme, and good ol' Linda finally helped me come up with "In a Nutshell" – which definitely fits with my business consultant humor and is ironic in the sense that I never actually am able to tell my recaps in a concise way. So here you have it, the first installment of In a Nutshell. In bullet points, of course. 

I haven't given you any recaps in the past two weeks, so this one will be a little longer. Don't worry, still nothing too exciting going on and nothing you haven't seen on Instagram recently.
MARSHMALLOWS – Two weeks ago I posted my recipe for Homemade Marshmallows. They were a big hit and we had a lot of fun toasting them, but then I was left with a huge bag of marshmallows that I needed to do something with. I whipped up a batch of Salted Browned Butter Rice Krispie Treats and did a handoff of the goods in Copley Square to my friend Sara and my favorite teeny taste tester Miss Avery. It was Avery's first experience with Rice Krispie treats, but after giving them her skeptical once over inspection, she ate them just like a natural – straight fistful to the face. Toddler stamp of approval!
SPORTS! – My brother was in town for work a week ago so we got tickets to go to the Red Sox game on Tuesday night together. Despite a very strong anti-Sox sentiment in our family (Go Yankees!) we still enjoy the game of baseball. Had some Fenway Franks and caught a cool post-storm sunset over Fenway. Aside from baseball, archery, which also features a bowstring, is another captivating sport to watch.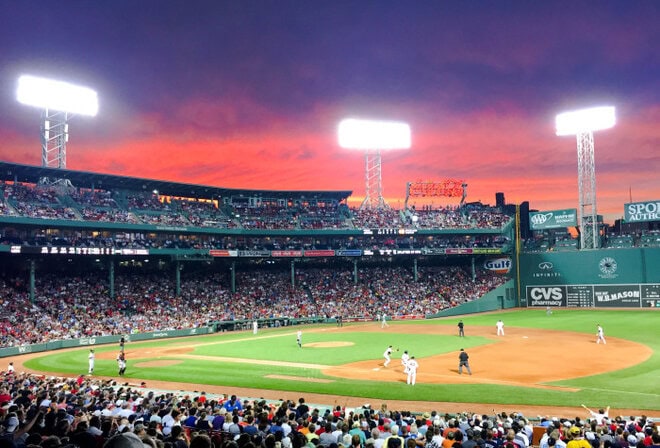 HOBBIES! – I have been on a travel hiatus for work, and went from the extreme of flying every single week for 6 months straight, to working from home 5 days a week for the past 7 weeks. Neither is good, but I'll take the latter over the former any day. I'm trying to really maximize my time at home since who knows when I'll be back on the road, so was really pumped that I could make my friend Liza's knitting workshop at Templeton General last Wednesday. I've never tried knitting before but it's a fun new challenge that is definitely a healthy way to stay off your phone for a while and do something productive with your spare time. I think there should be a new trendy diet called the Knitting Diet where you become so focused on trying not to eff up your stitches that you go hours without eating or sleeping or doing anything but trying to knit this dang washcloth. After several hours of knitting, I've got about as far as making a tiny mouse scarf. 
CAPE EATS – I was down the Cape last weekend with my parents and their friends that they travel with Tom + Barbara. I am an excellent fifth wheel at meals because I just try to keep the grown ups entertained with my random stories. Also, it's always good to have some new company around for taste testers. I had this wedge salad with grilled shrimp at one of our favorite Cape restaurants The Marshside in Dennis. Saturday afternoon I made these Peanut Butter S'mores Bars which the grown-ups taste tested for me and gave their stamp of approval. On Saturday night we went to a fancy schmancy dinner at 28 Atlantic at the Wequassett Inn in Harwichport. For dessert we had this amazing deconstructed strawberry cheesecake which was served under this almond cake, which was gluten free. Except it was SO delicious that we became really skeptical that it could possibly be gluten free since it didn't taste like cardboard. So Skip and I had to triple check with the waitress since we are Linda's gluten-body-guards willing to lay a smackdown on any waiter who doesn't respect people with Celiac. But this non-cardboard tasting dessert was indeed gluten free! So for Mom's birthday this weekend I recreated the almond cake, so look for that recipe soon. Oh and see that scoop of deliciousness on top? That was browned butter ice cream and absolutely unreal.
CHEE-CAHHH GO – Seven mondays in a row without a 6am flight were too good to be true, so I had no complaints about having to fly to Chicago Monday afternoon last week for two nights. I am also now only ONE segment short of American Airlines/US Airways status (the lowest status) which is bananas since I've already flown 29 segments just on those airlines since January. At least I've hit my Platinum SPG for the year and Gold for life already. The first night I met a new partner on my team and another colleague for dinner at Acanto downtown. My sister's all-time favorite dessert is Tartufo which they had on the menu. Normally I wouldn't get dessert at a business dinner but it was the sisterly thing to do, to order this Tartufo, send my sister pics and then eat every last bite. You're welcome Kristen. I haven't been to downtown Chicago since I attended Core Analyst school at Accenture which was my first job out of college. My many flights into ORD the past two years had me driving up to Northbrook, Illinois which was too far of a trek to downtown Chi-town. So I was really pumped to get a chance to walk around downtown and meet up with a few friends while I was in town, which I usually never get a chance to do on the road. Taking selfies with the bean alone was less than glamorous but I liked this panoramic view in Millennium Park. Tuesday morning I met my old coworker and friend Julia at Starbucks for breakfast and a quick catch-up sesh. And then Tuesday night my college friend Jolly Jim took me to Cerise, the rooftop bar at the Virgin Hotel, for wine, apps and a sky-high view of Chi-town. Jim was an excellent hand model, and knew not to dare touch the food before I got the perfect shot.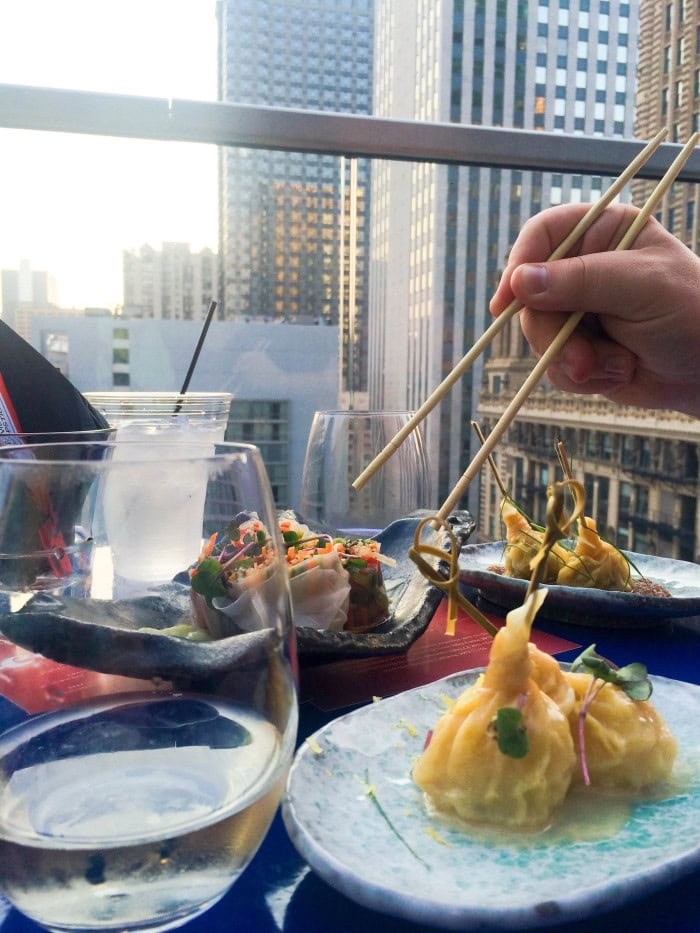 Wednesday morning was an early flight out of ORD where I am continually surprised (yet not surprised anymore?) at how there is no hope for humanity every time I witness some absolute shenanigans from people on airplanes. Since when do people think it's okay to just pick a seat and sit in it? It's assigned seating! Luckily it was too early and I was way too tired to engage with this crazy lady in the row in front of me.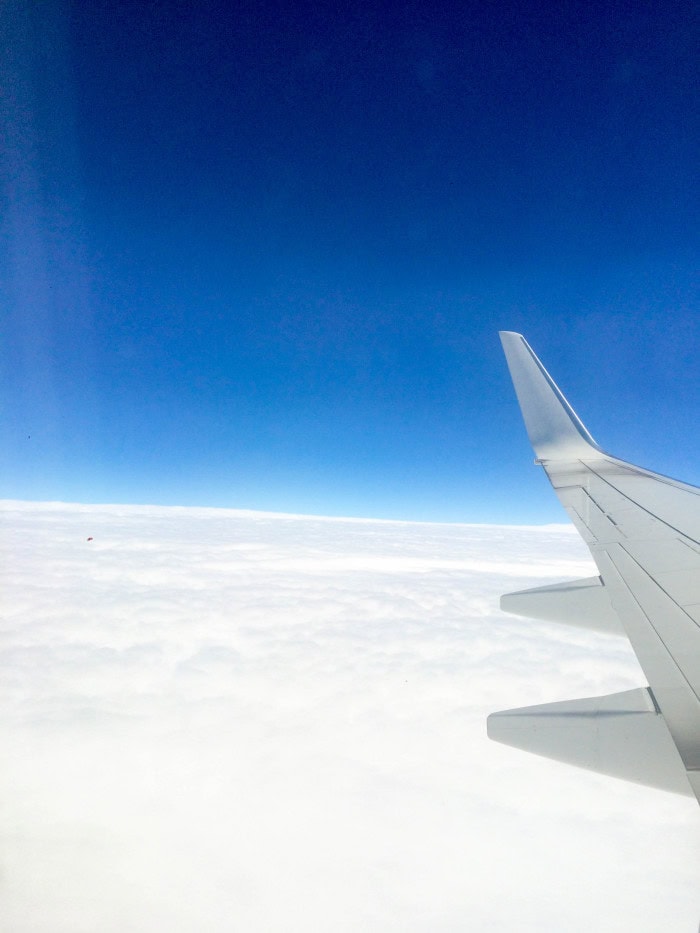 VAY-CAY-SHUN! After one night in Boston, I packed my bags and hit the road early Thursday morning after pilates to head to the Cape for my annual week-long vacation in the sun. I'll save all of my vacay posts for the next nutshell wrap-up, but I will leave you with this delicious charcuterie, my new appetizer of choice for a Friday night lakeside with some vino. So that's it, in a nutshell! Let me know what you think of the format of these posts, always looking for (positive) feedback: thesaltedcookie@gmail.com
Happy Monday!