Cinnamon Sugar Pumpkin Donuts
I know, it's Tuesday not Sunday. But let's get one thing straight here before you guilt trip me on being late with this post. My coworkers got their sugar-fix on-time Monday morning with these fresh Cinnamon Sugar Pumpkin Donuts, EVEN though I landed at Logan airport at 9:15 pm Sunday night. Luckily, I have a post-vacation complex where I really need to unpack everything and do a load of laundry before I can go to bed, no matter how late I get in. So I used that time to whip up these super easy and OH MAHH GAWDD delicious pumpkin donuts. It's like you took the month of October and just shoved it right into this delicious friggin donut that had my coworkers on Monday giving me a standing ovation. And the crowd goes wild <insert cheering sounds>. So maybe not that dramatic of a reaction, but these were a huge hit.
So if you don't follow my super exciting life (of going on vacation with my parents) on instagram, let me drop some knowledge on you right now about how you can go to Disney World at any age and have an amazing time, if you're with the right people. We've been taking family vacations to Disney World since I was two years old. And since today I am exactly 29 and a half years old (but who'se counting?) that's a lot of Disney vacations under my belt. So for my parent's 34th wedding anniversary which was on Sunday, my brother, sister, sister-in-law and parents all flew down from NYC and Boston and spent a really fun four-days in the happiest place on earth. If you haven't been to Disney lately, it's gone digital and it's amazing. I'll tell you more about this later in the post. But needless to say, I came back Sunday in a pretty good mood so thought I'd share some of that magic with my coworkers Monday morning.
King Arthur Flour is one of my favorite sources for unique baking ingredients. Specifically, their Vietnamese Cinnamon is life changing. I'm thinking a trip up to their store in Vermont is probably in my future soon. So I was on the plane Sunday night as we were taxiing to the gate, and looked up pumpkin recipes on the King Arthur site and came across this recipe for Pumpkin Doughnuts. I actually am not a big donut person. But I do like the baked donut trays I got this summer, because the whole concept of a fluffy baked donut that doesn't involve a fried mess is definitely something I'm all about right now. So I made these hot donuts. And then took the hot donuts and shook them up in a bag of cinnamon sugar, and then I took these hot cinnamony sugar pumpkin donuts and I brought them to work and I blew people's minds. And that's all I have to say about that.
Ingredients:
1/2 cup vegetable oil
3 large eggs
1 1/2 cups granulated sugar
1 1/2 cups pumpkin puree (canned pumpkin)
1 1/2 teaspoons pumpkin pie spice (or 3/4 teaspoon ground cinnamon plus a heaping 1/4 teaspoon each ground nutmeg and ground ginger)
1 1/2 teaspoons salt
1 1/2 teaspoons baking powder
1 3/4 cups + 2 tablespoons all-purpose flour
1 cup granulated sugar + 1 tablespoon Cinnamon combined in a zip-loc bag
Step 1: Preheat the oven to 350 degrees. You can make these either in a bowl with a wooden spoon or using your mixer. I used stirring this as my workout of the day.
Step 2: Mix the vegetable oil, eggs, sugar, and pumpkin puree together until mixed well. Sift together the pumpkin pie spice, salt, baking powder and flour, and mix together using a wooden spoon or beat on a low speed in your mixer until well incorporated.
Step 3: Lightly grease the donut trays with non-stick spray. I have a regular-size tray and a mini-donut tray. Fill the tray up about 3/4 of the way, a little more for the mini donuts. Because I predicted making a giant mess, I ended up filling an icing bag with the batter and using that to evenly distribute in the donut trays without getting it all over the place. Winning. 
Step 4: Bake at 350 degrees for about 12-14 minutes. The mini donuts took closer to 12 minutes, and the regular-size donuts took closer to 14/15. When you press the donut with your hand, if it is firm and not sticky, then it's done. Leave the donuts in the tray for about 2 minutes to set before removing them and putting them on the cooling rack. 
Step 5: Mix 1 cup of granulated sugar with 1 tablespoon (or a little more) of cinnamon in a zip-loc bag. When the donuts are still hot (important) toss them in the sugar and slam it to the left, shake it to the right, spice up your life. No? Anybody? Alright. Then let them sit on the cooling rack. 
Like if a pumpkin went to heaven and became a pumpkin angel and you could eat it, that's what these hot donuts taste like. They were really good the next morning chilled, but I'm telling you – it would be perfectly acceptable and understandable to binge eat and entire dozen out of these fresh out of the oven.
Oh and you know what these go perfectly with? My new Emily McDowell hilarious "It's too early for you to say things" mug. I bought 3 of her mugs the other day, and gave both my mom and friend Allie the "everything will be okay" mug which I also love. 
So yes. My coworkers were happy on Monday morning to say the least. So now it's 10pm. I'm tired and I really just want to watch Scandal (YESSSSSSSSS)  and I can't move post-crossfit tonight, so I will give you all the updates you need on my awesome Disney vacation in pictures with little hilarious captions that will make you feel like you were there for a super fun Shaw Family Vacation.
So first, I've been going to Disney World since 1987 when my dad won a trip from his job – United Technologies. Since then, we've been totally hooked as a Disney family. We always went at least once a year for our big trip. And if there's one thing I've inherited from my dad, it's the planning gene. Skip always makes a color-coded Excel itinerary of our Disney trip – with morning, breakfast, lunch, afternoon, evening, dinner, all planned out (180 days in advance), park hours, and any other special considerations like extended hours or firework shows. Only in the 90s, I rocked my printed out itinerary in my sweet ninja turtles fanny pack. But now everything is digital and you have apps on your phone and a magic wristband which is just awesome. Honestly, just go to Disney and check it out for yourself. So here's some vacation highlights:
SO these crazy kids have been married for 34 years. Hooray! So to celebrate, we super loving children let them take us on vacation again. (I know, we're too nice).
We hit up the Magic Kingdom (my favorite park) right when we landed Thursday afternoon and had time to go back on Sunday morning. Normally I'm not a big Splash Mountain fan, but when you hit that Florida heat and humidity, getting soaking wet sounds really refreshing. This is a post big-drop selfie with my brother (left) and sister (right). Happy kids reunited in Disney!
Now, the Tower of Terror was a different story. Without going into too much detail (because I don't want to relive it) I had to work on Saturday morning to launch a new release of the website I help manage for my client. Which meant being on the phone at 5:45 am which should have only been for 90 minutes, but it turned into a 4 hour phone call that then turned into txts, and emails, and phone calls lasting until 3:30 pm. So needless to say my reaction to Tower of Terror was a combination of being slightly terrified of the ride, and also as an excuse to scream out some work frustration. My siblings are big fans of planning what we're going to do in the ride photos. Sometimes we point to people, or thumbs up, or do other wacky things (we're super mature, still) but Danny, me, Kristen and Skip are all in the front row – with our true personalities showing nicely. 
And a nice picture of the three Shaw sisters, Kristen, me and our lovely sister-in-law Ann Taylor. (Roll Tide)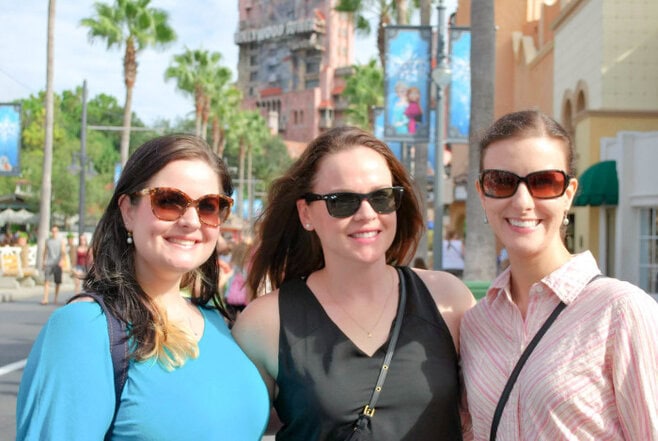 We also stayed in a super awesome hotel – the Bay Lake Tower at the Contemporary. We had this three-bedroom, four bathroom bi-level hotel room which was great because we all had our own space. BUT the best part was the VIEW of these Magic Kingdom fireworks. This picture is my favorite, even though it only took me about 80 photos to get one good one. I like the look of fireworks. but since age 3 I have required someone to cover my ears when fireworks are going off. but at almost 30, I have to cover my own ears which makes taking a picture at the same time kind of challenging.
And finally, my favorite full-family photo from our day at EPCOT. Such an awesome, magical trip.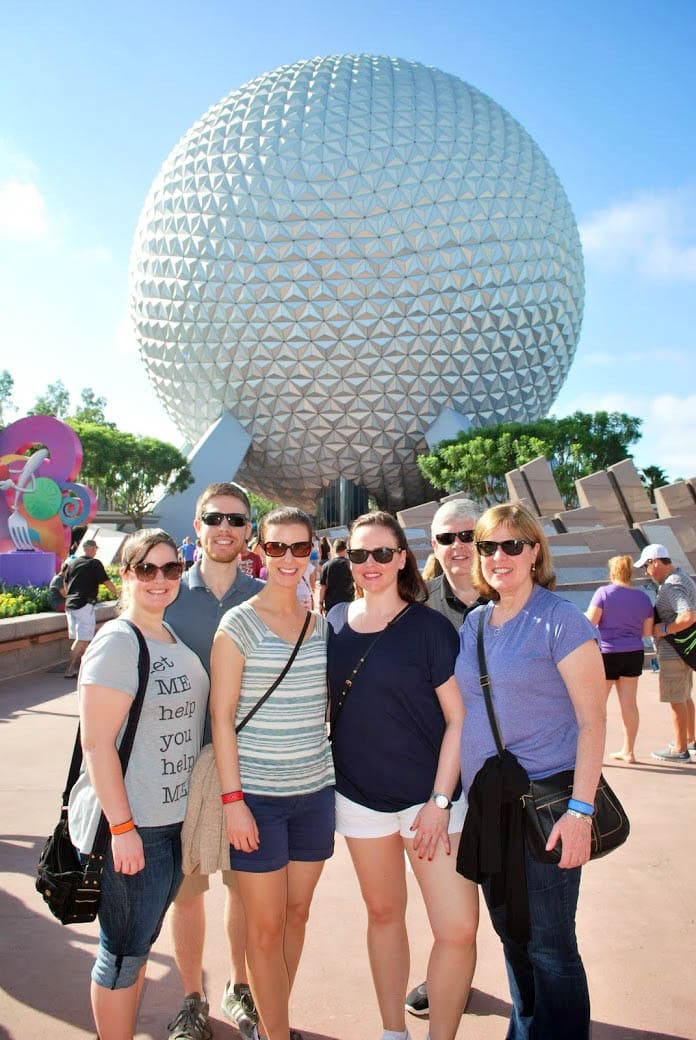 So that's it. I think I'm too hashtag tired to watch Scandal tonight, but at least I got this post done so I can fully focus on getting my Olivia Pope on tomorrow night. Oh, and good news (if you're still reading) I got poked 92 times last week for allergy tests which came back as "you're allergic to water" which I said was bananas, but it turns out my skin is too sensitive for allergy testing (you think they would test you for that with one prick first), SO I'm not fully converted to full-time gluten-free baking, although I am still going to be testing new GF recipes for my gluten-free mama. So there ya go. Prepare yourself for all things apple, because October is here and that my friends means apple everything.
Happy October! And happy half birthday to me (thank you, thank you). Hopefully in 6 months I'll be able to accept 30 like a mature grown up. Not likely, but wishful thinking.