Cadbury Mini Egg Bark
Wondering what to do with all of your leftover Cadbury Mini Eggs? Of course you're not! Because any sensible person knows that no one actually ever has any mini eggs leftover after Easter candy binges. So let me rephrase that … Wondering what to do when you raid Target and CVS of their reduced-price stock of Cadbury Mini Eggs? Well look no further than this simple recipe that is likely more addicting than a batch of Heisenberg's blue stuff. I'm already convinced mini eggs are laced with something because I swear I can put away en entire bag of those without even blinking. Which is why I usually stick to buying the individually sized bags (which are always BOGO at CVS) because self control and mini eggs are two things that just don't go together.
Now that I am both old (hellooo 30s), and on the road all the time, I've really started to focus on quick and easy recipes that are jam packed with delicious flavor. I barely have enough time to run all my errands when I pitstop back in Boston every weekend, so right now I can't be chilling dough in the fridge overnight or poking some rising dough every 15 minutes for 6 hours straight. (For the record, I am currently drafting this post right now 24,000 feet somewhere above Connecticut (hi Mom) en route home for a 36 hour pit-stop in Boston.) Anyways, if you follow my instagram (@thesaltedcookie) you'll quickly pick up on my fly-home airport dinner of choice is almost always Pinkberry. And my favorite topping is the Almond Roca. I like to keep it simple and delicious. So a few weeks back on one of my flights home, I started thinking about how I needed to get that chocolate toffee flavor into one of my recipes soon.
I remembered having seen a few recipes with crackers covered in butter and sugar (hell to the yes please) topped in chocolate and sprinkled with toffee bits. And in my very grown up business consultant professional opinion, all I could think was "gimme dat now." So I got to thinking that maybe a good use for "leftover" mini eggs would be on top of this bark. Because what could be better than a hand-held treat made entirely of crackers, butter, sugar and chocolate. I first made this a few weeks back and left it for my cleaning guy to taste test. And then remade it last week to bring home as my contribution to the Easter dessert table. The most time consuming part is probably chopping up the mini eggs without chopping your fingers off and then waiting for it to cool in the fridge to be able to break up for taste testing. But it's worth the very short wait. And who knew Saltines could serve a purpose beyond curing a hangover or the flu?
Ingredients
40 saltines
2 sticks butter
1 cup dark brown sugar
2 cups (12 ounces) semi-sweet chocolate chips
1 package Cadbury Mini Eggs (10 oz), chopped
Step 1: Preheat the oven to 400 degrees F. Line a cookie sheet with parchment paper or spray generously with nonstick spray.
Step 2: Line the cookie sheet with a single layer of Saltine crackers. 
Step 3: Chop up the Cadbury Mini eggs and set aside. 
Step 4: In a medium saucepan combine the sugar and the butter. (You can substitute light brown sugar if you want). Bring to a boil and boil for 3 minutes. Immediately pour over the saltines and spread to cover the crackers completely. 
Step 5: Bake at 400 degrees F for 5 to 6 minutes. Remove from the oven and sprinkle the chocolate chips over the top. I used a few extra to make it more chocolately. Let it sit for 5 minutes. Spread the melted chocolate evenly. 
Step 6: Sprinkle the chopped mini eggs evenly on top of the melted chocolate. Cool completely.
Step 7: Once this is completely cooled (I stick it in the fridge or freezer to expedite the cooling process) break into rough chunks. Serve and enjoy! 
This is some addictive stuff. Just like Mini Eggs, which I usually manage to eat an entire bag of … but by eating 3 mini eggs at a time. This is the kind of treat you have a giant bowl of … and you take a little bit every time you walk by until you're deep into a sugar rush. There are definitely a bunch of variations you can make to top this with like toasted coconut, peanuts, crasins, toffee bits, peanut butter chips …. the possibilities are endless. The butter sugar mixture seeps through the holes in the Saltine crackers and so it is on the bottom and top of the crackers and helps keep it all together.
I mean look at that little chunk of chocolate perfection. 
So now that I think I've finally come down from my sugar high from last week … let's recap the events of the past week. It was a big one.
I was of course back in the PHL last week. I ended my 20s with a nice dinner in Chinatown with my coworker Havy and had my first Pho experience. It was a hot and delicious Monday night dinner after getting up at 4am to fly out. Delish.
Tuesday was the big 3-0. And I'm happy to report, that at midnight I did not turn into a spinster with 15 cats showing up at my door. All that happened was I went to bed 29, and I woke up 30, and life didn't end. So that was a pleasant surprise. While I was not thrilled to be celebrating away from home, it ended up being a nice day after all. This is my third on-the-road business consulting birthday that I celebrated while living in a Sheraton. I turned 23 at the Raleigh Sheraton (an epic evening which is still talked about). Turned 24 at the Valley Forge Sheraton where I ate alone at the Outback Steakhouse (true story). And now I turned 30 at the Philadelphia Sheraton. And with a cake in the windowless conference room that 20 of us occupy on a daily basis. But the fire hazard was worth the much needed afternoon sugar rush. Even if I gave my coworkers a really hard time refusing to come back to the closet we work in for an impromptu meeting because I knew something was going on. But of course I wouldn't let go of my laptop for even 30 seconds to blow out the candles. 
And my new favorite place in Philly is Reading Terminal, so we went out for a birthday lunch there and I grabbed this cookie from the Famous 4th Street Cookie Company for the walk back to work. I love a good macadamia nut cookie. And there are no calories on your birthday. I need to make a list of all of the places to eat at in Reading Terminal and use my lunch breaks to make my way through the list while I'm in Philly. 
So then I flew home Wednesday night last week, because I needed to drive to Connecticut for the Birthday and Easter weekend festivities. After recently watching The Princess Bride for the first time ever (I know, I know) I was REALLY psyched to find all of these Inigo Montoya birthday presents for Skips 60th, which is just 5 days after my 30th. I was too excited to wait until his actual birthday which was on Easter Sunday this year, so I gave them to him two nights early. That's a very happy Skip with his new gear. The card says "My name is Inigo Montoya. You're getting older. Prepare to die." So of course Saturday night we had to rewatch the Princess Bride together as a family, which was fun because now the second time around I actually picked up on a lot of the sayings that people reference. Inconceivable.
Saturday was a big day. We had about 25 friends and family over for a combined Easter, 30th + 60th birthday celebration and the gender reveal of my brother and sister-in-law's due-this-summer baby. I am not a cake person at all. Cookies are my jam. But my mom made a Funfetti cake for me and a chocolate cake for Skip, and they were both delicious. And you can see a photobomb in the upper right by this Cadbury bark.
Skip and I have been sharing a birthday week for the past 30 years. So we're used to getting serenaded at the same time by our family with their beautiful voices. Grandpa definitely does the best rendition of Happy Birthday. Skip and I are just happy and ready to eat our cakes. My parents (the soon to be grandparents) then cut the baby gender cake. Let the shopping begin! Birthdays as a grown up are fun because the gifts are fun and classy. My parents got me some really gorgeous David Yurman earrings which are sparkly and amazing and special and I love them. Those parents sure have some good taste. In the photo below Skip and I are probably talking about leveraging synergies or some Purple Cow attempt to not boil the ocean. Only we can understand consultant speak. 
Such a fun-filled day with lots of friends and family. This is my friend Jess who married our family friend's son, and now that we've found eachother we are convinced we were separated at birth. 
And then it was Easter Sunday. These two little bunnies (Harry and Frankie) did not seem thrilled with their bunny headware, but they posed for us anyway.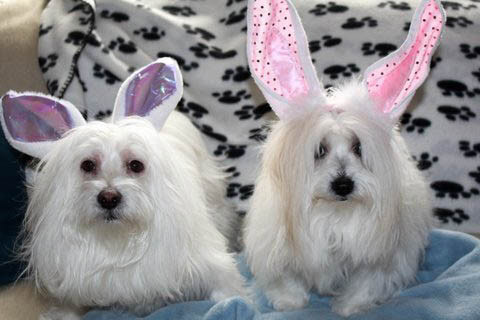 And the real Easter Bunny came on Sunday morning! He knows my travel woes well apparently, because he gave me Mini Eggs, Reese's Pieces, a book on blogging and Tito's Vodka nips. Nicely done Peter Cottontail. One time my dad uploaded all of our old home videos onto this iMemories site where we can access them easier since none of us have a VHS player anymore. And one of my favorite clips is from Easter 1989 when I run downstairs in my one-piece footie jammies and my brother is with me. And we go " THE CARROTS! WHERE ARE THEY!" and my brother goes "AND THE DIET COKE IS OPENED!" — that Connecticut Easter Bunny sure does love his caffeine free Diet Coke since the mid-80s. And then I proceed to have an anxiety attack at age 4 trying to find the hidden Easter eggs while my brother sprints around finding them faster. Not much has changed 26 years later. 
And that's about it. I had to drive back to Boston early on Sunday to get ready for another travel week. I was in Philly Monday until Wednesday night this week and just flew home this evening so I can fit in a few appointments at home tomorrow before Friday I leave for …. PUNTA CANA! Woo Hoooo! Beaches, sunshine, warm weather, lounging, no laptops and good times with my friends Katie and Caitlin. I cannot wait. This will be one flight-check-in email I am actually looking forward to. The one benefit of all of my constant work travel is that I get to keep all of the loyalty points I earn, which makes these fun girl's trips super easy to plan.
So likely no cookie recipes for another week or so, but you can follow my margarita drinking adventures down on an island in the sun starting Friday. Hasta luego!