Funfetti Gooey Bars
Whether you are working today or lounging in your PJs with the day off from work, I think we could all use some sweet treats to brighten up this Monday. Especially if you live in Boston and saw that dreaded four letter "s" word when you woke up this morning. But boy do I have the most ooey gooey sweet treat to rock your socks off today. Because let's be real here, you can you never go wrong when Funfetti is involved. In fact, one of the first cookies that really kicked off my baking career back in elementary school was frosted Funfetti cookies.
I've been eyeing Crazy for Crust's Gooey Cookie bars for some time now. I first got introduced to Dorthy's blog a few years ago during the first Great Food Blogger Cookie swap when we were paired to swap delicious treats. Her cookie bars are super easy to make and have a layer of chocolate chips and sweetened condensed milk in the middle. She's done variations with different flavor cake mixes, chocolate chip cookies, peanut butter and more. So last week I went to Target for "just one thing" and ended up perusing the Valentine's baking aisle, and stocking my cart with some Valentines Funfetti cake mix and red, pink and white sprinkles. And I got to thinking that if those gooey cookie bars look SO good on her blog with regular cake mix, would the Universe just explode if I used Funfetti cake mix? I had to find out for myself.
Admittedly, one thing that I have not been good about with this blog that I hope to improve this year is writing recipes for holidays BEFORE the holiday so that you actually have time to bake them for the holiday. Posting a July 4th 'Murica inspired recipe on July 6th doesn't help anyone. If there were just 10 more hours in the day, or if I had a few minions, I would have a full creative calendar for the year and be super organized with these seasonal recipes. And 15lbs lighter. Sleep 8 hours a night. And date only Boston's finest bachelors. But there aren't 10 more hours in a day, so I'll just do the best I can with the time I've got. In stretch pants. On 3 hours of sleep a night. While swiping left on all of Boston's not so "wicked hawt" bachelors.
And while the thought of Valentine's day doesn't bring cartoon heart eyes to this single-girl-in-the-city, the one upside of this sweet holiday is all of the delicious treats and the fact it's totally socially acceptable to watch The Notebook in sweatpants with a box of chocolates as your date on February 14th. I mean, that is socially acceptable right? Asking for a friend … THOUGH I will say I have had a few amazing single Valentine's days in Boston. The first was when I went to my guilty-pleasure favorite Southie bar called Stats with a few friends, and we drank too many beers, ate so many nachos, and ended the night with some overhead clapping to Wilson Phillips "Hold On" in an attempt to get the rest of the bar to join in. (No one else did, but we didn't care). Then there was 2014 when three of us went to Vegas for Valentine's day to see Britney Spears and that was the weekend of Party Marg. But that all stayed in Vegas.
But if you really want to trigger some cartoon heart eyes this Valentine's day then you definitely need to bake up a batch of these Funfetti Gooey Bars. I adapted Crazy for Crust's recipe a bit and made these one Friday night and couldn't photograph them for the blog since I may have dug right into the corner with a fork before they even went into the fridge to set. So I brought those to my tennis match for my teammates to try, and even let my opponents have some after the match. I immediately went home and made another batch, and excercised some serious self control into not touching this batch until I photographed them the next morning. I then immediately hopped in the car and dropped the batch off at my friend Ania's house, who was one of my original Funfetti cake testers back in our high school days of hanging out in my basement on Friday nights. Mostly because I am nice, but also because I was worried I could polish off this entire batch without thinking twice. They are just that good. Universe exploded. Like a Mentos in a Diet Coke. Kablamo.
The recipe is so simple, but I have never tasted something that was so simple but so addictingly delicious before. The sweeteneded condensed milk and the white chocolate chips in the center add both texture and additional sweetness to the bars, so every bite your taste buds just explode with happiness. These bars are delicious chilled and hand-held. But I really loved popping them in the microwave for 15 seconds and eating them with a fork, when the chocolate was melted together with the hot cake batter. Sweet lady marmaladeeeeeeeeeeeeee! (sang in my best Xtina voice).
My head is already spinning with the endless possibilities of these gooey bars. S'mores? Snickerdoodle? Nutella? Browned Butter? I mean, I'm fairly certain if I could end any of my online dating matches some gooey bars in advance, I'd be wifed up in no time. (Don't get any ideas there Dad).
All I can say is pick up a box of Funfetti cake mix as soon as possible. Bake a batch of these Funfetti Gooey Bars. And have your world rocked. You're welcome.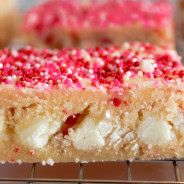 Funfetti Gooey Bars
Yield: 9-12 bars
Prep Time: 15 Minutes
Cook Time: 30 Minutes
Total Time: 45 Minutes
A super simple and crazy delicious recipe, made with only a few ingredients and resulting in a flavor combination that will blow the mind of your Valentine!
Ingredients:
1 box Funfetti Cake Mix (Valentine's if you can find it)
1 stick (1/2 cup) butter, softened - almost melted
1 egg
1/2 cup sweetened condensed milk
1 cup white chocolate chips
Sprinkles
Directions:
Preheat the oven to 350 degrees. Line an 8x8 glass baking dish with parchment paper and coat the bottom and sides of the dish with nonstick spray.
In a large bowl, use a hand-mixer to mix together the Funfetti cake mix, butter and egg. Mix until a thick dough forms. If it's still dry, pop it in the microwave for 10-15 seconds to melt the butter a bit more before continuing to mix.
Press about two-thirds of the dough in the bottom of the prepared baking dish. Pour the sweetened condensed milk evenly on top and sprinkle with the white chocolate chips.
Separate the remaining dough into small balls, flatten in your hand and evenly space over the top of the bars. Generously sprinkle the top before putting in the oven.
Bake the bars at 350 degrees for 30-35 minutes, just until the edges begin to brown. Let them cool completely before slicing (if you can wait that long). I recommend either chilling them in the fridge if you're bringing them somewhere, or microwaving them for 10-15 seconds to enjoy warm with a fork. Enjoy!