Chocolate Dipped Mint Shortbread Cookies
There's something about mint flavor that instantly makes me get into the holiday spirit. It's creamy, cool and refreshing. Mint and chocolate is a flavor combo that you just can't go wrong with. Mint chocolate chip ice cream? Yes, please. Mint hot chocolate? Heck yeah. Andes Crème De Menthe candies always remind me of the holidays. I always remember there being a bowl of Andes candies on the dessert table at holidays. These Chocolate Dipped Mint Shortbread cookies are packed with Andes Crème De Menthe baking chips and then I melted the rest of the chips and dipped the baked cookies in there to really maximize the mint and chocolate flavor combination for this refreshing treat.
Andes candies are like Cadbury Mini Eggs … people love them year round, but it seems like you can typically only find them during their particular season. Though I have recently seen holiday mini eggs, which I can definitely get onboard with. Most of the recipes involving Andes candies that I've seen before have an Andes mint placed on top of a warm cookie when it comes out of the oven so that it melts. During my holiday baking ingredient stock up at Target recently I picked up a bag of the  Andes Crème De Menthe baking chips.
These chips are super easy to incorporate into recipes, and don't involve the danger of trying to chop up a batch of Andes mints with a kitchen knife. Which also usually results in you eating several Andes mints in the process. The small chips also help to ensure the flavor is evenly distributed throughout the entire cookie.
You can totally skip the chocolate dipping step for these, though I'm not sure why you wouldn't want to get as much chocolate into this cookie as possible. I just sent these via UPS to a friend and they stayed in great shape after the multi-state journey up north.
I don't have much experience making shortbread cookies, but I will say the few times I have done it I've added too much flour too quickly and my dough is pretty dry an crumbly. That happened with this recipe, so I added about two tablespoons of melted butter to get the right consistency, but if I was making them again, I would just add the flour 1/3 cup at a time until the dough reached the desired consistency where I could easily roll it into a log. My log rolling ability could use some work too. Either way, these turned out great so I'm not complaining.
If you're looking for another great recipe using Andes candies, one of my favorite holiday creations were these Peppermint Doodles from a few years ago using the Peppermint Crunch candies – basically a minty version of a snickerdoodle. You could also definitely make these mint shortbread cookies using the peppermint crunch baking chips if that was your flavor of choice. Whichever way you land on the mint spectrum, you'll end up refreshed and happy after baking up a batch of these chocolate dipped mint shortbread cookies. Happy holiday baking!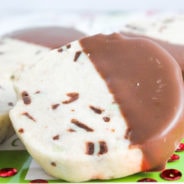 Chocolate Dipped Mint Shortbread Cookies
Yield: 24 Cookies
Prep Time: 45 Minutes
Cook Time: 15 Minutes
Total Time: 1 Hour
This refreshing and sweet treat is the perfect cookie for your holiday dessert table!
Ingredients:
2 sticks butter, softened
3/4 cup powdered sugar
1 teaspoon  vanilla extract
1 teaspoon salt
2 1/3 cups all-purpose flour
10 oz bag Andes Crème De Menthe Baking Chips, divided
Directions:
Using a stand mixer, cream together the butter and powdered sugar. Scrape down the side of the bowl before adding in the vanilla extract and salt and beat until smooth.
Slowly add in the flour and mix on a low speed until combined. I would recommend adding the flour about 1/3 of a cup at a time until the dough comes together. You may not need the last 1/3 cup or the dough could get too dry.
Add 3/4 of a cup of the Andes Crème De Menthe Baking Chips and mix on low until evenly incorporated.
Roll out the dough into a 12-inch log on parchment paper and either refrigerate for an hour or freeze for a half hour, until firm.
Preheat the oven to 350 degree F. Prep your baking sheets with either a sil-pat or parchment liner. Use a sharp knife to cut even 1/2 inch slices and place at least an inch apart on the baking sheet.
Bake at 350 degrees for about 15 minutes, or until the edges are lightly golden. I typically check the bottom of the cookie using a cookie spatula to see if they are done. Let the cookies sit on the tray for a few minutes before transferring to a wire rack to finish cooling.
Take the remaining Andes baking chips and melt in the microwave, stopping to stir at least every 30 seconds, until smooth.
Dip each cookie halfway into the chocolate and placeon a piece of parchment to set. Enjoy!