Chocolate Dipped Orange Sugar Cookies
Dear Corporate America, Please consider this my two weeks notice. I have just made what may be the best cookie ever invented. Trust me, if you were an actual person and tasted this you would throw dollar bills my way and throw a parade in my honor. And while I love spending my day in budgets, project plans, forecasts, scope matrices and on conference calls, it is my civic duty to bring cookies to the good people of America.
One day, I'll send that letter to wherever I am in corporate America. but I am telling you, these cookies are probably in my top two or three best cookies ever created. I was inspired from a few different angles for these cookies. First, the two recent fruit-zest sugar cookies (lime and lemon) that I have made were a HUGE hit at work. Second, there is an ice cream combo my dad used to always get when we would go out for ice cream when we were younger – one scoop chocolate ice cream, one scoop orange sherbert. Skip was clearly onto something. So I decided to make the zesty sugar cookie with orange zest and dip it in some dark chocolate.
I'm telling you. If you tasted one of these, you'd probably tell me to quit my day job.
Ingredients
Zest of 1 large orange
1 1/2 cups granulated sugar
1 cup unsalted butter, at room temperature
1 large egg
1/2 teaspoon vanilla extract
2 tablespoons fresh orange juice (approx. the juice of half a large orange)
2 3/4 cups all-purpose flour
1 teaspoon baking soda
1/2 teaspoon baking powder
1/2 teaspoon salt
1/2 cup granulated sugar for rolling cookies
2 dark chocolate bars for dipping (I used orange infused)
Step 1: Preheat the oven to 350 degrees. Cream together butter and sugar. Add in egg and vanilla and mix until well incorporated. Zest a large orange and add the zest into the batter along with 2 tablespoons of fresh orange juice – that was about the juice of  half a large orange for me.
Step 2:  In a separate bowl sift together the flour, baking soda, baking powder and salt. Add into the wet batter and mix until incorporated.
Step 3: Using a cookie scoop, roll even-size balls of dough in granulated sugar and press down lightly onto a sil-pat or parchment-lined baking sheet. Bake at 350 degrees for 8 to 10 minutes.
Step 4: Put the cookies on a cooling rack. In the microwave, melt the dark chocolate in a bowl, stirring every 20 seconds until it is smooth. I used these Lindt dark chocolate bars infused with orange. Regular dark chocolate would work as well. Once the cookies are cool, dip them about 1/3 of the way into the melted chocolate and put on a piece of parchment to cool and harden.
Prepare yourself for a series of food porn photos.
You can go ahead and wipe the drool off your chin now.  These cookies were amazing without the chocolate, but the dark chocolate flavor really adds such a great flavor boost that compliments the fresh orange in the cookie. I can tell I will definitely be making these again.
Right now I am sitting on my couch wrapped up in a blanket like a burrito waiting for our traditional Friday Night Lights marathon. It's the perfect way to relax before starting another crazy work week. I had a good but exhausting weekend down the Cape. I am not a runner but I like to think I can run races from time to time. Yesterday I ran the Irish Pub 5 mile race down in West Harwich. I spent many nights at the Irish Pub when I lived down the Cape in the summers, but I can tell you I am much better at taking green jello shots and doing karokee than I am at running. The race pretty tough but I am glad I did it. I ran it with two friends and my mom came to be our personal paparazzi again which is always nice.
Before: Elyse and I all ready to "run to the beer"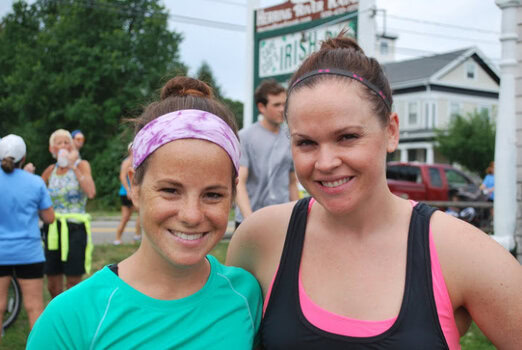 After. My face looks like a tomato and I'm pretty sweaty, but happy I finished in a decent time. I spent the rest of the afternoon on the couch.
The other highlight of the weekend is that I grilled my first steak ever this weekend. If you know me, you know that I pass out at the sight (and sometimes even the talk) of blood. When I was like 14 or 15, I was watching the butcher cut meat in the grocery store and it was so friggin bloody that I almost passed out. So I just stopped eating red meat. Fast forward 13 years later, I had a piece of steak a few weeks ago that my dad cooked and was like, holy bananas, this is delicious. So tonight Colleen and I grilled up a steak and had it over a spinach and gorgonzola salad. Boom. Nailed it. Look at that piece of perfectly cooked meat. BAM.
That's all for this weekend kids. Time for a little Tim Riggins and Coach Taylor. Clear eyes, full heart, can't lose. Texas Forever.