Pumpkin Oatmeal Chocolate Chip Cookies
Even though Halloween is this week, Pumpkin season is still in full swing and will be through Thanksgiving. Baking with pumpkin always poses some challenges, as cookies spread and batter can be too wet. Instead of throwing in the towel on pumpkin cookies and going back to pumpkin breads + muffins, I decided to give it one more shot and hit the cookie jackpot with these perfect Pumpkin Oatmeal Chocolate Chip Cookies. They are crisp on the outside and chewy (not cake-like) on the inside, with lots of sweet milk chocolate chips. This is the ultimate fall cookie.
I haven't been on much of a baking kick lately, mostly with being busy and traveling a lot on the weekends recently. Oh, and moving into a new home a month ago and all that comes along with that. But the super rainy Boston day today meant a full day of sweatpants and indoor activities. I've been on a pumpkin protein pancake and pumpkin smoothie kick recently, so had some extra pumpkin puree in the fridge and decided to give pumpkin cookies one more shot. I adapted my recipe for Peanut Butter Oatmeal Chocolate Chip Cookies to make these pumpkin treats, and just swapped peanut butter for pumpkin, and then increased the amount of flour and added in a little corn starch, which usually helps keep wet batter together.
Chilling the batter is a key step for this dough. If my freezer was bigger (aka. not stuffed with other stuff right now) I would have frozen the cookie dough scoops on a baking sheet, but chilling the dough in the fridge seemed to work just fine. I meant to add cinnamon to the dough but I actually like the way it came out without it. Using high-quality chocolate chips is also really important. I know they are pricier but they really make a difference. I also almost always use milk chocolate instead of semisweet, but that's a taste preference.
I'm bringing these into work tomorrow in hopes they serve as solid leverage for my coworkers to get a lot done for me this week. No shame in my cookie bribery game. That's the whole reason this blog started in the first place. Gotta leverage those sweet and salty synergies right to the top. But in the meantime, if you're in the mood for some fall baking, or need a non-candy dessert to bring to a Halloween bash this week, bake up a batch of these Pumpkin Oatmeal Chocolate Chip Cookies.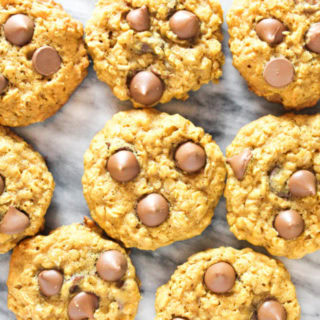 Yield: 24-30 Cookies
Pumpkin Oatmeal Chocolate Chip Cookies
Additional Time
30 minutes
The perfect fall cookie chock full of pumpkin, oats and sweet milk chocolate chips, ready in less than an hour.
Ingredients
1 stick butter, softened
1 cup light brown sugar
1/2 cup pure pumpkin puree
1 teaspoon vanilla extract
1 egg
1 cup all-purpose flour
1/2 teaspoon salt
1 teaspoon baking soda
1 tablespoon cornstarch
1/2 teaspoon baking powder
1 1/2 cups old fashioned oats
1 cup milk chocolate chips + extra for topping
Instructions
In a medium bowl mix together the flour, salt, corn starch, baking powder and baking soda and set aside.
In a large mixing bowl, beat together the butter and light brown sugar until creamy. Add in the egg and vanilla and mix well. Beat in the pumpkin puree until combined. Scrape down the side of the bowl before adding in the dry ingredients.
Slowly mix in the dry ingredient mixture until just combined. Add in the oats and mix until incorporated.
Fold in the chocolate chips until evenly distributed. Chill the dough for at least 30 minutes, this is very important when baking with pumpkin otherwise the dough will spread too much.
Preheat the oven to 350 degrees F. Use a medium cookie scoop to place even-sized balls of dough at least 2 inches apart on a sil-pat or parchment-lined baking sheet. Add a few extra chocolate chips to the top of each cookie before baking. Bake at 350 degrees F for 12-14 minutes, or until the edges are golden brown.
Let the cookies sit on the tray for a few minutes to set before transferring to a wire rack to finish cooling. Enjoy!