Peanut Butter Oatmeal Chocolate Chip Cookies
I'm going back to the basics today with this super simple cookie recipe that you can whip up in less than 45 minutes. Peanut Butter and Chocolate is a no brainer delicious combo, and I had a container of freshly ground peanut butter from Whole Foods in my fridge that I was looking to use up before hitting the road for 3 weeks of back to back travel. I love peanut butter cookies made with old fashioned oats because the texture is always that perfect balance of chewy with a little crunch from the oats. You could definitely make this recipe sans chocolate if you were looking for a simpler flavor, but everything is better with chocolate so I added in some high-quality milk chocolate chips to this batch. And wowee! What a flavor combo. Crunchy oats, creamy peanut butter and rich melted milk chocolate. Now that's what I call forgetaboutit good.
I fully acknowledge that I've been slacking a bit on the blog lately. I've been nonstop on the go for the past month – Chicago, Connecticut, Boston and a lot of Florida-  and it's hard to build up a backlog of quality recipes when I am home less than 5 days a month in my kitchen. My big project at work that I've been working on for the past 18 months launches at the end of this month, so after that I will be all about baking this summer when I finally get a chance to sleep again and hopefully get a little more time at home. In my 10 years as a digital consultant, this is by far the biggest and most exciting (and exhausting, challenging, sweaty, complicated, dramatic, etc.) project I've ever worked on. I mean there's literally a Volcano involved. So stay tuned for more on that. But for now let's get back to these cookies.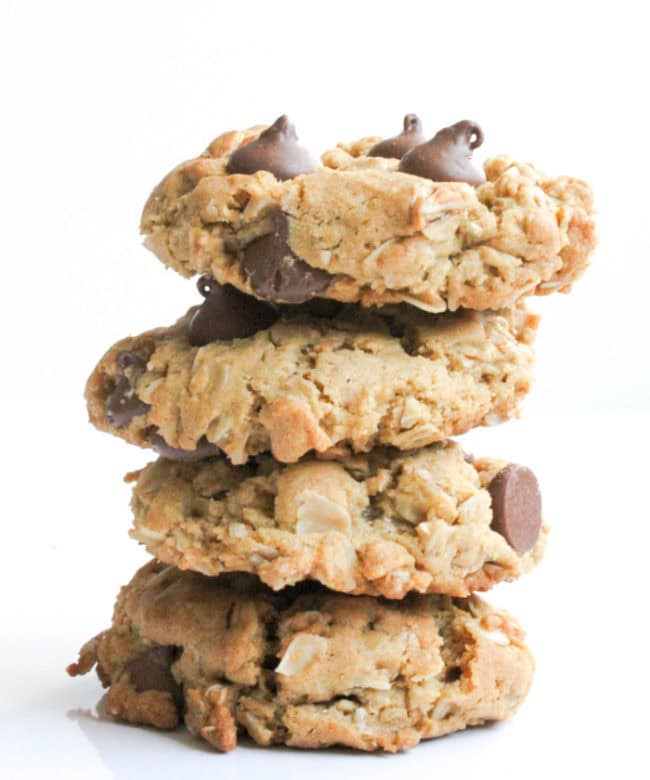 In full disclosure, this recipe was a bit of a scramble and result of trying to clean my fridge out before heading out for non-stop travel through the end of the month early tomorrow morning. I like getting the fresh ground peanut butter from Whole Foods, and I keep it in my fridge so it stays for a while and doesn't separate and get oily. I had a good size container of it left that I wanted to use up. I adapted one of my go-to M&M cookie recipes based on what I had in my cabinet. I love when you can rely on a base cookie recipe to always come out perfectly. Then I can focus on incorporating new ingredients to up the ante. This time I kept it simple, but I already have some ideas for how to use this recipe with other ingredients like coconut, pecans or peanut butter cups.
I was lucky enough to get to spend Mother's Day weekend with my parents all weekend down in North Carolina. I got to spend a really nice day with my mom on Friday in Raleigh, and then we saw my brother, sister-in-law and nephew in Chapel Hill the rest of the weekend. I whipped these cookies up in between Mother's Day brunch this morning and dinner with my parents this evening before they flew back north. I think my coworkers are getting annoyed that I am not bringing these to Florida anymore, but I've finally found a solid cookie runner in NC that lives in my apartment building so I have someone who takes all my baked goods before I fly out.
If you're looking for a solid go-to cookie recipe that can be whipped up in under an hour, definitely try these Peanut Butter Oatmeal Chocolate Chip cookies. Add these to your Memorial Day and summer cookout recipe list. They are a quick bake and travel well, and will be a big hit at any party. Enjoy!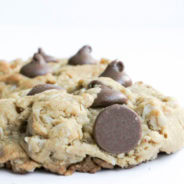 Peanut Butter Oatmeal Chocolate Chip Cookies
Yield: 24 Cookies
Prep Time: 15 Minutes
Cook Time: 15 Minutes
Total Time: 30 Minutes
A soft, chewy salty sweet cookie that is easy to whip up in less than 45 minutes.
Ingredients:
1 stick butter, softened
1 cup light brown sugar
1/2 cup creamy peanut butter
1 teaspoon vanilla extract
1 egg
3/4 cup all-purpose flour
1/2 teaspoon salt
1 teaspoon baking soda
1/2 teaspoon baking powder
1 1/2 cups old fashioned oats
1 cup milk chocolate chips
Directions:
Preheat the oven to 350 degrees F. In a medium bowl mix together the flour, salt, and baking soda and set aside.
In a large mixing bowl, beat together the butter, peanut butter and light brown sugar until creamy. Add in the egg and vanilla and mix well. Scrape down the side of the bowl before adding in the dry ingredients.
Slowly mix in the dry ingredient mixture until just combined. Add in the oats and mix until incorporated.
Fold in the chocolate chips until evenly distributed.
Use a medium cookie scoop to place even-sized balls of dough at least 2 inches apart on a sil-pat or parchment-lined baking sheet. Add a few extra chocolate chips to the top of each cookie before baking. Bake at 350 degrees F for 12-14 minutes, or until the edges are golden brown.
Let the cookies sit on the tray for a few minutes to set before transferring to a wire rack to finish cooling. Enjoy!