Chocolate Chip Oatmeal Cookies + Giveaway!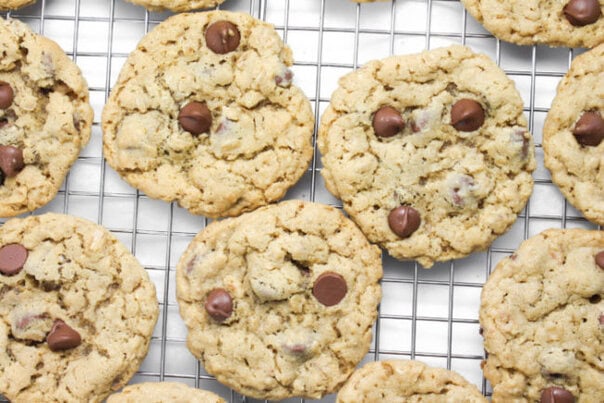 Tis' the season of giving. And this recipe particular recipe is extra sweet because it's all for a good cause this holiday season to benefit one of my favorite charities, Cookies for Kids' Cancer – the national non-profit organization dedicated to funding research for safer, more effective treatments for pediatric cancer, the #1 disease killer of children in the U.S. This recipe for Chocolate Chip Oatmeal Cookies was specifically developed for the first Cookies for Kids' Cancer bake sale. No matter the season, these dense, buttery, yet light cookies sell more than any other at their bake sales. Easy to make, super delicious and all for a great cause. That's pretty sweet.
To make things even sweeter, for the first time, Cookies for Kids' Cancer has launched a Challenge Gift Campaign where all of the money raised from now to December 31st will be matched, dollar for dollar, up to $250,000! Make sure to visit Cookiesforkidscancer.org for more information on ways to donate.
This Chocolate Chip Oatmeal Cookie recipe is part of the All The Good Cookies Cookbook, a collection of mouthwatering recipes that promises to satisfy any cookie craving, with all of the author's profits going to charity. For anyone who loves baking cookies and making a real difference in the world, Cookies for Kids' Cancer: All the Good Cookies is a perfect way to do both at the same time.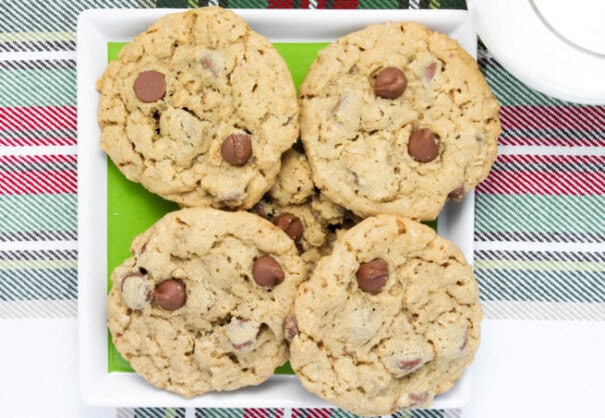 These cookies would be a great addition to your holiday cookie list. They are super quick to make, and very light with the old-fashioned oats mixed in. Make sure to get quality milk chocolate chips for this recipe, since there's not much else going on in the cookie they will make a big difference in the overall flavor. They are also perfect for leaving out by the fireplace on Christmas Eve to give the big guy in red some extra energy to finish his midnight route.
And in the spirit of giving, this holiday season De'Longhi, an international leader in household appliances, will celebrate by giving back to benefit Cookies for Kids' Cancer. During "De'Longhi Days of Giving," through December 20th, De'Longhi will donate 10% of its delonghi.us sales site-wide to Cookies for Kids' Cancer. So if you're still searching for some last minute gifts, check out Delonghi.us to purchase products and see all of the great holiday gift ideas De'Longhi has to offer. Maybe a nice cappuccino maker to go along with these delicious cookies? I can definitely get onboard with that combo.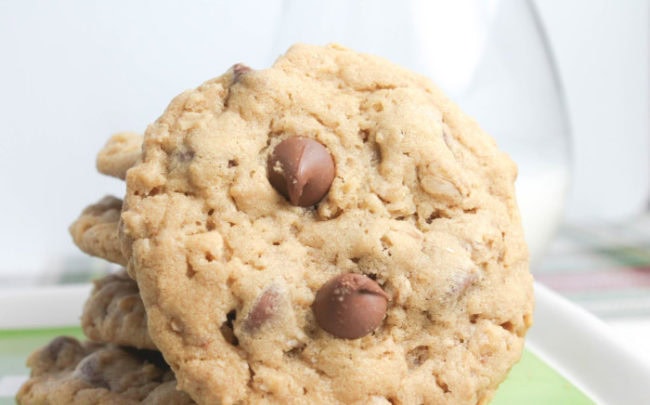 I was very excited when this package arrived on my doorstep filled with goodies from both De'Longhi and Cookies for Kids Cancer to both bake with and relax with a cup of hot coffee. The cookbook is super cute and packed with such great recipes and cookie photos that will leave you drooling. I'll definitely be picking up a few copies as stocking stuffers this holiday season.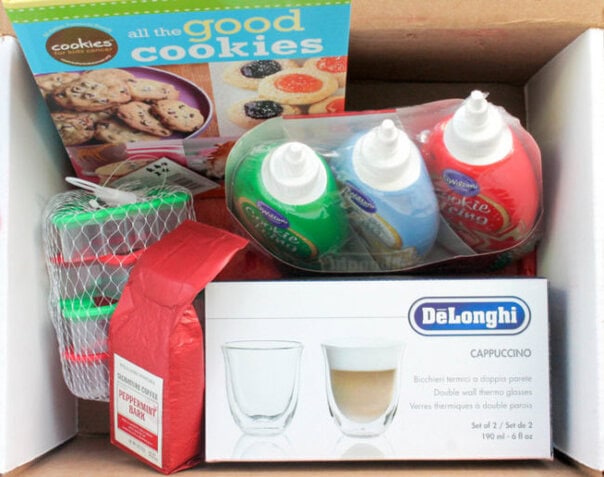 BUT WAIT! There's more! You too can receive this festive and fun holiday gift basket from these great companies doing good things this holiday season.
TO ENTER: Click the link below that says "Leave Blog Post Comment" and scroll down to the Leave a Reply section of this page to comment on this post and tell me what your favorite holiday cookie recipe is. To unlock an extra entry, you can also follow The Salted Cookie on Facebook. The contest is open until Tuesday December 20th at 8:00pm EST, and I will announce the winner before Christmas. Good luck and happy baking!
Disclosure: This post is sponsored by De'Longhi and Cookies for Kid's Cancer, but all opinions are my own.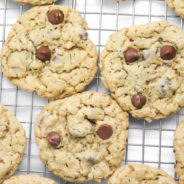 Chocolate Chip Oatmeal Cookies
Yield: 3 to 4 Dozen Cookies
Prep Time: 20 Minutes
Cook Time: 15 Minutes
Total Time: 35 Minutes
From the The Cookies For Kids' Cancer Cookbook, this is the cookie that started it all! This recipe was specifically developed for Cookies for Kids' Cancer first bake sale. No matter the season, these cookies sell more than any other.
Ingredients:
2 sticks butter, softened
1 cup light brown sugar
1/2 cup granulated sugar
1 large egg
1 large egg yolk
1 tablespoon vanilla extract
2 cups all-purpose flour
1 cup quick-cooking or old-fashioned rolled oats
1 teaspoon baking powder
1 teaspoon baking soda
1 teaspoon kosher salt
3 cups semi-sweet chocolate chips
Directions:
Preheat the oven to 325ºF and prep your baking sheets with a sil-pat or parchment liners.
Place the butter and sugars in your mixing bowl fitted with the paddle attachment and beat until smooth and creamy. Add the egg, egg yolk, and vanilla, one at a time, beating between additions.
Place the flour, oats, baking powder, baking soda and salt in a separate bowl; mix well and add to the butter mixture. Beat until everything is well incorporated. Scrape down the sides of the bowl before adding the chocolate chips.
Slowly add in the chocolate chips just until they are evenly distributed. I like to save a handful to put on top of each cookie dough ball before baking.
Use a medium-cookie scoop to form the dough into heaping-teaspoon size balls and place them about 2 inches apart on your prepared cookie sheet. Using your palm, gently press down and top with some chocolate chips.
Bake at 325ºF for about 12-15 minutes, or until the edges are lightly golden. Cool on the cookie sheet before transferring to a wire rack to finish cooling. Enjoy!