Orange Chocolate Cranberry Oatmeal Cookies
Another Sunday night, another cookie recipe, another case of the Sunday scaries. Last week was another rough one with work. We're still a few weeks away from the light at the end of the tunnel with this project and I was back in the Chicago burbs last week kicking butt, taking names and saving lives. Another set of less-than-bueno flights, but I was smart thinking ahead and parked my car at the airport when I flew out, because I knew when I landed after 10pm Friday night I wanted to get to my happy place down the Cape as fast as possible.
I nailed this sunset pic from 30,000 feet late Friday. Those clouds may look like puffy fluffy cotton, but don't let them deceive you. Those clouds mean turbulence to the max as we flew through that giant green blob on the weather radar map.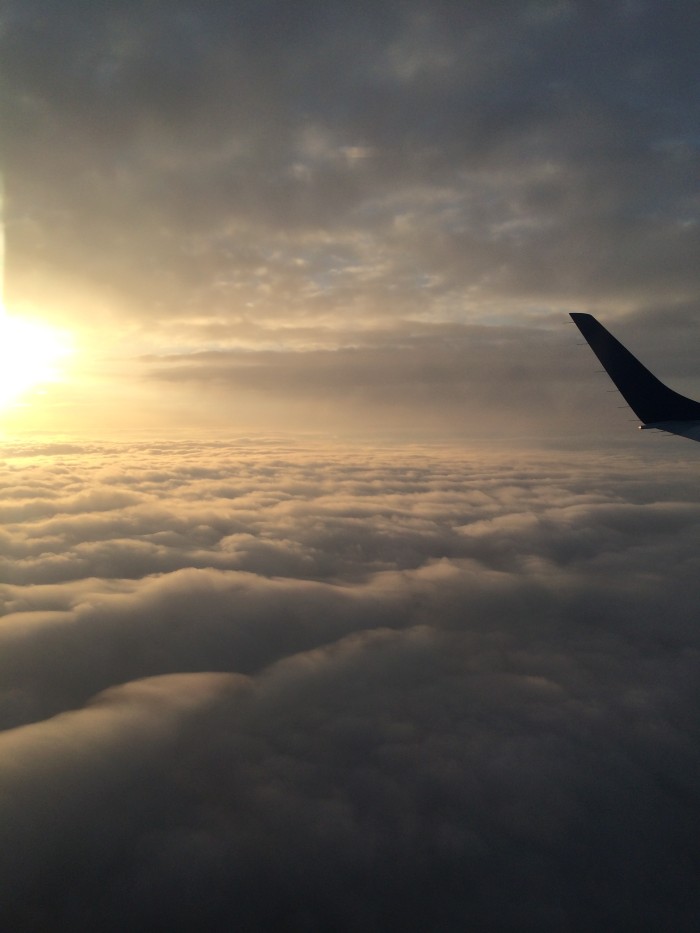 So Saturday afternoon I went out in search of some cookie inspiration with Mom. After having lunch at my old waitressing stomping grounds Brax Landing in Harwichport, mom and I ventured into downtown Chatham and found some cookie inspiration at an obvious spot – Chatham Candy Manor. The only cookie inspiration I'll ever get from Brax would be cherry-inspired cookies, because of the time when I was trying to do too many things at once without asking for help (who, you Rebecca? that sound nothing like you at all!) and I smashed a 10-pound jar of cherries all over my light blue waitressing polo and khaki skirt, and got a bunch of glass shards cutting my legs. But I managed to still work my double shift, after my mom came to the rescue and brought me a new head-to-toe uniform. But I digress.
One day when I feel ambitious enough, I'll try my hand at some fudge making, and if it's even 1/5th as good as the fudge at the Candy Manor I'll consider it a success. I've been on the hunt for cranberries lately. The guy at the grocery store told me last week I won't be able to find fresh or frozen cranberries for a while since it's not their season, which if you know me, only means I am more determined to find them. But while I did not get my hands on fresh cranberries, I did pay for this overpriced bag of dark chocolate covered cranberries from the Candy Manor and figured I could make a nice Cape-inspired cookie this weekend.
And that's just what I did. I winged it, and took an oatmeal cookie base, threw some fresh orange zest in, mixed in these chocolate covered cranberries and voila, you have the cookie of the week: Oatmeal Chocolate Cranberry Orange Cookies. (Rolls right off the tongue doesn't it?)
Ingredients:
1/2 cup butter, softened
1/2 cup sugar
1/2 cup brown sugar
1 egg
2 teaspoons vanilla extract
1 1/4 cup all-purpose flour
3/4 cups oats
1/4 teaspoon salt
1/2 teaspoon baking powder
1 1/2 teaspoons cinnamon
Zest from 1 orange
1 cup dark chocolate covered cranberries
Step 1: Preheat the oven to 375 degrees. Cream together butter and sugars. Add in egg and vanilla extract and mix well. Zest a large orange and add to the batter.
Step 2: Add the oats, salt, baking powder, cinnamon and flour and beat on a low speed until incorporated.
Step 3: On a low speed, mix in the chocolate covered cranberries until evenly incorporated.
Step 4: On a sil-pat or parchment-lined baking sheet, place large scoops (I used a large cookie scoop) of dough at least an inch and a half apart. Press down lightly with your fingertips and bake at 375 degrees for 9-12 minutes.
My sister was up with two of her friends this weekend, so they emphatically volunteered to be my taste testers when I came onto the back porch with fresh from the oven cookies. Four thumbs up. I'll take it.
You just can't go wrong with the orange zest + cranberry combo. When I finally get my hands on some fresh cranberries, you better believe some orange cranberry muffins or coffee cake will be baked up right away. And if I can't get them in the grocery store, I'll just have to get myself some high-wasted waders and get my own from the cranberry bog off exit 10.
So if you keep up with the blog (all 4 of you) then you know I've been traveling to lovely Illinois frequently the past few weeks. I had to fly out again early Wednesday morning this week and got home pretty late Friday night. But better than flying out Tuesday, when I guess there was a huge debacle because of a fire at the air traffic control tower at O'Hare, which resulted in such significant delays from the airport being shut down that apparently a lot of people decided to rent a car and drive to their destination instead. So that meant, that when I got to Avis to pick up my rental car Wednesday morning, they had already rented out a majority of their normal cars. Which meant I got upgraded to this bad boy. With 3 front windshield wipers.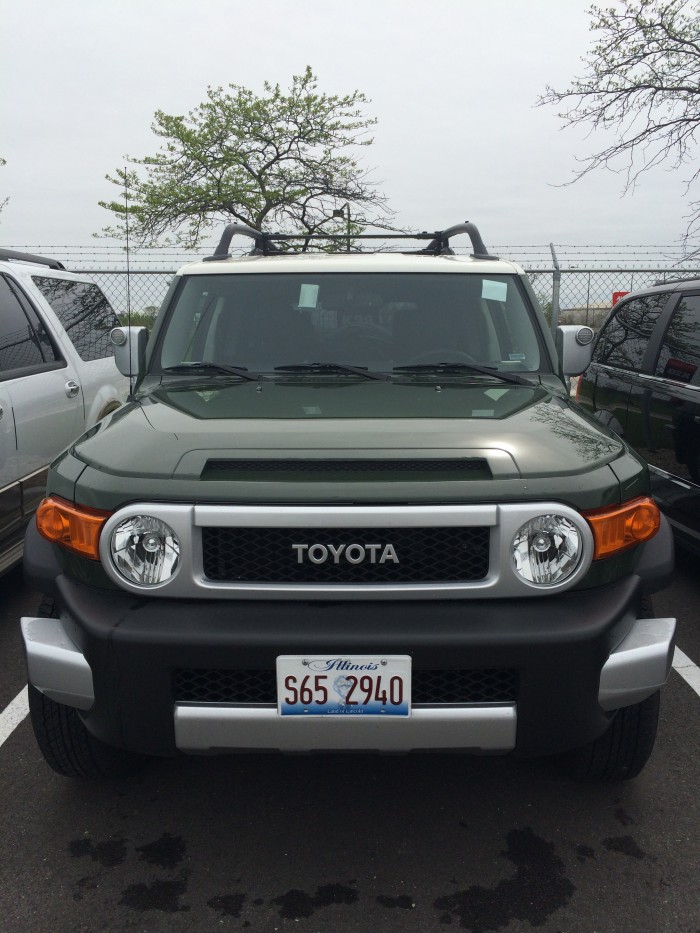 Cue Chamillionaire's "Ridin' Dirty". So I did what any normal person would have done. I rolled up the sleeves of my Burberry rain coat, and sang Iggy's "Fancy" as loud as I could while riding through the Chicago suburbs. You know the lyrics "I'm so fancy, you already know, I'm in the fast lane from Southie to Northbrook, Illinois". I've always had a SUV for a car, so I'm used to driving bigger vehicles, but holy bananas this thing was insane. I felt like I was either on a Safari or being cast as an extra in the next Jurrasic Park. I did feel like a bit of a badass when I pulled up to the Starbucks drive-thru window in this to pick up my calming hot tea.
So Friday night I made it to the Cape a little after midnight, and for once, Mother Nature cooperated and gave us some nice weather this weekend. I had to get bloodwork done Saturday morning and the nurse judged the fact I brought my bodyguard (mom) in the room with me. If you know me, you know that I don't do blood or needles. I'm a guaranteed passer-outer when it comes to even the most basic bloodwork. So there were high-fives all around when I took this needle like a grown up and didn't faint. Grown-up winning.
And then I did a whole lot of this on Saturday – sitting on the back porch watching the sunshine with Skipper.
Sitting on the dock of the bay…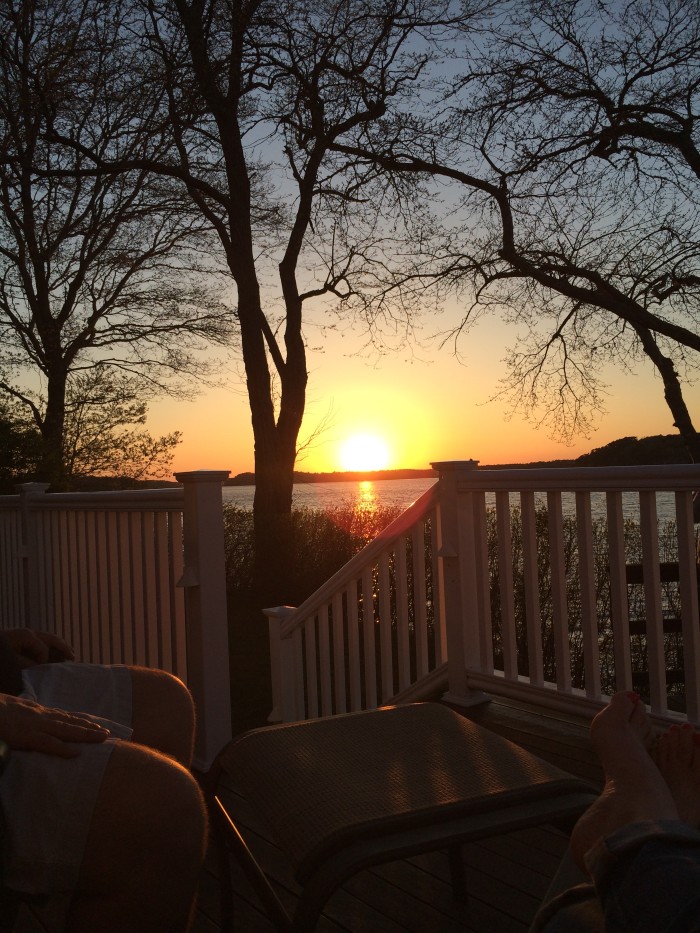 And because I am not annoying whatsoever and can totally be quiet and enjoy a peaceful moment, I certainly did not sing "The Circle of Life" from the Lion King the entire time the sun was sinking into the horizon. I can't help it if the circle of life moves us all … through despair and hope… through faith and love. And if you think that's annoying, you should see when I help Skip put the boats in the water. I usually circle the floating dock singing songs from Pocahontas. I know what you're thinking. How is the salted cookie lady still single? Beats me.
So that's all for this week. No airplanes in my commute this week, and I'll be down the Cape near the end of the week to officially kick off the Summer we all thought would never get here for a nice Memorial Day weekend.