Unicorn Cookies
In this crazy world we are living in, there's one thing that we know for sure: People love unicorns. For whatever reason, people are going bananas these days for anything colorful, shiny, sparkly and magically resembling the mythical creature. Unicorn frappuccinos. Unicorn bagels. Unicorn pool floats. And unicorn poop cookies. Yes. Unicorn poop. I decided to jump on the unicorn bandwagon in a classy and delicious way with these bright sprinkle-covered, sparkly, rainbow Unicorn Cookies.
Okay so technically I am not jumping on the Unicorn bandwagon. I was reppin' unicorns at work before magical pool floats became a thing. There are two things that I'm known for at work ( aside from not sucking at my job): dressing in all black like a ninja and refusing to lose my Boston sass. On one particularly sassy Boston day at my last job, I sarcastically suggested that we get a real unicorn to take on a road show to promote our client's new website. The next day, small plastic unicorns started popping up everywhere. In my jacket pockets, in my desk drawers, in my lunch, everywhere. It. Drove. Me. Insane. And it went on for days. Until I found out my desk neighbor had an elaborate prank going on with several coworkers. After that, the plastic unicorns lived all over my desk along with a sign that read: Always be yourself. Unless you can be a unicorn. Then always be the unicorn. I even gave my coworker this inspirational guide to Raising Unicorns when I left that company, so my unicorn legacy lives on!
And now in my new job, we have this internal application at work that needed a name when  it was being developed. And you'll never guess what the app is called: Unicorn. And yes, it's as magical and mysterious as it's namesake. So since I've been depriving my coworkers of cookies for all too long (and because cookies are the best workplace bribe) I decided to get creative this weekend and come up with a magically delicious Unicorn-inspired treat.
I was going to do a colorful take on my Pinwheel Cookies, but I wanted a more unique look to each individual cookie. And some sparkle. I looked at a few different rolled cookie recipes and then adapted it to my style. I used four different colors for the cookie dough. To create the swirled look for each cookie was easy. I started by rolling small pieces of each color dough into individual balls, then combining all four colors into one larger ball, rolling it into a long cylinder and coiling that around. I finished it off by rolling it in a dish of non-pareils and topping with a sprinkle  of sparkly sanding sugar.
The one thing I wanted to make sure these cookies had were a punchy flavor that matched the cookie's personality. Watermelon seemed like a fitting flavor for these colorful treats, so I used watermelon extract to flavor these cookies. Each bite of these cookies is a magical experience. The sprinkles  on the outside add a nice crunchy texture. The swirled cookie dough creates a soft sugar cookie center. And the watermelon extract is a surprising flavor that makes you want to immediately go in for another bite.
These cookies are definitely a magical treat that are are unique in looks as they are in flavor. So the next time you're feeling a bit sparkly and mysterious, bake up a batch of these deliciously magical Unicorn Cookies.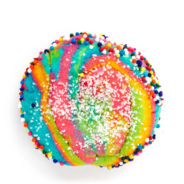 Unicorn Cookies
Yield: 3 Dozen Cookies
Prep Time: 2.5 Hours (includes chill time)
Cook Time: 10 Minutes
Total Time: 3 Hours
These watermelon flavored treats are as magical and mysterious as their sparkly namesake.
Ingredients:
1 stick butter, softened
1/4 cup vegetable shortening, room temperature
1 cup granulated sugar
1 egg white
1 egg
1.5 teaspoons watermelon extract (can substitute vanilla extract)
2 1/2 cups all-purpose flour
1 tablespoon cornstarch
1 1/2 teaspoons baking powder
Gel Food Coloring
Non-Pareil sprinkles
Directions:
Using a stand or hand-held mixer, beat together the butter, shortening and granulated sugar until fluffy. Add in the egg, egg white and watermelon extract and mix until combined. Scrape down the side of the bowl before adding the dry ingredients.
Add the flour, cornstarch and baking powder slowly to the batter mixing on a low speed until combined.
Divide the dough into four separate bowls.
Mix each ball of dough individually with some gel food coloring. I did this by hand using gloves, but the quickest way to do this is probably putting it back in your mixer. You may just need to wipe it down in between colors.
Chill the dough for 90 minutes.
Preheat the oven to 375°F. Line baking sheets with sil-pats or parchment paper.
Take the chilled dough and roll grape-size balls of each color of dough. Take a dough ball from each of the four colors and roll it between your palms until it forms one larger ball, almost resembling a beach ball.
Roll that ball of dough into a thin log. Cut it in half so that it will make two cookies. Coil the cookie dough log into a round cookie shape. My dough was a bit dry so this took a few tries on a few of the cookies.
Roll the edge of the cookie in a dish of non-pareils. For added magic sparkle, top with some sanding sugar.
Bake at 375°F for about 10 minutes. Let the cookies set on the cookie sheet for a few minutes before transferring to a wire rack to finish cooling. Enjoy!