White Chocolate Graham Cracker Pudding Cookies
A disclaimer to this post: I'm a little punchy tonight. I'd tell you more, but what happened in Vegas this weekend, stays in Vegas. Well,  unless you have a cookie blog, and need to give your loyal fans their weekly life update. So I'll let out a little bit of what happened in Vegas this weekend in this post. But needless to say, I came in on the red eye early this morning and have probably slept a combined 12 solid hours in the past 3 nights so punchy is a nice way of saying, overtired and a little bit cray cray. I channeled that exhaustion into some Vegas inspired cookie baking tonight which I am surprised both turned out pretty tasty and I did not fall asleep while baking them and burn the house down. Winning all around.
Saturday night we went to see Jersey Boys at the Paris Hotel because Caitlan's friend was playing the lead role of Frankie Valli. Now if you have not seen this play before, I highly recommend it. I saw it a few years ago when I went to Vegas and Skip got tickets. I spent a lot of time rolling my eyes at how I didn't want to go because Skip has horrific taste in music (sorry, but it is true. He doesn't even like Ke$ha. ugh.) Well, I was pleasantly surprised when I knew almost every song in Jersey Boys and it was a wicked entertaining show. So if you haven't seen it, I do highly recommend it. So anyways, after the show we met up with Caitlan's friend Graham (who is super talented, and in a band too) and went to the Sugar Factory for a late dinner. Apparently their desserts are to die for, but Colleen and I had shared the world's largest drink which was smoking (literally) and had gummy worms in a giant goblet, so no room for dessert for us. But when they brought the check, they gave you these little white chocolate covered graham cracker things to munch on which were insanely delicious and sparked the inspiration for this cookie. So given we met Graham, and ate the chocolate covered graham crackers, it was obviously a sign that I needed some Graham inspired cookies.
So tonight was just some experimenting gone right. I used a vanilla pudding cookie base, covered some mini Teddy Grahams with white chocolate and froze them, then chopped them up and added them to the batter. This will be the last piece of sugar I eat for a month before some much needed detoxing starts tomorrow, but man oh man are these soft, chewy and packed with flavor. And if the name White Chocolate Graham Cracker Pudding Cookies is too much of a mouthful for you, you can just call these Party Marg cookies. Read on and you'll see why.
Ingredients:
1 cup unsalted butter, at room temperature
3/4 cup brown sugar
1/4 cup granulated sugar
1 (3.4 ounce) package vanilla instant pudding mix
2 large eggs
1 tablespoon vanilla extract
2 1/4 cups all-purpose flour
1 teaspoon baking soda
1/2 teaspoon salt
2 cups mini Teddy Grahams (or full size ones coarsely chopped)
2 cups white chocolate chips
Step 1: Preheat the oven to 350 degrees. In a microwave safe bowl, melt the while chocolate chips until smooth. Be sure to take it out and stir every 20-25 seconds to avoid it clumping. Coat the mini Teddy Grahams in the white chocolate and then spread on some parchment paper and freeze or refrigerate until hard. I find teddy grahams just work so much better for baking than actual graham crackers because they are a little more solid and don't try the dough out as much.
Step 2: Cream together butter and sugars. Add in vanilla pudding mix.
Step 3: Add in eggs and vanilla and mix until well incorporated. Add in the sifted dry ingredients and mix until the dough forms.
Step 4: Take the Teddy Graham bark (this could be eaten entirely on its own it's so good) and coarsely chop it. Add that into the mixer and mix on low just until the bark is evenly distributed. Obviously, you should taste test the bark for safety before.
Step 5: On a sil-pat or parchment-lined baking sheet, use a small cookie scoop to place even-size balls of dough about an inch apart from eachother. Bake at 350 degrees for about 11-13 minutes or until lightly brown. Let them cool on the tray for a few minutes before transferring them to a wire track to cool.
Maybe I should be punchy and jet lagged more often, because a very tired Colleen also gave these two thumbs up. As much as I wanted to put my sweet Jet Blue eye mask back on and sleep the afternoon away, with more snow on the way tomorrow I figured I needed to give my coworkers a reason to come to the office tomorrow.
Also, come the heck on Mother Nature. I know I sound like a bitter grumpy New Englander (because apparently, I now am) but enough with winter. 18 storms this winter so far, is what I read on the internet today. Who knows if that is even a real number since meterologists just make everything up, but it feels like there is a new significant storm every other day. The worst part was that last week the storm that basically shut down the southern half of the country, resulted in Skip and Linda's Vegas trip being cancelled. So that was a bummer because Skip was really looking forward to seeing Britney Spears because he has such good taste in music (har har har), and Linda is my favorite person to play the slots with. So I had to give the wheel of fortune machine all my money by myself this time. But Caitlan, Colleen and I luckily were able to get out Friday morning and enjoy some 80 degree weather in lovely Nevada this weekend.
Yesterday, we stood in that 80 degree weather watching the Bellagio fountains just soaking in that Vitamin D.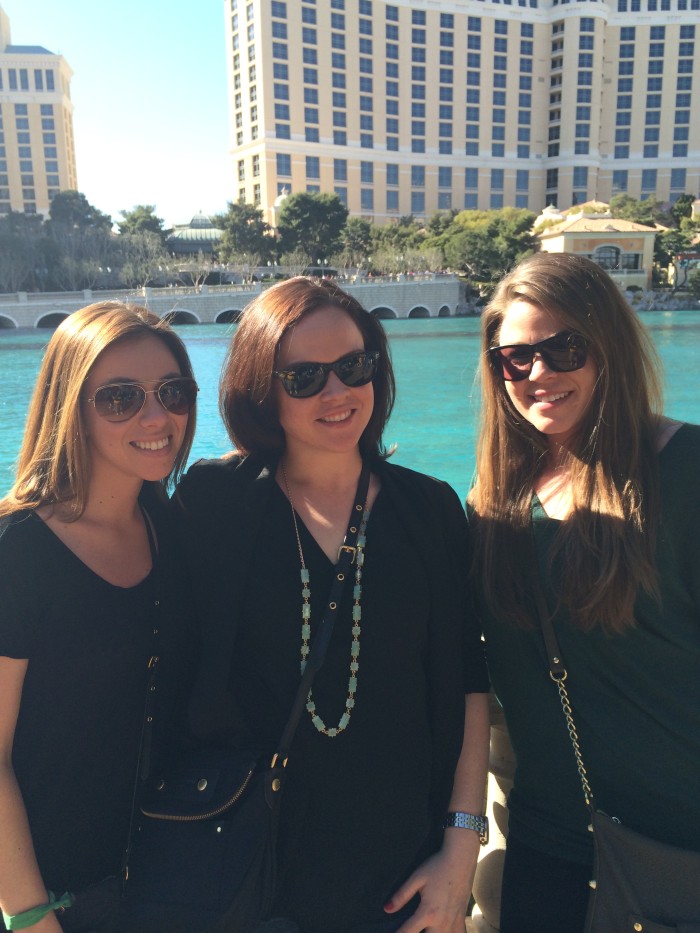 So the highlights of the trip that I am willing to share. First, the Britney Spears concert which was the whole reason for this trip, was really good. It all sparked from one night out at Lucky's 6 weeks ago after a few bottles of vino, and a Britney song came on. Pretty much how all great life choices start. I'm sure in 10 years Justin Bieber will be living at Planet Hollywood putting on the same show. But good ol Brit Brit even though she seemed to move at half speed, lip synced her heart out to her best jams, and the theater was nice in that every seat had a good view.
I'm trying to remember what we did each day but right now everything is sort of blending together. We walked up and down the strip a few times and saw the hotels and all the shops since it was Colleen's first time there. The night club scene is interesting there since in Boston I am used to pulling my classic Becca Shaw irish exit by 10:30 every night, and if I don't do that the bars in Southie close before 1am anyway. In Vegas, you can literally stay out all night. It's just a while different world. It's shocking that I am still single since my best dance move is the one below where I basically just wave my hand in front of my face while quoting Beyonce. I think the dude in the background dug it though.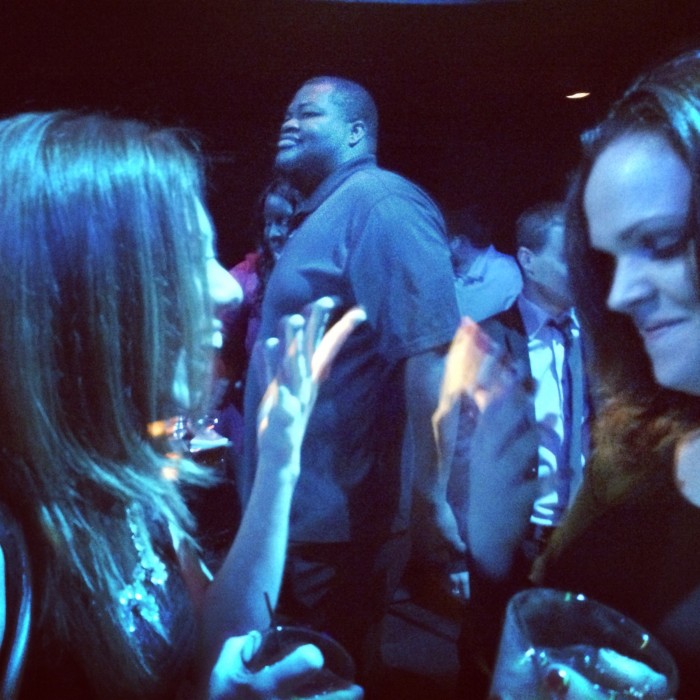 Sunday morning we had a delicious recovery brunch at the Wicked Spoon in the Cosmopolitan hotel. Bottomless mimosas and bloody marys, you just can't go wrong with that. And their dessert selection would put you in a straight sugar coma if you didn't have self control. The chocolate covered strawberries dipped in heath bar could definitely be a future cookie idea I think.
Vitamin C for days and days.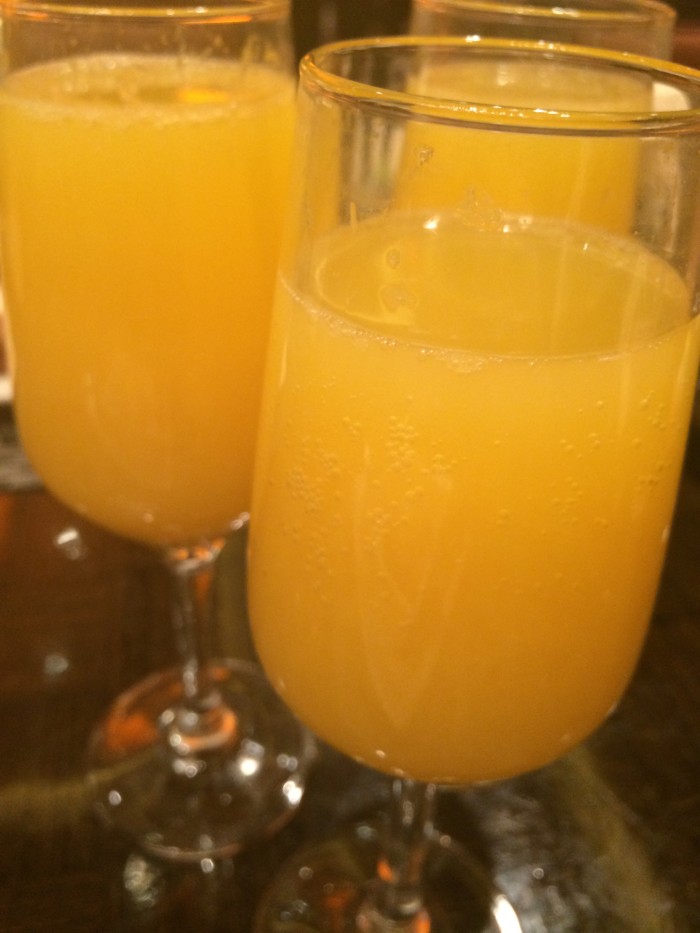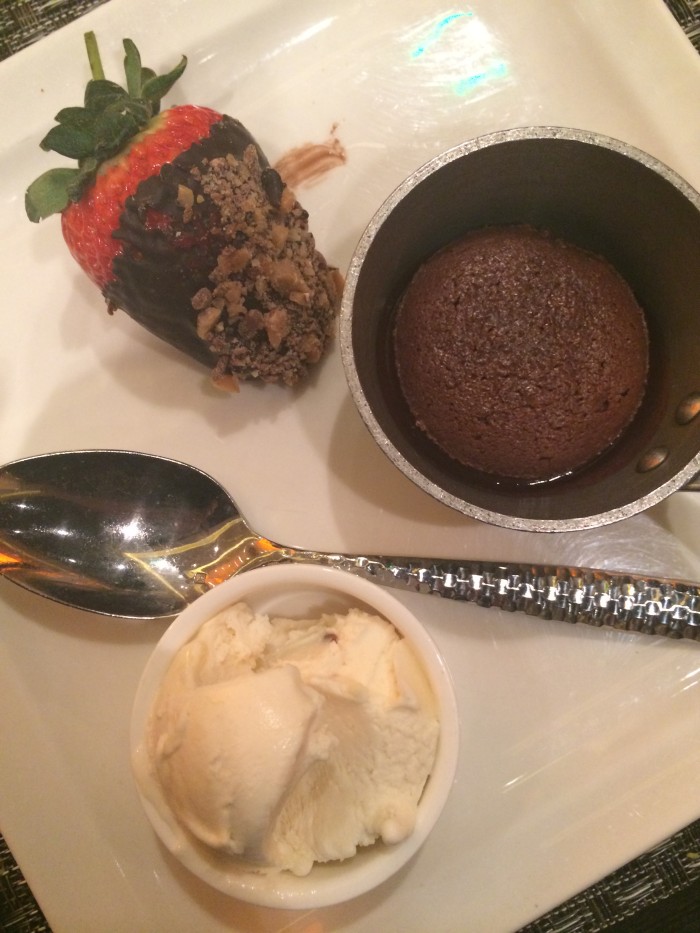 But while we did not end up with a tiger in our hotel room, or any tattoos (that we can speak of) we did have an unexpectedly entertaining night in the airport waiting for our red eye last night. Our flight was delayed until 12:30 Vegas time (aka 3:30 am EST) which meant we were just zombies sitting in the gate area. Colleen and I had spent the first hour at a charging station powering up our phones before we went over to the gate to meet Caitlan who was trying to sleep. And that's when we met Party Marg. Marg was this crazy lady who had probably taken two bottles of white wine to the face before she showed up to the gate in her track suit with husband Charlie (who she called CHAR CHAR). Now, the only other people around us were obviously those going to Boston as well. Marg asked us where we were from, and when we said Boston, she basically screamed like we told her we were her long lost daughters. She told us she was from the North End, Natick (that's not actually a real place) and had no realm of what personal space meant, considering she kept touching Caitlan's hair and face while making Caitlan translate for her when she was harassing the young kid next to us (who also spoke perfect English, by the way). I realize while typing this, I sound crazier than Party Marg, but it was one of those had to be there to understand it kind of situations. She proceeded to kiss a random stranger on the face while trying to show off his wife's wedding ring to Char (who kept telling Margy to not talk to him anymore), and then started pushing a random man in a wheelchair through the gate area.
So that's that. Hands down the best Valentine's weekend I've had to date. A hundred percent. Who needs a real boyfriend when you can spend your weekend with Britney Spears and Party Marg?