Peppermint Vanilla Bean Sugar Cookies
I know many of you have been waiting with baited breath for this recipe, so here it is. This is my second year participating in The Great Food Blogger Cookie Swap to benefit Cookies for Kids Cancer. It's an amazing organization and we raised over $13,000 for the cause this year! Last year I created Peppermint Doodles, and this year I did a holiday take on a sugar cookie. Let me tell you – these are the best sugar cookies of your life. And you know who you can thank for that? Martha Stewart. If I've learned one thing in my baking endeavors, it's that sometimes simple is better.
I researched a variety of classic sugar cookies recipes and landed on a good one from Martha Stewart. What I liked about her recipe was that instead of rolling the cookie dough in sugar, you sprinkle sugar on top, brush it with water, and sprinkle a little more sugar, which creates a nice light crunchy glaze. Dipping these in peppermint chocolate adds a refreshing minty flavor with each bite. I've made these twice since sending these out for the cookie swap and they are always a huge hit.
Ingredients
2 1/2 sticks unsalted butter, room temperature
1 3/4 cups granulated sugar
1/4 cup packed light-brown sugar
2 vanilla beans, split and scraped
2 large eggs
3 cups all-purpose flour
1/2 teaspoon baking soda
1/2 teaspoon coarse salt
Sugar, for sprinkling
Water, for brushing
Andes Peppermint Crunch bits or Hershey's Peppermint Kisses
Decorative sprinkles
Step 1: Preheat the oven to 350 degrees. Cream together the sugars, vanilla seeds and butter. Add eggs and mix well.
Step 2: In a separate bowl sift together flour, baking soda, and salt. Add the dry mixture to the wet batter and mix on low speed until well incorporated.
Step 3: Using a small cookie scoop, place even-size balls of dough onto a sil-pat or parchment-lined baking sheet. Either using your palm or a lightly floured glass, press down the cookies lightly so they are flattened slightly.
Step 4: Lightly sprinkle some granulated sugar or super fine sugar on top of each cookie. Brush a little water on top, then sprinkle another round of sugar on top. This is much faster than traditional rolling in sugar and it creates a nice crunch. 
Step 5: Bake at 350 degrees for about 14 minutes or until lightly brown. Set the cookies aside on a cooling rack to set.
Step 6: Melt the peppermint chocolate in the microwave, stirring every 25-30 until it is smooth and creamy. Dip the cookies halfway into the chocolate and then sprinkle with sparkling sugar or your favorite holiday sprinkles. Lay on parchment to cool.
I love sending cookies to friends, but it is even more exciting to send these to three food bloggers across the country for the Great Food Blogger Cookie Swap! This year my matches were:
You know what is even better than sending cookies for a great cause? Getting three batches of cookies from food bloggers across the country!
This year I received the following:
Gooey Red Velvet Cookies from Vicki Besinger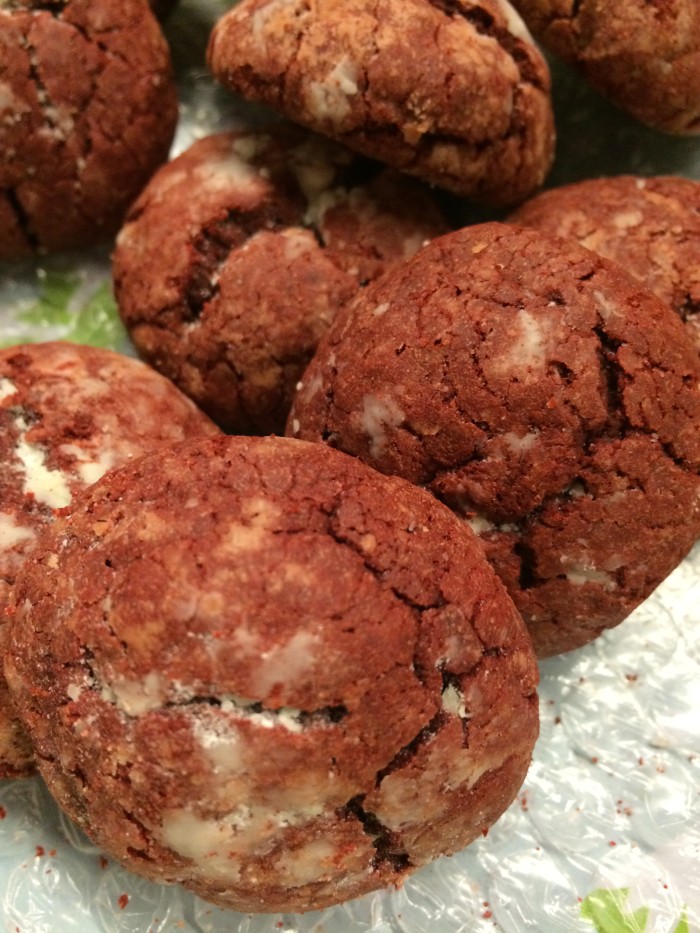 These were a huge hit with my coworkers! We were eating them at 8am on a Monday morning. No regrets.
I also received these delicious little Whole Wheat Snowball Cookies from Kablees Kitchen
And these Double Chocolate Mint Cookies from Crazy for Crust
This is such a fun event to participate in for such a wonderful cause. I started thinking a few weeks back, who loves cookies more than anyone? My coworkers. So this Monday December 16th I have organized a holiday bake sale in our office to benefit the Cookies for Kids Cancer organization. We already have over 35 bakers who are donating over 1,000 cookies to the cause! We will have a milk and cookies cart roaming the office too 🙂 I am super excited for this event! Look at this super cute sign that one of my designers Michelle pulled together for the event. They are plastered all over our office spreading the good word. I'm looking forward to continuing to support this great organization throughout the year. Happy Holiday Baking everyone!