Blueberry Galette
Easy as pie. I'm not sure how that saying was ever created because if you've ever tried, baking a pie is NOT easy. But I have discovered the lazy-man's solution to pie: a galette. No one actually knows how to pronounce it. Gah-yette or gahl-let, we don't know. But what I do know is that this is a delicious dessert that takes much less time than an actual pie. And you can chalk any imperfections in appearance to being "rustic." Hello galette, you are my hero. Because I love pie, but I lack patience and precision.
Blueberries are delicious. Blueberry pie is delicious. Blueberry galette is a quick way to get blueberry pie to your face without slaving in the kitchen all day. Think of galette as the open-face roast-beef-sandwich of desserts. Galettes are a perfect use for whatever fresh-fruit you have on hand – blueberries, peaches, cherries-  you name it. Throw it in the middle of the galette, bake it, serve it with some fresh ice cream and you're golden my friend.
Honestly, the word Galette threw me off at first because I just assumed it meant "Fancy Pie" which would translate into "time consuming." And ain't nobody got time for that. But boy was I wrong. Galette's are so simple and equally as delicious as pie! My first foray into galette making was actually using store-bought Pillsbury pie-crust. So you basically roll out refrigerated pie crust, throw a bunch of sugary fruit in the middle, pinch the edges up, bake it and booyah you've got yourself some fresh open-faced pie. It's the best thing ever.
So after making two versions of the lazy-man's galette, I decided to look up homemade pie crust since I figured it couldn't be that hard and people would have more respect for me as a baker if I made homemade crust. The key is really using chilled butter so that the dough does not get too warm and use fresh fruit. I followed a recipe from The Merchant Baker in making the homemade crust version for this galette.
This is the perfect summertime dessert because you can get the most out of your seasonal fresh fruit, and aren't slaving away in the kitchen for hours to make this dessert. You can easily adapt this recipe to use with fresh peaches, cherries or even blackberries. The coarse sugar helps to add some crunch and sweetness to the crust, and I highly recommend a vanilla bean ice cream to cool off and compliment this sweet treat.
So the next time you are looking for an easy dessert that uses fresh fruit, whip up a fresh fruit galette and impress all of your friends with your sweet open-faced-pie skills. Enjoy!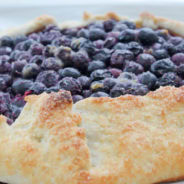 Blueberry Galette
Yield: 8 Servings
Prep Time: 30 Minutes Prep + 2 Hours Chill
Cook Time: 50 Minutes
Total Time: 3.5 Hours (including chill time)
This galette is the perfect way to use your fresh fruit without all the effort of making a pie!
Ingredients:
Crust:
1 1/2 cups all purpose flour
1 tablespoon granulated sugar
1/2 teaspoon salt
8 tablespoons (1 stick) butter, cold and cut into small pieces
5-6 tablespoons ice water
Fruit Filling:
4 cups fresh blueberries, rinsed
1/2 cup granulated sugar
3 tablespoons cornstarch
Zest from one lemon
1 tablespoon fresh lemon juice
1 egg, beaten
Coarse sugar for sprinkling
Directions:
In a large mixing bowl, whisk together flour, granulated sugar and salt. Add in chilled butter pieces and cut into the flour mixture using a pastry cutter or two forks until the butter is pea-sized.
Drizzle a tablespoon of ice-cold water at a time over the mixture and use a fork or your hands to distribute. Repeat the process one tablespoon of chilled water at a time until the mixture is shaggy and there are no dry flour piles at the bottom of the bowl. To test the batter - you should be able to grab a handful and have it hold together if you squeeze it in your hands.
Once you reach the desired dough consistency, roll into a ball. Cut two large pieces of plastic wrap and place the ball in between the two pieces and lightly flatten into a disk.
Use a rolling pin to roll the dough into a 12-inch circle, rolling from the center out, being mindful not to roll too thin. The key is to try to get it as uniform in thickness to help evenly bake through.
Transfer the rolled out dough to a baking sheet and refrigerate for at least two hours or overnight.
Preheat the oven to 350 degrees F and line a baking sheet with parchment.
In a medium bow, combine the blueberries, granulated sugar, cornstarch, lemon zest, and lemon juice.
Remove the plastic wrap from the dough and place the dough on the parchment-lined baking sheet. Place the berry mixture in the center of dough, leaving at least a 2-inch border. Fold the dough edges up and over the berries, pleating with your fingers as you make your way around the edge.
Use a silicon brush, lightly brush the surface of the dough with the beaten egg. Sprinkle with coarse sugar and bake at 350 degrees F for 50 minutes, or until the crust is completely golden.
Serve warm with ice cream. Enjoy!