Mother's Day Gift Guide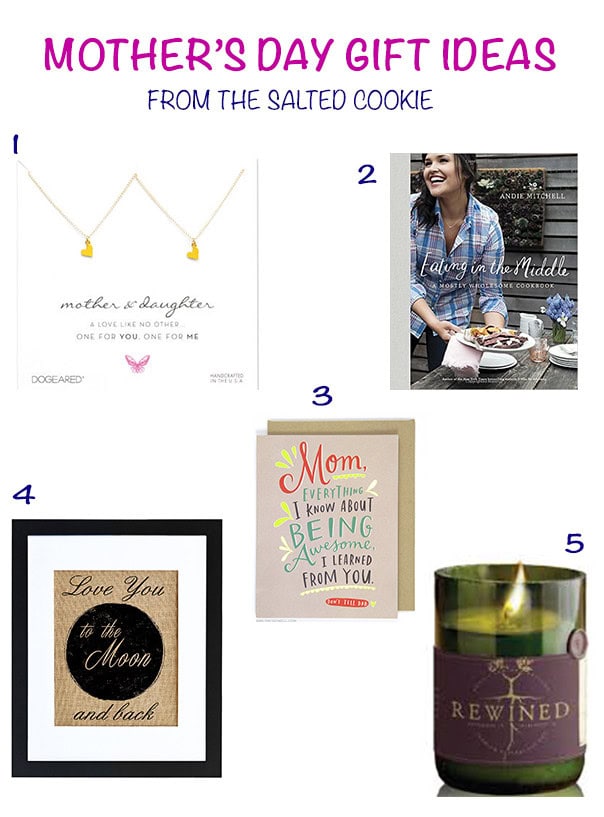 With Mother's Day just a week away, I have a feeling many of us are in the same position trying to figure out the perfect gift for the number one lady in our life. But often it's not easy to find mom the gift that really expresses what you want to say: "Thanks for having me. Literally." I mean, does a bouquet of flowers really say "Thanks for carrying me for 9 months as I kicked you from the inside out at all hours of the night at a time when you weren't allowed to have wine"? The ultimate gift to give your mom is actually just what she gave you: the gift of life. My brother definitely already got me beat this year since he gave my mom the gift of being a grandmother with her perfect grandson Carter. Me, on the other hand, have to try a bit harder to try to come in second this year. But if you're looking for a unique gift for mom this year, I've got a few of my go-to gift ideas that my mom has loved in this year's Mother's Day Gift Guide.
My siblings and I usually send my mom flowers every year, but one year we opted to really up the ante on our gift. Growing up, every year my mom would take us to get professional pictures done. Now they are all hung up on the staircase to my bedroom at the Cape. So you can walk up the stairs and see the evolution of me going from an adorable two-year old, to my awkward "mom cut my bangs" phase, to when I crimped my hair, over-plucked my eyebrows, and more. So a few years ago my brother, sister and I went to JCPenney and got professional pictures done for my mom, just like the good ol' days. Only it was more awkward as adults to have some random lady yell "Straddle!" telling your siblings to get shoulder to shoulder close for the shot. The things we do for mom. But she loved it, so it was worth it.
I like to think spending time with me is gift enough, but just in case I still like to get my mom something for birthdays, holidays and of course, Mother's Day. My mom is really easy to shop for. I've gotten her hooked on Kate Spade, LuLu Lemon and Sephora – which are chock full of great gift ideas. But if you're looking for something a little more unique, here are a few of my favorite gift ideas for mom:
1. Dogeared Mother Daughter Necklace: I am a big fan of the Dogeared necklaces. They are really simple and beautiful, and they come with a great little inspirational message on the card. Depending on what type of metal you pick they typically range between $40-$60 for a single necklace. I gave my mom this One for You, One for Me Mother/Daughter necklace set a few summers ago for her birthday. I wear my half of the necklace set almost every single day. In addition to this heart version they have a really pretty Infinity Mother/Daughter set that would also be a great gift option depending on your mom's style.
2. Eating in the Middle: A Mostly Wholesome Cookbook: While it's easy to just search for recipes on the web, I love giving beautiful cookbooks as gifts. They are beautiful collectors items that get better with a little wear, tear and splatter stains over the years of being used. Cooking is something that my mom and I both enjoy, and something that I love to do with her in the summer down the Cape. This book, Eating in the Middle, just came out at the end of March and is written by a fellow food blogger, Andie Mitchell, who is also a NY Times Best Selling author for her memoir, It Was Me All Along – another great book that I highly recommend. What I love most about this book is that it really balances healthy eating with a little indulgence. The photography is beautiful and the recipes are delicious. I had the pleasure of meeting Andie recently and she's just as genuine and sweet as she is in her books and blog. She has a great relationship with her mom, that she writes about in both her books.
3. Emily McDowell Cards: I'd like to think that I was one of the original fans of Emily McDowell's hilarious cards. I first discovered them at a card shop down the Cape and probably made a total fool of myself LLOL'ing (literally laughing out loud) in the card aisle at every single card. My mom is the queen of cards, so I always make sure I get her a really good original card. When I was in college my mom sent me one card every single day for the four years I was in school. Yep, you read that right. A card every single day. If there was a diamond status level at Hallmark, Linda would be at the top of that chart. I especially love Emily McDowell's awkward card series for birthdays, holidays and those just random thinking of you cards. If you get your mom nothing else this year, make sure to get her at least a hilarious card letting her know you're thinking of her.
4. Fiber and Water Print: If I could plaster the walls of my house with Fiber and Water prints, I seriously would. I discovered F+W at the SOWA open market in Boston a few summers back. If you can get yourself to SOWA, which coincidentally enough opens for the first time this year on Mother's Day, definitely check out Fiber and Water. They have beautiful and clean prints on burlap that come in great wooden frames. They are really reasonably priced if you buy them online, but if you catch them at the open market they are wicked cheap, with usually a great deal on buying two framed prints. They have great prints of places like Cape Cod and the "roots" series is often something I buy for friends who have recently moved. For mother's day my picks would be either this Love you to the Moon and Back print or these Drink Well, Travel Often glasses.
5. Rewined Candles: Last but not least, what mom would say no to a relaxing candle made out of recycled wine bottles? My friend Amanda actually turned me on to Rewined Candles when she got one as a hostess gift for my mom one weekend she came to visit down the Cape. These repurposed wine bottles are filled with candles with scents that mimic the tasting notes of wines. So whether your mom is a Rose, Pinot Noir, or Champagne kind of gal, she can now relax with a glass of the good stuff next to a candle that smells just as good. If candles aren't her thing, not to worry – Rewined has really cool drinking glasses and fancy soaps that all are inspired by all kinds of vino.
Those are just a few of my go-to gifts for mom. This year my mom and I are going to take a DSLR photography class to learn how to use our fancy cameras together. So that one day when The Salted Cookie cookbook comes out, I'll put Linda in charge of the photoshoots. But just remember, to your mom, you are the greatest gift of all. And if you really want to get something that will make your mom cry this year, just find anything that quotes all moms' favorite book, Love You Forever.
I'll love you forever, I'll like you for always, As long as I'm living my Mommy you'll be.