Peanut Butter and Jelly Sandwich Cookies
There are a lot of things in this world that go together well. Salt and pepper. Milk and cookies. Bacon and eggs. Chips and salsa. Peas and carrots. Biebs and Selena. But you know what goes together even better than peanut butter and jelly? Peanut butter and jelly squished in between two fresh peanut butter cookies. One bite of this dynamo combo and you'll life will be changed forever, for the better.
I discovered this amazing cookie combo when I was in Seattle last month and visited Dahlia Bakery upon a recommendation from one of my new foodie friends. My friends and I got a few different things to try, but this peanut butter and jelly cookie sandwich was life changing. The peanut butter cookies were salty and had chunks of peanuts, which gave the soft cookies a nice crunch with each bite. And the fresh jam and peanut butter inside, forgetaboutit. 
In fact, it's just not life changing for me. I recently did a little research on Dahlia Bakery, and stumbled upon a lot of interesting info. First of all, this is a Tom Douglas restaurant and they have a cookbook called Sweetness in Seattle. Clever. Secondly, this specific cookie, happened to be a favorite of Nora Ephron, the writer of Sleepless in Seattle and When Harry Met Sally. Apparently while visiting Seattle, Nora stopped into the Dahlia Bakery and bought some of their peanut butter sandwich cookies. Then she sent Tom Douglas an email saying that these were her all-time favorite cookies and asked for the recipe. Tom sent the recipe along with a big package of cookies and asked if they could name the cookie after her in the Dahlia Bakery cookbook, to which she responded "Are you kidding me? This may be the greatest cookie ever ever ever."
I have to agree with her. This might be the greatest cookie ever created. Now the Nora Ephron cookie that's in the Dahlia Bakery book just has peanut butter filling, not the jelly. And because I didn't actually take the time to research if this recipe existed, I went ahead and created my own version. So we'll call this version the Becca Shaw, and I can attest that this is the greatest cookie ever ever ever.
I started with making sure my peanut butter cookie had lots of peanut chunks. You need to use good ol' Skippy peanut butter here, none of the natural stuff because it's too oily and will throw off the consistency of the dough. And if you're looking for a healthy cookie, this is not the recipe for you. I also like my peanut butter cookies a little thicker, and rolled in sugar to give them that crunchy outside, but soft and chewy inside.
Now, let's get to the best part – filling these cookie sandwiches with peanut butter and jelly. I create my own piping bags to make it easier, just by putting some PB in a zip loc bag, twisting the end and cutting off the tip so that I can pipe dollops of peanut butter directly onto the cookie.
I repeat the same process with the strawberry preserves. You can use strawberry jam or preserves, or whatever flavor of jam you like in your PB&J sandwiches. I am a big fan of Bonne Maman preserves, specifically the strawberry flavor one, because you usually get a good chunk of strawberry in there.
I cannot look at this photo without channeling my inner Destiny's Child ("I don't think you're ready for this jelly.") Too many of these and your body will definitely be too bootylicious. Queen B knows what's up. I really had too much fun photographing this recipe. Below I probably took way too many photos trying to capture the ooey gooey jelly drips in action.
Anddddd there it goes. Finger lickin' good.
These cookies are SO easy to make. They are insanely delicious. It's like a gourmet version of biting into your childhood. Because who doesn't have great memories of eating PB&J as a kid? (Other than my brother, who has a severe peanut allergy and had to eat Butter and Jelly sandwiches growing up. Sorry Dan.) But for everyone else. You'll take one bite of these life changing cookies and never look back. Because these truly are the best cookie, ever ever ever.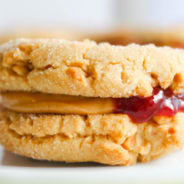 Peanut Butter and Jelly Sandwich Cookies
Yield: 30 Cookies (15 Sandwich Cookies)
Prep Time: 20 Minutes
Cook Time: 11 Minutes (Per Batch)
Total Time: 45 Minutes
Inspired by the Nora Ephron cookie from Dahlia Bakery in Seattle, this version has a heaping spoonful of peanut butter and jelly smushed in between two fresh baked chunky peanut butter cookies and has been dubbed the "best cookie ever ever ever."
Ingredients:
1 cup (2 sticks) butter, softened
1 cup crunchy peanut butter (not natural)
1 cup light brown sugar
3/4 cup granulated sugar
2 eggs
1 teaspoon vanilla extract
1 1/2 cups salted peanuts, chopped
2 1/2 cups all-purpose flour
1 teaspoon baking soda
1/2 teaspoon baking powder
Granulated sugar for rolling
1/2 cup Peanut Butter for filling
1/2 cup Strawberry preserves (or jelly) for filling
Directions:
Preheat the oven to 375 degrees F.
Whisk together the dry ingredients - flour, baking soda, baking powder, and salt in a medium bowl and set aside.
In your mixer, beat the butter until smooth. Add in the peanut butter and beat for at least a minute until creamy. Scrape down the side of the bowl before adding additional ingredients.
Beat in the light brown and granulated sugar until light and fluffy. Slowly incorporate the eggs and vanilla extract. Scrape down the side of the bowl before adding in the dry ingredients.
On a low speed, mix in the dry ingredients just until they are incorporated. Add in the chopped peanuts until evenly distributed.
Use a medium-size cookie scoop to scoop even-size balls of doug, and roll them in sugar until they are evenly coated. Place the balls of dough on a sil-pat or parchment-lined baking sheet with at least two-inches in between each cookie.
Press the tines of a fork against the ball of cookie dough in each direction, making a cross-cross, to flatten.
Bake the cookies at 375 degrees F for 9 to 11 minutes until the edges are lightly golden. Let the cookies set on the baking sheet for a few minutes until transferring to a wire rack to finish cooling.
Flip half of the cookies over so that the underside is facing up. Use a pastry bag (or a zip-loc bag with one end cut off) to pipe a dollop of peanut butter onto each of the upside down cookies. Repeat the process with strawberry jam or strawberry preserves. Use the other cookies to put on top to complete the PB&J cookie sandwich. Enjoy!