Movie Theater Candy Sheet Pan Cookies
This is the recipe that you need to survive Fall, Winter and whatever remaining time we have left in the Q. We're just a few days away from October, the month when you can eat candy at every meal with no judgement. So what we all need is a simple recipe that requires little effort and is jam packed with your favorite candies. And that's just what this is. These Movie Theater Sheet Pan Cookies are a fast and easy way to get your candy fix in the form of a gigantic cookie.
I got my inspiration for this amazing recipe idea from my friend Maegan at @thebakermama. This summer she posted her recipe for 6-in-1 Sheet Pan Cookies that were all different flavors on one sheet pan. I had never dabbled in sheet pan cookies before, so loved her creativity with the different flavors and felt inspired.
Going to the movies is one of the things I miss most with the recent lockdowns. There are some fancy ass movie theaters in Boston with giant reclining chairs with heated seats, and kiosk concession stands. Which translates to being able to enjoy a movie with absolutely zero human interaction end-to-end. And a warm butt. My ideal movie night.
I bought six boxes of candy from CVS that were all items you'd find at a concession stand. I'm a chocolate girl through and through, so did not try any gummy candies here, though I doubt that would work well in the oven.I went with Sno Caps, Reese's Pieces, Raisinettes, Peanut M&Ms, Butterfingers and regular M&Ms. My true favorite movie theater candy is Nestle's Buncha Crunch but they didn't have it in the store.
These are amazing. They are crunchy on the edges. They are sweet and salty. And so, so simple. It's very "set it and forget it" style, where you don't need to space out individual cookies. I even used a pizza cutter to easily cut these. My favorite were definitely the Raisinette ones, with Reese's coming in a close second. Even better when I got a piece that was half Reese's half Raisinettes. YOU CAN HAVE IT ALL. This would be a great use for leftover Halloween candy next month, or just proactively incorporating more Halloween candy into your diet early on. Moral of the story: eat more candy. Bake it into these cookies. Enjoy.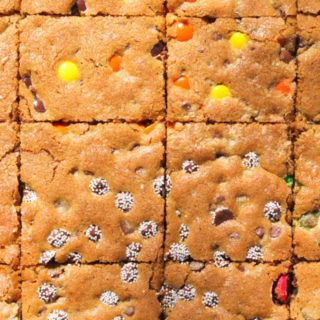 Yield: 24 Medium Cookie Bars
Movie Theater Candy Sheet Pan Cookies
All of your favorite movie theater candies in one fast and easy sheet pan cookie.
Ingredients
1 1/2 cups (3 sticks) butter, softened
1 cup granulated sugar
1 cup light brown sugar
2 eggs
1 teaspoon vanilla extract or paste
3 cups All-Purpose Flour
1 teaspoon baking soda
1 1/2 cups mini chocolate chips
1/2 teaspoon coarse salt for topping
1/3 cup of each of your favorite chocolate movie theater candies - I used: Reeses Pieces, Peanut M&Ms, Milk Duds, Raisinettes, Sno Caps, and Butterfingers.
Instructions
Preheat the oven to 350 degrees F. Line a 12x17 baking sheet with edges with parchment paper and spray with non-stick spray. Set aside.
In a large mixing bowl, beat together the softened butter, granulated sugar and light brown sugar.
Slowly mix in the eggs and vanilla extract.
Sift the flour and baking soda, and slowly add to the wet ingredients, mixing on a low speed until they are incorporated.
Mix in the mini chocolate chips until evenly distributed.
Place about 1/3 cup of each candy into six individual bowls - don't mix them together, Sno Caps should be in their own bowl for example. For larger candy like butterfingers or peanut M&Ms I chopped them up. Reserve a little extra of each candy for topping.
Evenly divide the cookie dough into the six bowls, and use a spatula to mix-in the candy. At the end you should have six different candy cookie dough bowls.
Place each ball of dough into a sixth of the baking sheet and then use wet fingers to press the dough down so it is evenly spread out covers the entire pan. Top with any reserved candy on top of its respective dough section. Sprinkle a little bit of coarse sea salt over the dough.
Bake at 350 degrees F for 20 minutes, flipping the tray around at the halfway mark to ensure even baking.
Let cool for at least 15 minutes before cutting. I used a pizza cutter which made cutting these super easy. Enjoy!