Adventures in Foodlandia
Back in the day when we used to play the Oregon Trail on those sweet little Macintosh computers in second grade, there were a few ways that you could die: measles, snakebite, typhoid, cholera, exhaustion or my favorite, dysentery. Fast forward to modern-day Oregon, the only thing you're likely to die of is diabetes.
Last week I forged the river and traveled to Portland, Oregon for the Indulge Conference (May 29-31). My first food blogger conference and first trip to Oregon. My friend Allie came with me in an attempt to eat as much of Portland as we could in 3 days. And I think we both came back with 10lb food babies after all of the amazing food we were able to eat while we were out there. Since I think a week later I have finally recovered from the red eye jet lag and come off my sugar high, I'll do a recap of the amazing weekend through photos.
We flew out of Boston the Thursday night on my favorite airline JetbBlue. For a six-hour flight, snacks and in-flight DirectTV were much needed to get through the cross-country trip. I bet the Oregon Trail pioneers would have lived longer with free Terra Chips and a Real Housewives marathon. Anyway, we got into Portland at 2am EST so were very happy to crash and sleep in a bit. We stayed at The Westin Portland because I had plenty of hotel points and it was in a great central location and only a block away from the conference. Also with the 3 nights we stayed, I hit Platinum Status for the year. Ohhh yeah.
We had Friday to ourselves to explore the city and in a very un-Becca-like fashion decided to just "wing it" – no itinerary, agenda or pre-set plan. (Minus my custom google map with every restaurant recommendation we received). We took the concierge's advice for a delicious brunch to fuel us for the day and headed to Tasty N Alder where the food was ah-mazing and the atmosphere was insanely welcoming.
First, we had a 10 minute wait for our table and the hostess offered us free coffee in the meantime. It was delicious and we enjoyed it soaking in the Portland sunshine. You can see the coffee bringing me back to life. We shared some brunch items because there were just too many delicious options. We started with the Potatoes Bravas with over easy egs and aioli.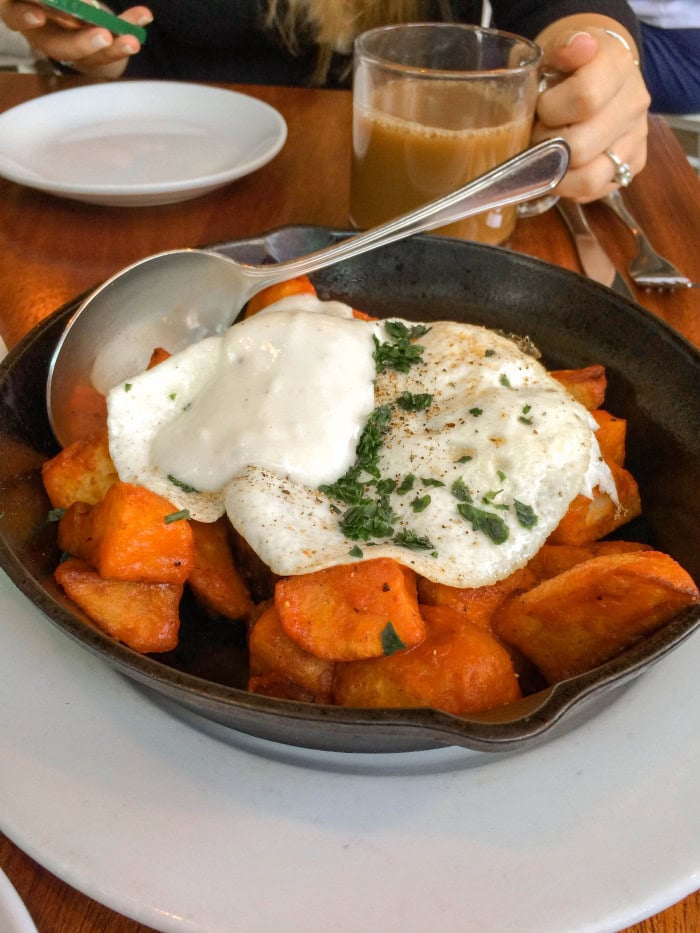 This bacon, egg and cheddar biscuit sandwich was unreal. The biscuit was fresh and flakey, hot and delicious.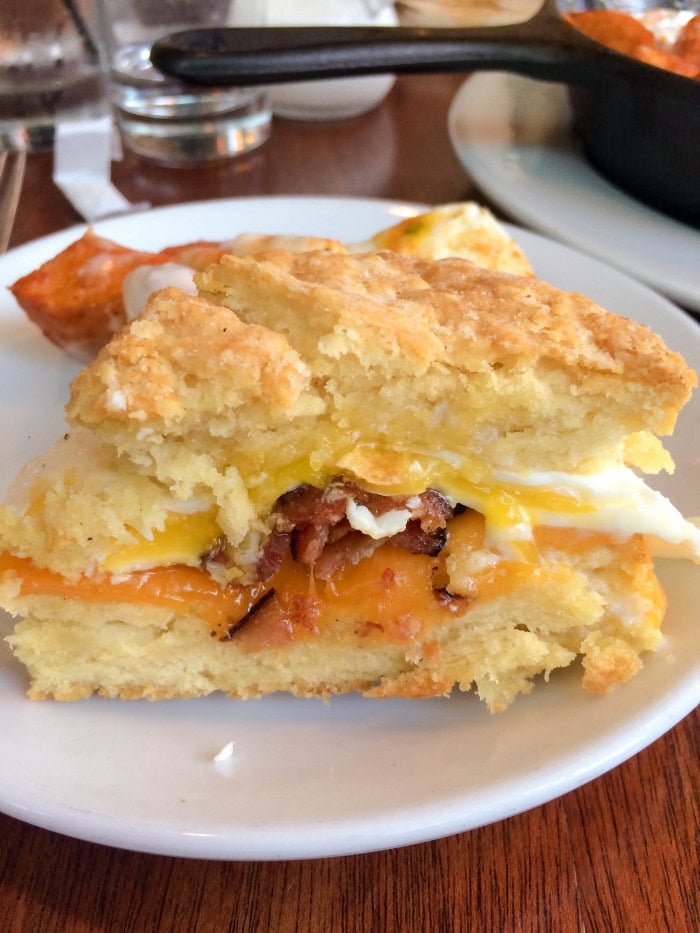 So were sitting there trying to figure out our day, when the nicest people next to us asked if we wanted any recommendations. Once we got over our Boston rudeness of not believing people actually were that nice in public, we took the advice of our new friends to explore 23rd street.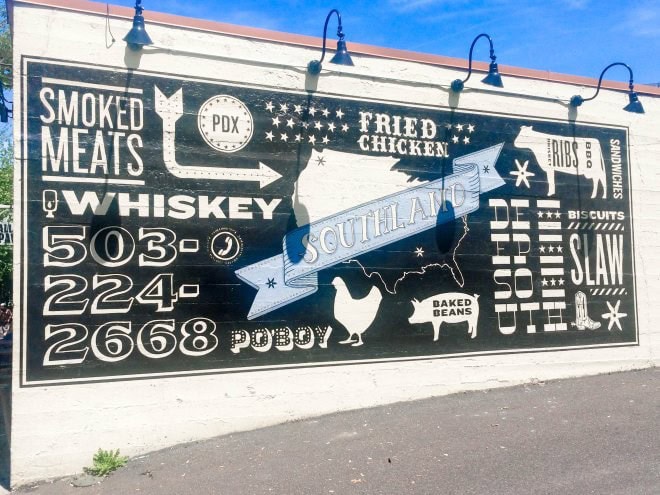 We were so full from brunch and our bodies had no idea what time of day it really was anyway, so opted to eat ice cream for lunch … because we're grown ass ladies and we do what we want. We ended up at Salt and Straw ice cream, and as you can see from this menu, there were a lot of unique flavors we needed to try.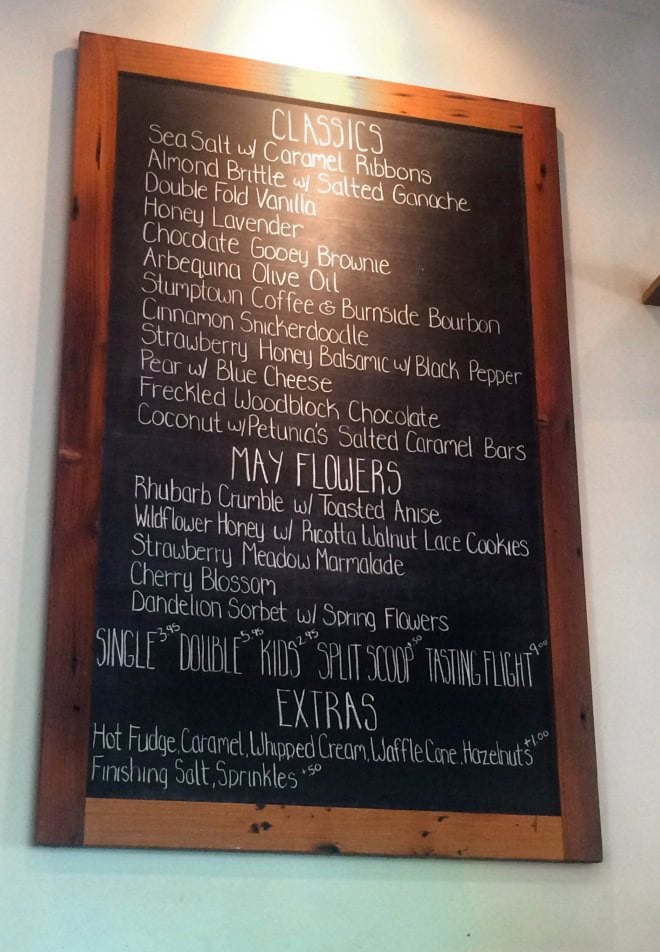 After they let us sample a few flavors, we decided to get the tasting flight and got a scoop of 4 flavors – Coconut with Salted Caramel Bars, Chocolate Brownie, Sea Salt with Caramel, and Almond Brittle. The Coconut with Salted Caramel bar was the winner in my eyes.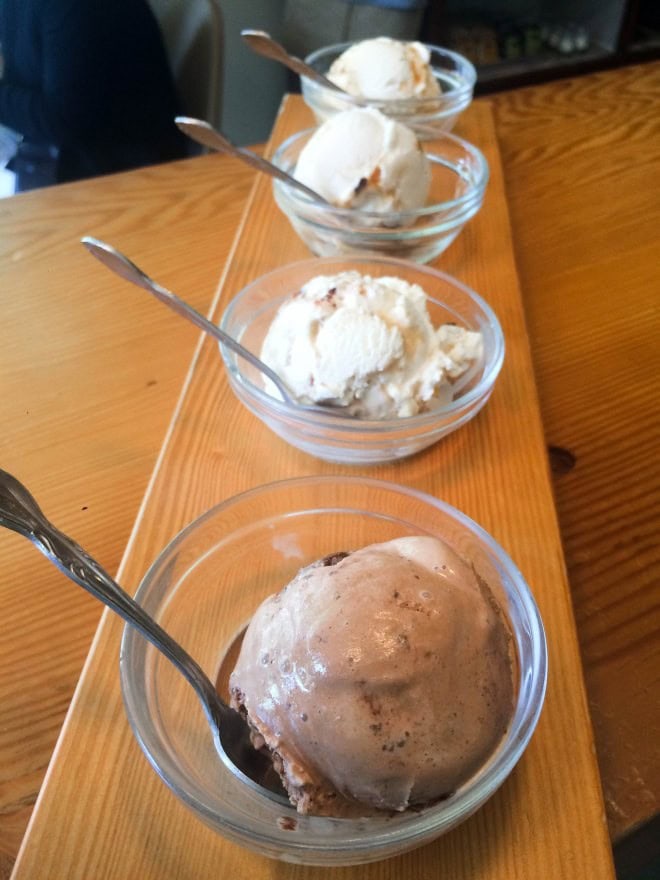 After that ice cream we decided to walk all over the city. So we headed down towards the waterfront and found the Lan Su Chinese Garden which was beautiful to walk around.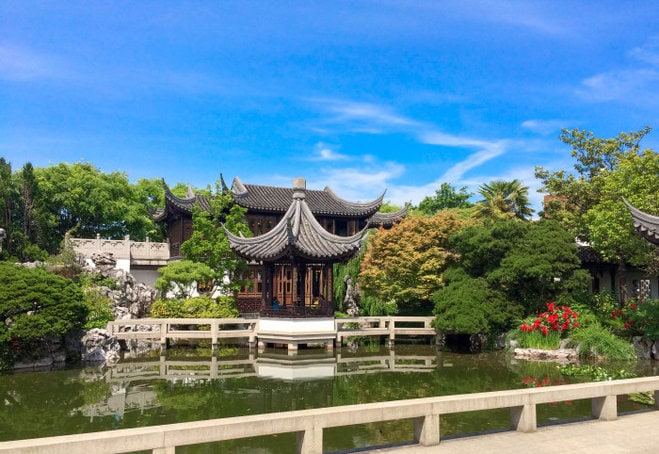 We attempted to go to Voo Doo Doughnuts but the line was crazy long and not moving quickly enough for us East Coast girls, and our stomaches were happy that we ended up deciding to skip the afternoon donuts. By the time we walked back up towards our hotel, it was time to check in for the conference registration. We had a great cocktail hour at the Portland City Grill where we got to meet and mingle with a bunch of the other blogger conference attendees, while enjoying amazing pinot over beautiful views of Portland.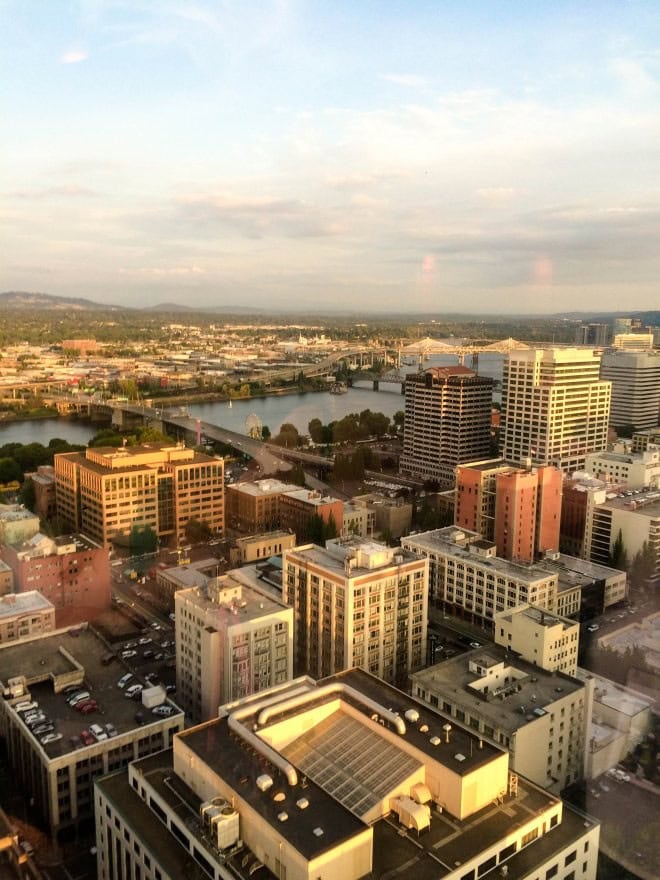 Saturday was the conference day! The entire day was jam packed with great speakers and sponsors. During the lunchbreak, Allie and I decided to hit up Lardo based on a recommendation from one of the local morning speakers from Portland Food Adventures.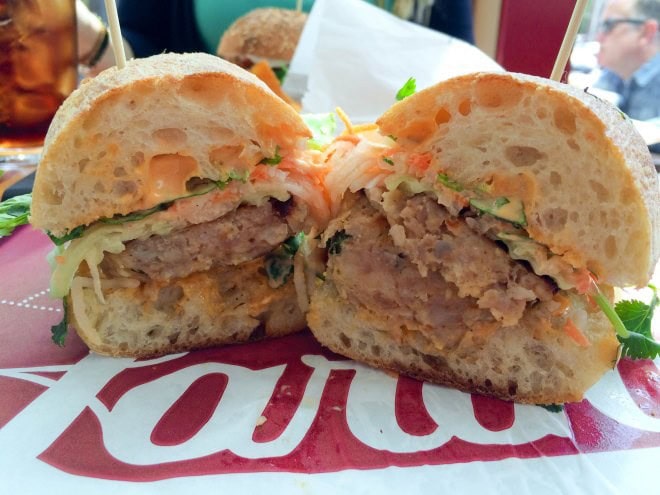 We shared the Bahn Mi sandwich and the Chickpea Burger which were both larger than life. This sign in the restaurant is very fitting for what we all did in there.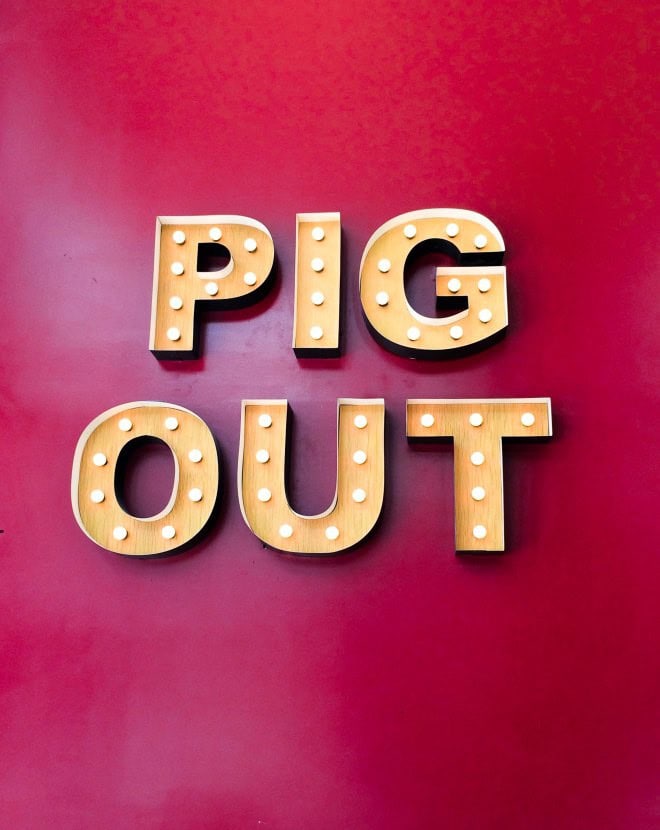 So there was also an instagram contest during lunch. And you all know that I am the world's most competitive person. So I was determined to win. Which meant we had to get some post-lardo ice cream so that I could get a good insta shot for the contest. So we went to Ruby Jewel for a kid-size scoop of ice cream, since that's all our stomaches could handle. And I got this shot, which featured the Mistaken Lyric tote bag I got Allie for her birthday last month. And guess what, I won one of the three prizes in the contest. A le creuset dutch oven! Yeehaw. I cannot wait till it arrives and I can start cooking with it.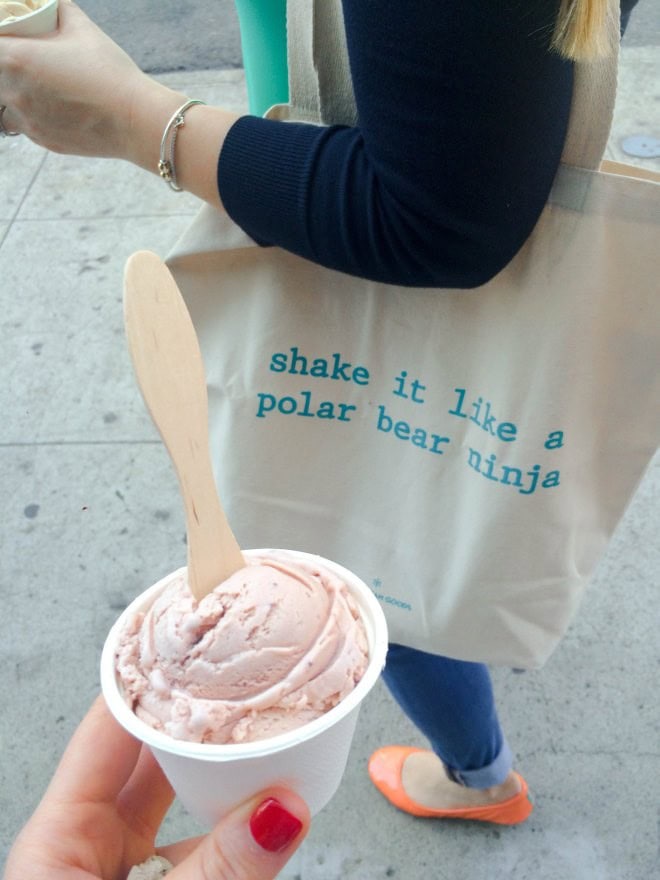 In the afternoon, we had a guacamole contest sponsored by California Avocados. Then after a few more speakers, we split up for sponsored dinners around the city. Allie and I went to the Red Star Tavern for an amazing dinner with 4 other bloggers: Danae from Recipe Runner, Justine from Cooking and Beer, Natalie (and baby Sterling) from Perrys Plate, and Brianne from Cupcakes and Kale Chips. After delicious apps and entrees, we couldn't decide on which dessert to try … so we tried them all!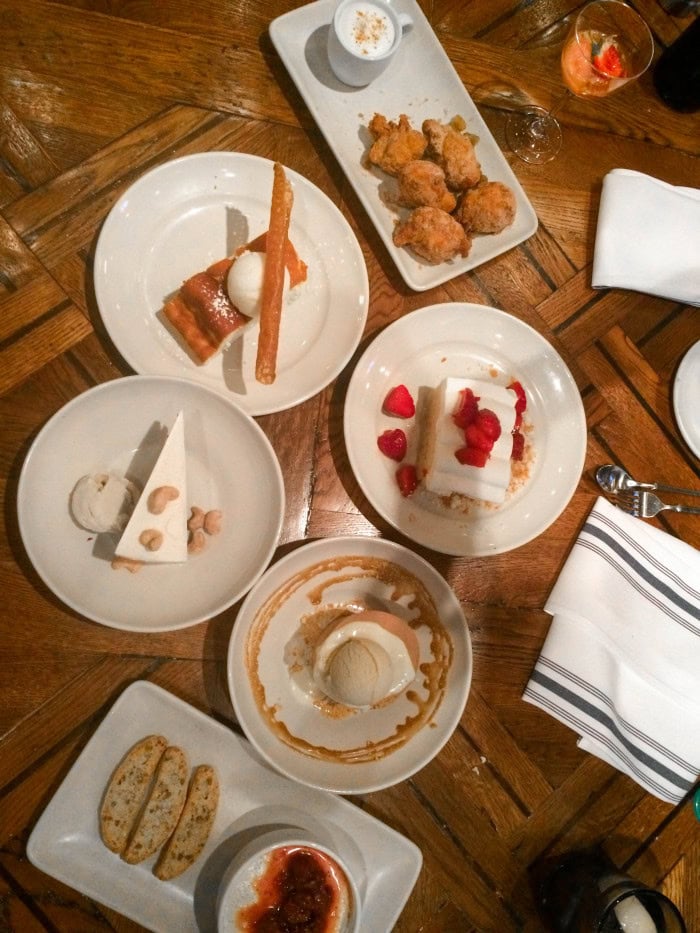 That chocolate cake deserves a little up close and personal action.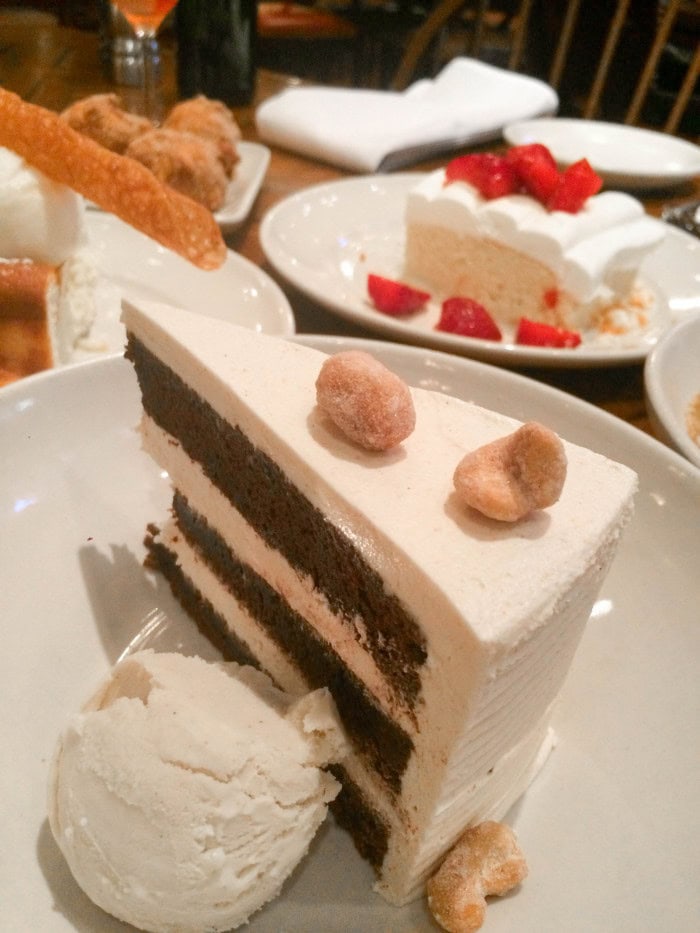 Everyone had pre-dinner intentions to go out for ice cream after, but we were more stuffed than Joey Chestnut. As part of the conference, on Sunday we had amazing tours of the Willamette Valley sponsored by OXO. First up, we took the bus out to where we got a great tour of the farm, including some sampling of the fresh in-season blueberries right off the bush. I mean, could this be a more beautiful day?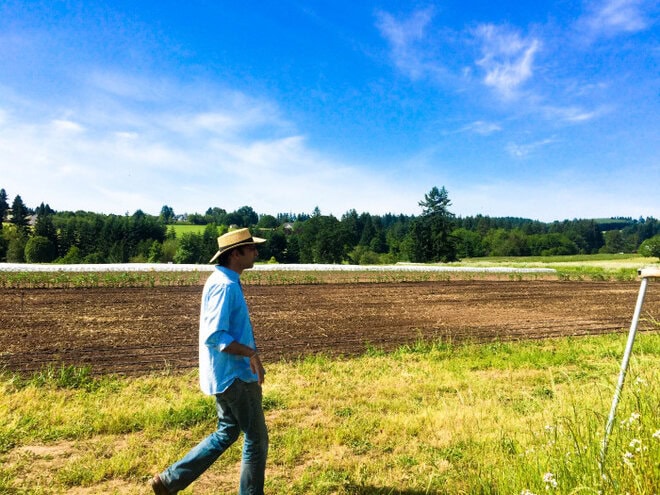 So at the end of the tour we took some of the fresh arugula and strawberries with us over to The Kitchen at Middleground Farm for a cooking lesson using the fresh produce. We learned how to make FRESH BUTTER (ergghemmerrgerddddd I am so excited to try this at home), goat cheese and strawberry crostini, and prosciutto and arugula wrapped mangos. All while sipping on some delicious Pinot Gris. Hi, leave me here, never let me go. This is my happy place.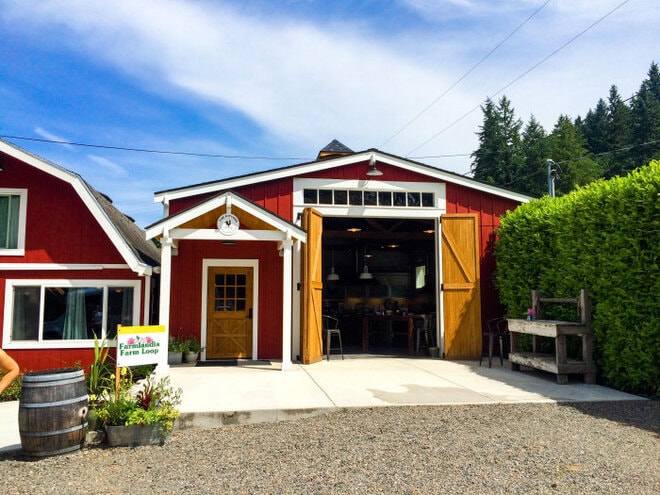 Fresh strawberries!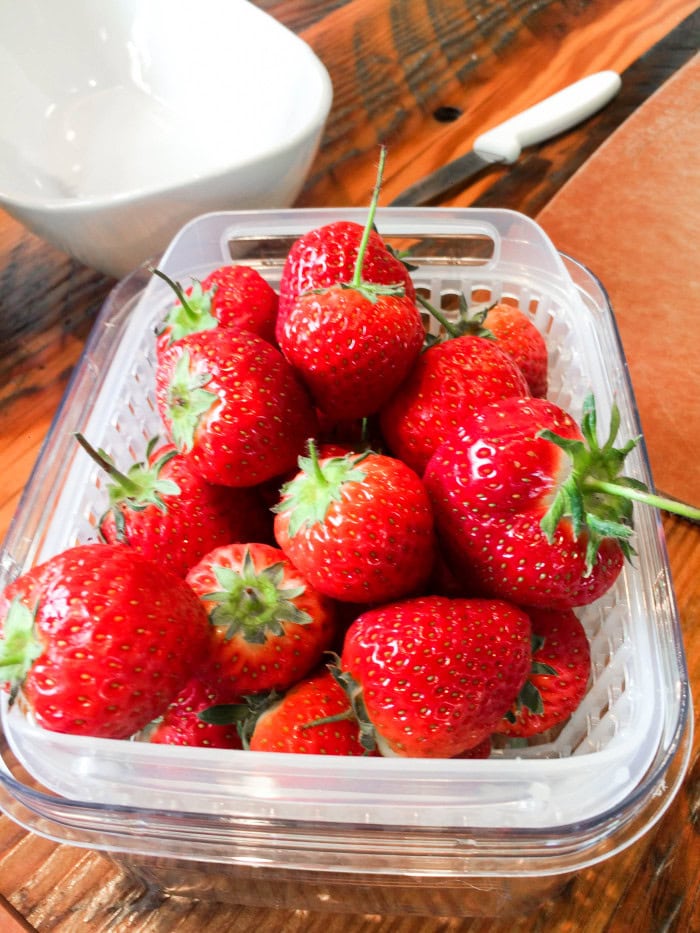 Crostini! That goat cheese is so fresh … we met the goat that made it!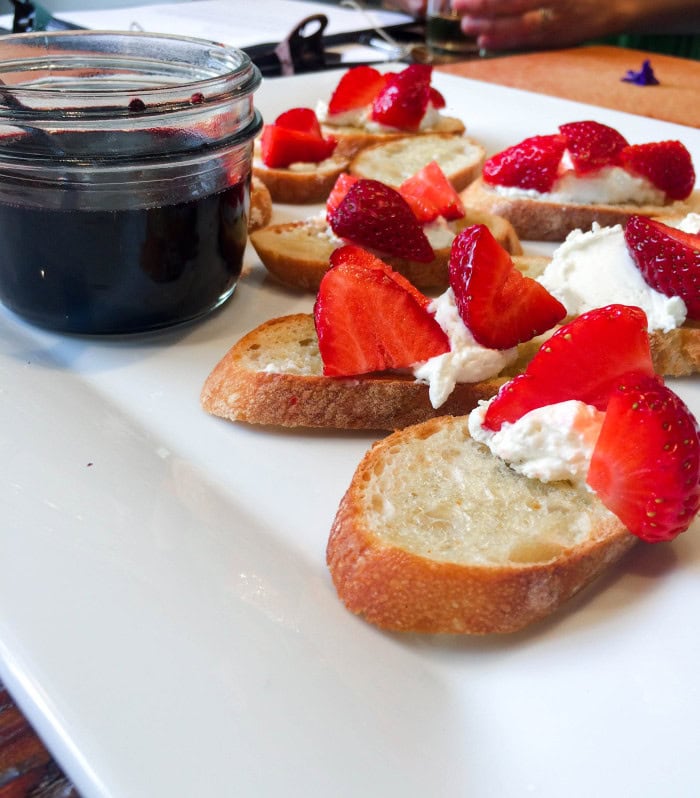 Hey goat, thanks for the cheese!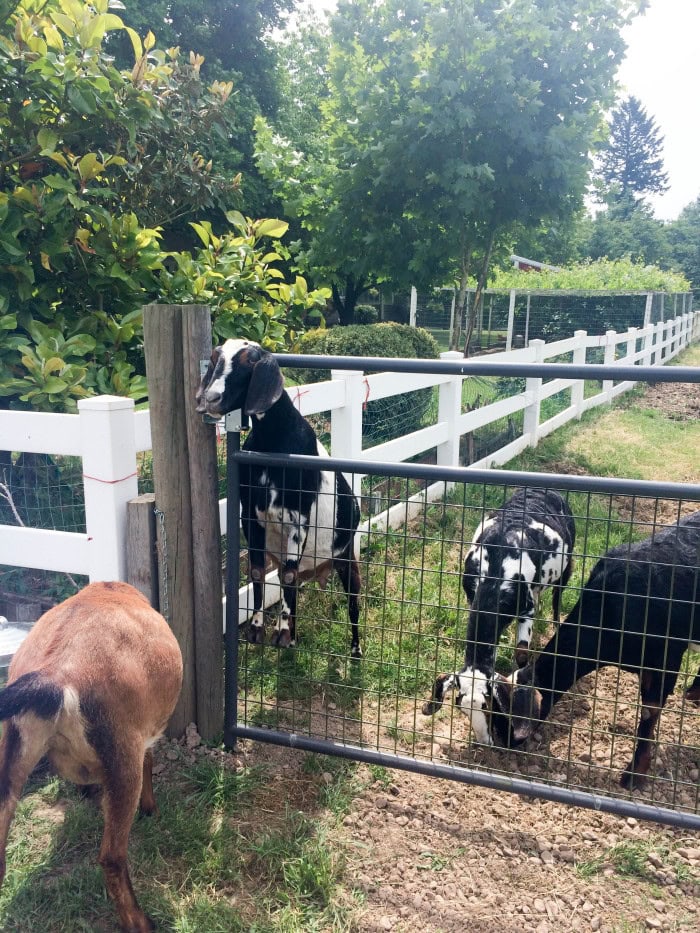 In case you are wondering, this is what cooking with a bunch of food bloggers looks like. Everyone with cameras out to document the entire trip. You can peruse the hashtag #oxofarmtour to see the pics from that day.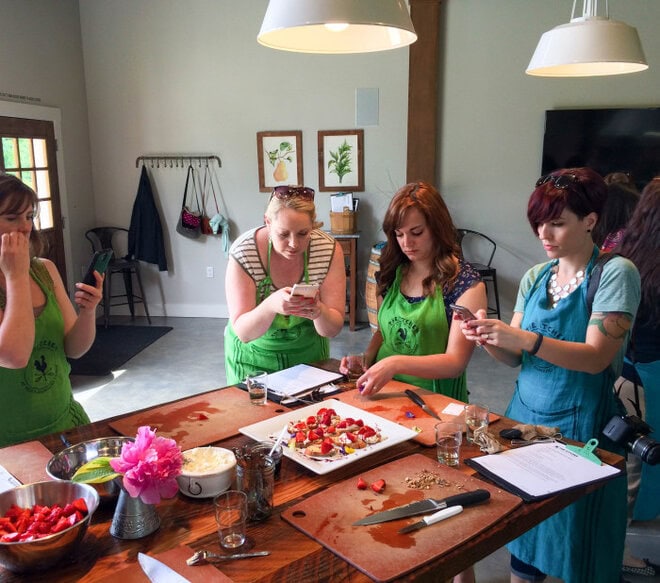 And a perfect photo opp with our new Colorado blog friends – Cooking and Beer and Recipe Runner (bloggers don't go by their names or actual cities they are from … when you ask where they are from, they say their blog name I learned quickly).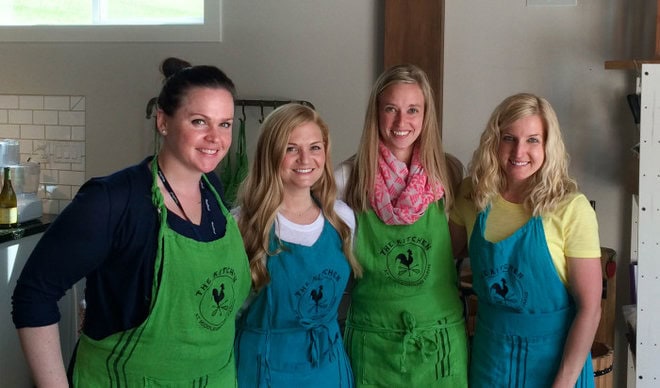 Of course we also ate some Blue Star donuts on the bus, because why would we ever go more than 10 minutes without eating on this trip? Our last stop was at the Allison Inn and Spa for an amazing three-course meal with three kinds of Oregon wines accompanying each dish. This lamb was just perfect.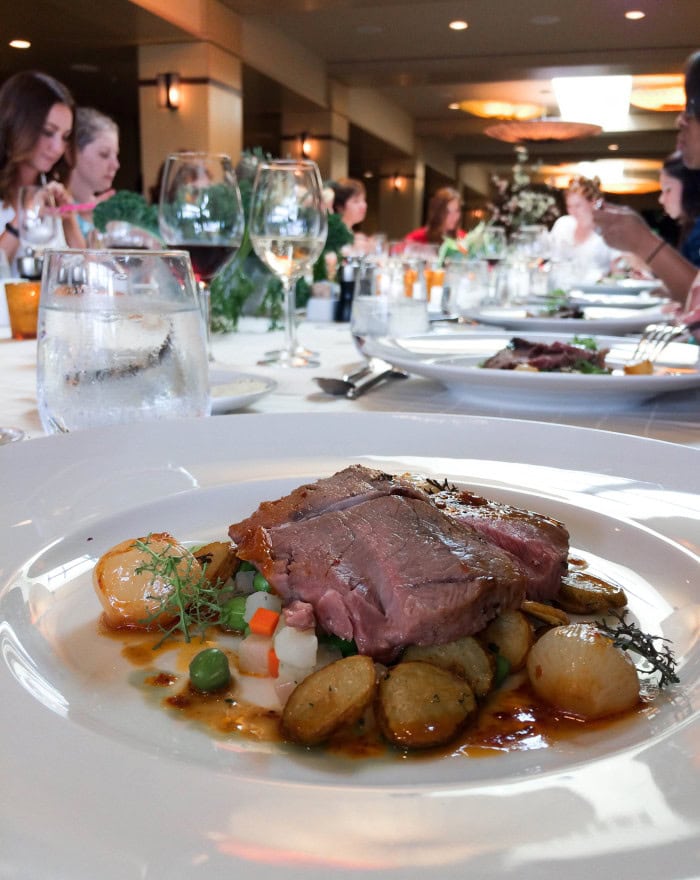 Not surprising Allie and I fell asleep as soon as we got back on the bus. Clear eyes, full stomaches, can't stay awake. So then when we said goodbye to our new friends, we had a few hours to walk around Portland and hit up a few last spots before our very late red eye flight back to Boston. We sampled these cute little chocolates and macarons from the Moonstruck Chocolate Co. We found Nemo! And then we ate him!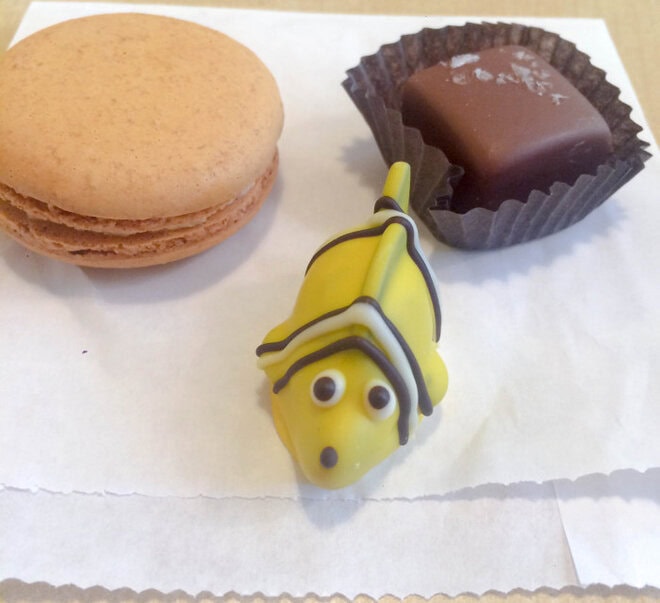 We enjoyed some cajun tater tots and got a copy of Yats spinach mushroom etouffee recipe for a healthy last dinner at the Ram Restaurant. TOTS!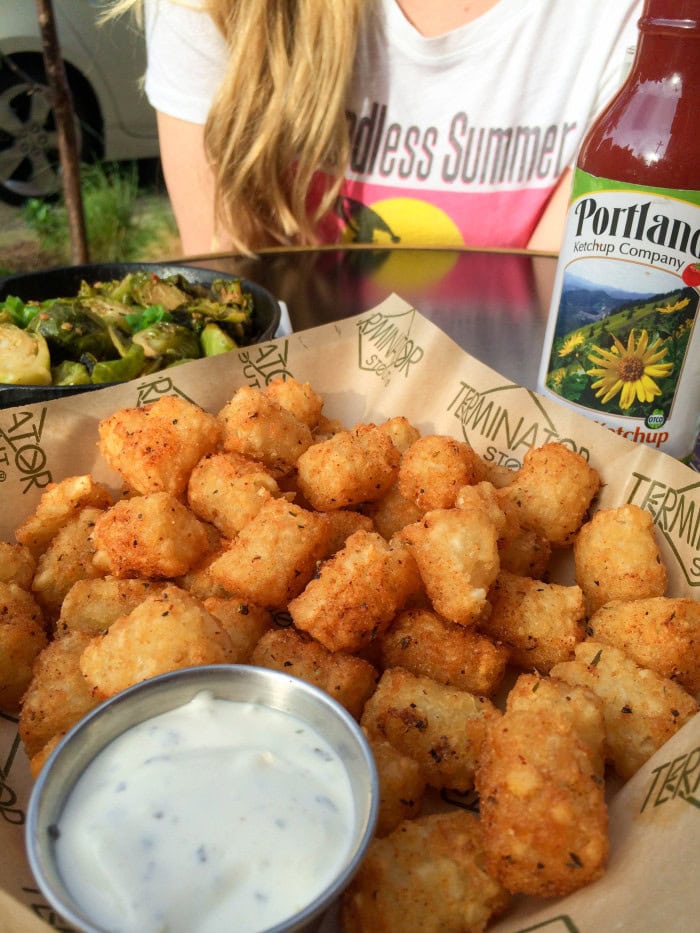 And after a trip to Powell's Books, we had to sneak in ONE last scoop of ice cream from Ruby Jewel. Okay, maybe we each had two flavors. It was our last chance! Perfection.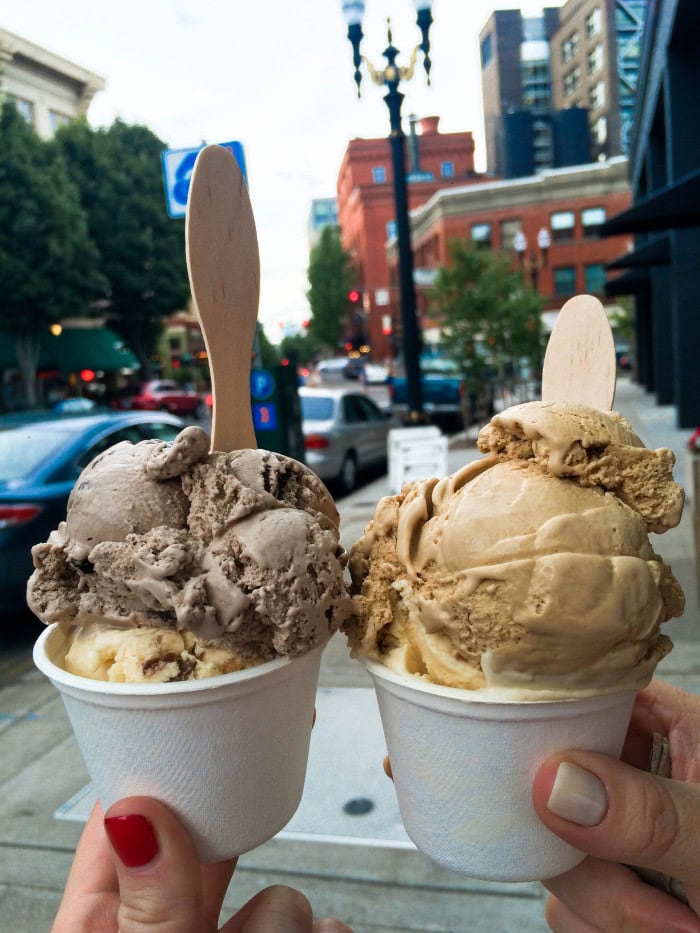 So that's it! We hung out at the PDX airport for a while, took a cliche carpet photo, then boarded a delayed 6-hour flight home which involved wicked turbulence and a screaming baby. We landed in Boston at 9am Monday feeling like all our oxen died and we had dysentery.
Overall, what a great first conference experience! I need to plan my next trip. Learned a lot, met some great new friends, ate SO much good food, saw as much of Oregon in 3 days as was physically possible. Quit my job in corporate America and took up blogging full time! (Well, not really on that last part, but a girl can dream right?)