Chicago | The Foodie City
Come on babe why don't we eat the town, and all that jazzzzzz! Forget being known as the Windy City. Chicago is for foodies! And the food is so much more than just deep dish pizza, though I do recommend taking a giant piece of deep dish straight to the face upon arrival. I've been to Chicago probably 10 times in the past two years for work trips, though most of my meals are at Whole Foods, the Sheraton lounge or alone at a bar (glamorous, I know). But I recently traveled to Chicago for a long weekend with my good friend Sarah for the BlogHerFood conference. Both avid foodies, we decided to meet up in Chicago for a long girl's weekend and eat our way through Chicago together. And oh did we eat. Deep dish pizza, gelato, Nutella crepes, caramel popcorn, hot chocolate, and delicious freshly baked donuts … all in the name of foodie research of course. And I've documented it all in this post through pictures and with links to some of our favorite spots for any of you thinking of heading to Chi-town to get your eat on!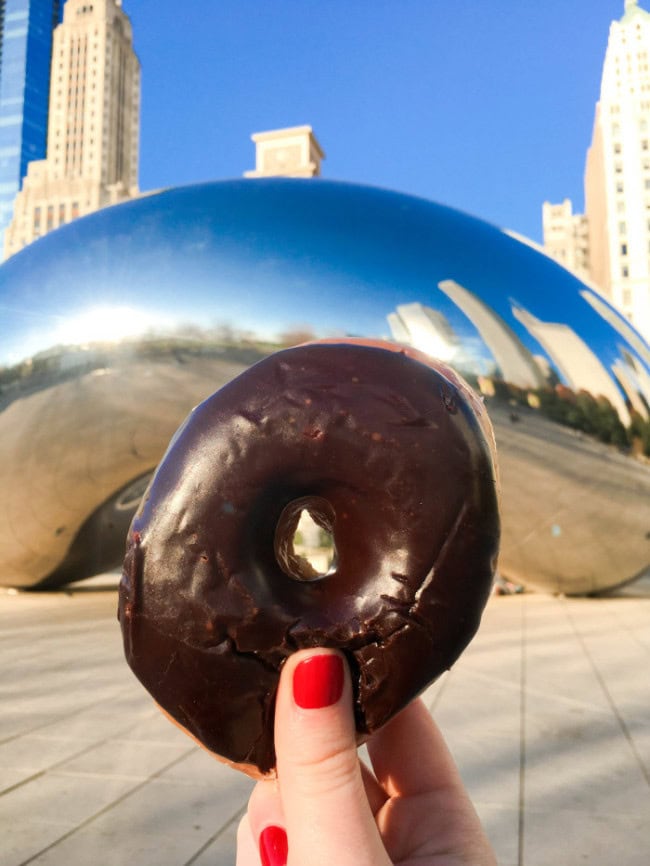 Reunited in Chi-town: Sarah and I both flew in to Chicago early Friday morning – me with my trusty Tumi carry-on suitcase, and Sarah with a 50lb checked suitcase and duffle bag since she's now truly adjusted to southern life back in North Carolina and she was prepared for the 50 degree temperature forecast … as well as a potential blizzard, hurricane or overnight deep freeze 🙂 Sarah and I met at Boston College on the Newspaper staff (because we were super cool) and she is part of our infamous Thursday Night Dinner Club (TNDC) which 6 of our friends started after we were missing the days of homecooked meals shared around a table, not the dining hall. Sarah hosted one epic Southern-inspired dinner with honey butter, cornbread and spiked sweet tea (which is about all I remember from that night). And we've been friends ever since. It's our grand plan that when we both decide to stop working 70+ hour weeks in corporate America that we'll open a joint bakery together down south and bake cookies, drink sweet tea, and live the good life.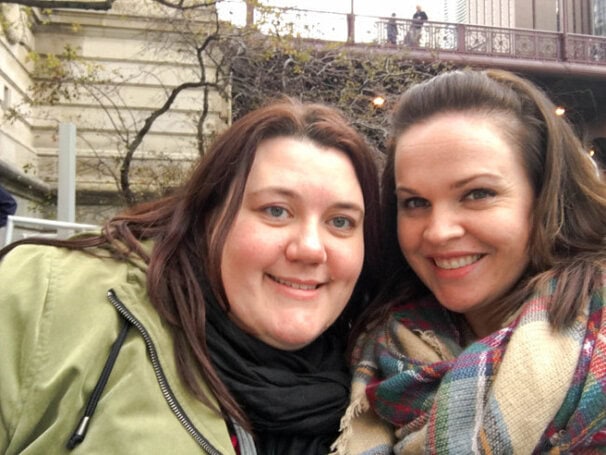 Move over Pizzeria Uno! As soon as we checked into the hotel, we bee-lined straight for some deep dish pizza. We saw a Pizzeria Uno, but right next to it was Pizzeria Due which is what we opted for. I remember coming here back when I first graduated college and started in consulting and was in Illinois for Core Analyst School (aka being trained in corporate buzzwords) and over the weekend we got a day to explore Chicago and ate at Pizzeria Due. So I decided to give it another try, and we were not disappointed. I mean just look at the cheese in that bad boy. Mama Mia! If you haven't had deep dish before, it's a different texture and taste from traditional pizza. You definitely need to eat it with a fork, and the crust is thick and flakey like a delicious biscuit. And you need to be wearing stretch pants if you're really going to eat more than one piece!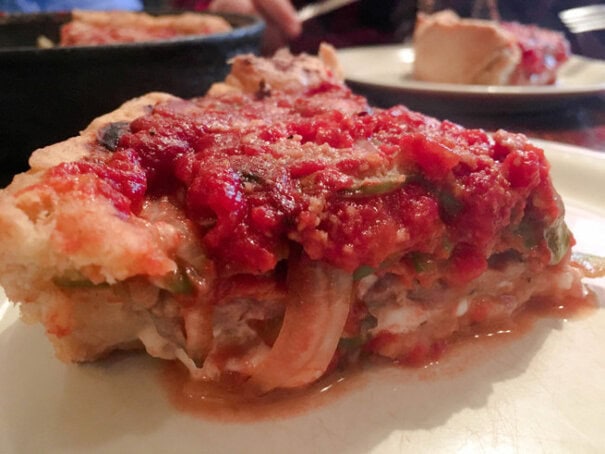 River Cruise! After we rolled outselves out of Pizzeria Due, we headed down the Magnificent Mile to the river cruise. Like I said before, I've been to Chicago many times in the past few years but haven't ever gotten a real chance to enjoy the sites and be a tourist. So we hopped on one of the 90-minute river cruises and got a really beautiful scenic tour of the city. Sarah braved the very windy chilly temperatures like a champ. We learned the Windy City nickname has nothing to do with wind, but instead politics. The river went by a chocolate factory that must have been Willy Wonka's because it smelled SO good. It was a really cool way to see the city and learn about all of the different architecture.
Hot Chocolate: So coming off of the river cruise we were a bit frozen and had chocolate on the nose (and mind) so we headed to the Ghirardelli Chocolate store on the Magnificent Mile for some deliciously warm salted caramel hot chocolate. Hands down the best hot chocolate I've ever enjoyed. I think you'd go into sugar shock from a second mug, but we left happily warmed up after our chocolate fix. I've already got some ideas brewing in my head on how to turn that into a cookie. We spent the rest of the evening shopping at the amazing Nordstrom there, and grabbed a quick dinner before calling it a night to rest up for the conference on Saturday.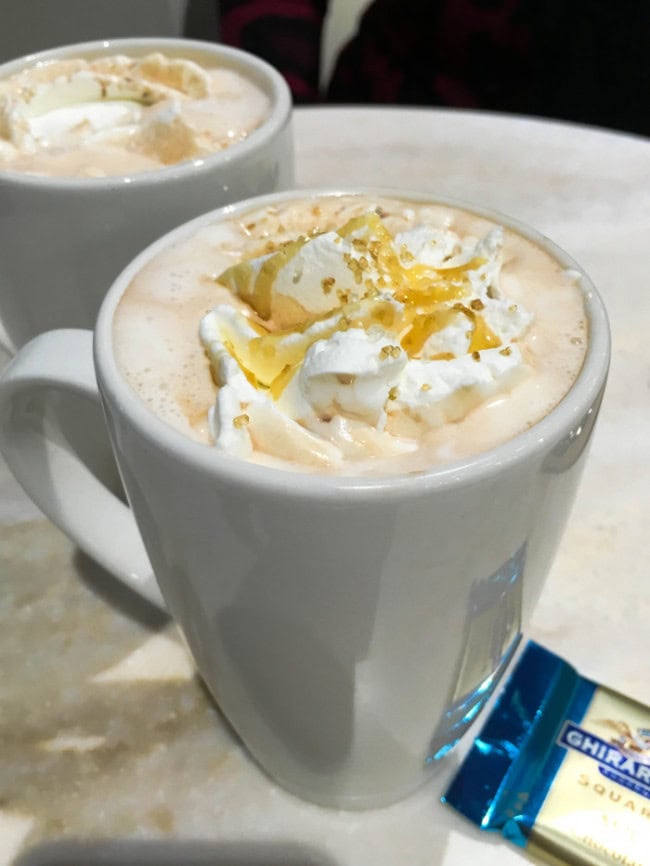 BlogHer Food: This was only my second foodie conference, the first being the Indulge Conference that I attended back in May in Portland, Oregon. BlogHerFood is a much bigger conference (about 600 bloggers) with lots of successful blog speakers like Weelicious, What's Gaby Cooking, Sarah Michelle Gellar (aka Buffy) who runs Foodstirs and the after party hosted by The Pioneer Woman. We only attended the second-day of the conference but still got to hear from a lot of the great speakers. They talked about achieving long-term blogger happiness, tips and tricks for using Pinterest, managing your other social media channels and a lot more. While I think the conference was definitely informative and interesting, I think the smaller conferences like Indulge are more my style since I enjoy the networking and meeting new people, which was harder to do in this big setting. But I'm still really glad I went, and it was great to explore all of the vendor booths and learn about some new products that haven't even hit the markets yet.
But let's get back to the food! Our lunch-time adventure on Saturday was to Eataly, which is like being a kid in a candy shop for foodies. We went to the Pizza/Pasta restaurant for lunch and enjoyed some deliciously fresh margherita pizza and freshly made pasta.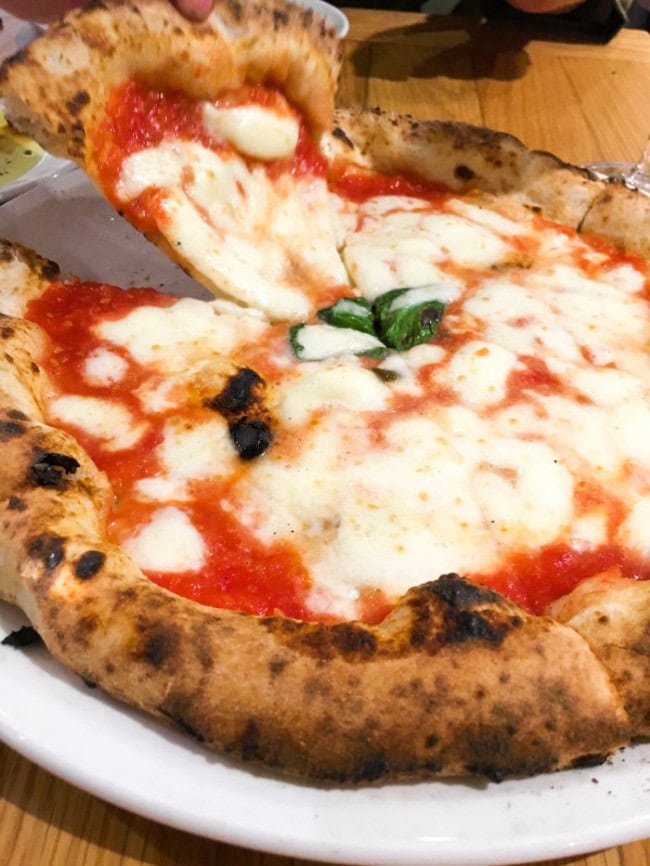 And then of course we couldn't skip dessert. I opted for a scoop of chocolate chip gelato.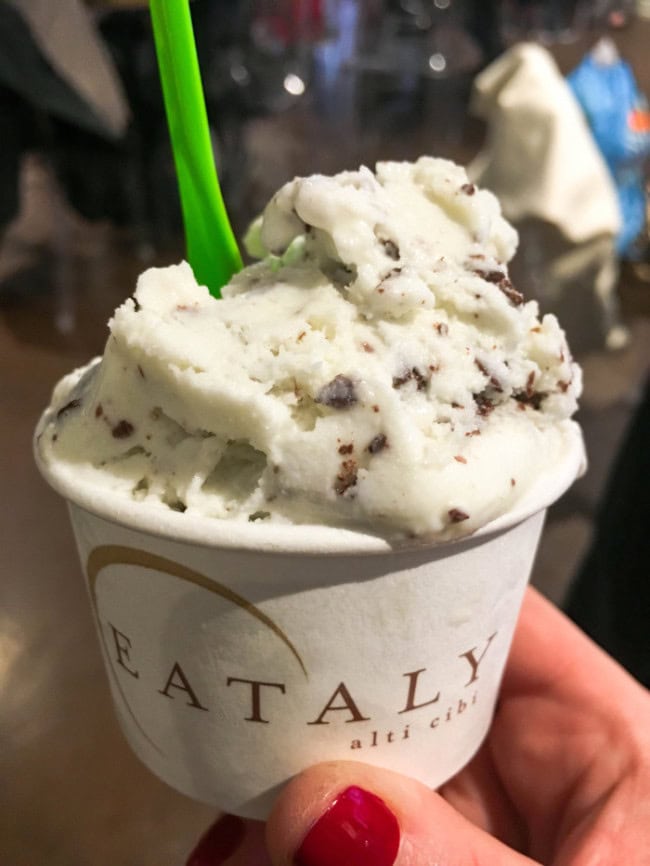 Sarah went for the Nutella crepes, which we were mesmerized watching the guy make fresh on demand.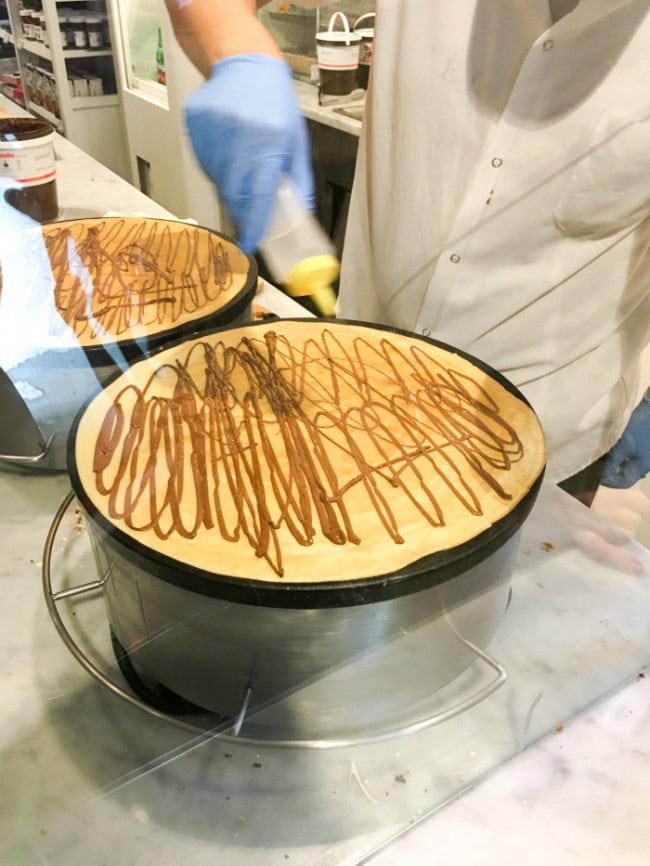 Burger + Fries: After the conference wrapped, we opted not to party with the Pioneer Woman at the after party and instead take advantage of being in the same city for the first time in a long time to continue our girl's weekend over dinner for two. We tried to go to Frontera Grill, which is one of the most popular spots in the area, but unfortunately neither of us were patient enough to wait 3 hours for a table, so we decided to walk around the area and just try any spot that looked good. We ended up at Rockit Bar and Grill, which did not disappoint. We both had the Rockit Burger and all I can say is thank goodness for stretch pants. Not that it stopped us from snagging some freshly made churros from Xoco around the corner before heading back to the hotel.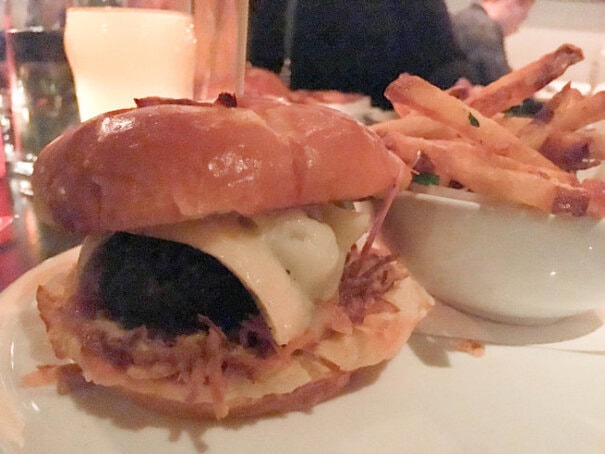 We did a LOT of walking in Chicago, which probably helped us not come back 10 pounds heavier from all of the great food we ate. Plus it's a walkable city and the weather was perfect the whole weekend.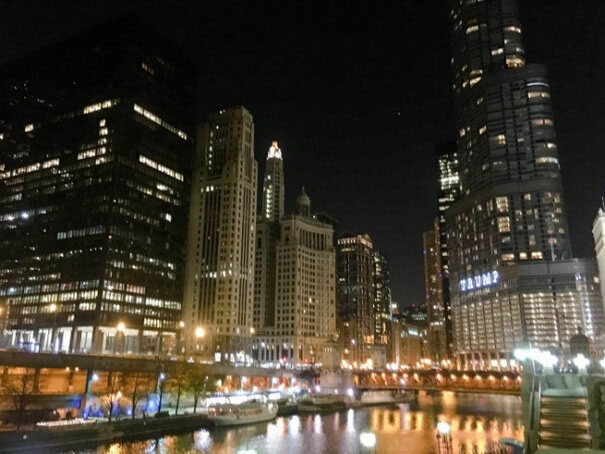 Donuts + Excercise = No Calories, right?: Sunday morning we were up and at 'em really early. We figured we might as well put the sneakers and gym clothes we packed to good use and decided to take a walk towards Milennium Park and the lake. With maybe a slight detour to Do-Rite Donuts for a freshly glazed donut. I'm not even a big fan of donuts but there's something about a freshly-baked glazed donut that I just can't say no to. Plus wearing sneakers and walking while eating the donut basically negated the calories … I think that's how that works. Yeah, I'm pretty sure. We did watch the start of the Hot Chocolate 5k and 15k kick off right by the lake, while eating our donuts, so it pretty much was the same thing as though we ran a 15k. Woo, exhausting. And here's my super touristy Donut in front of the Bean shot.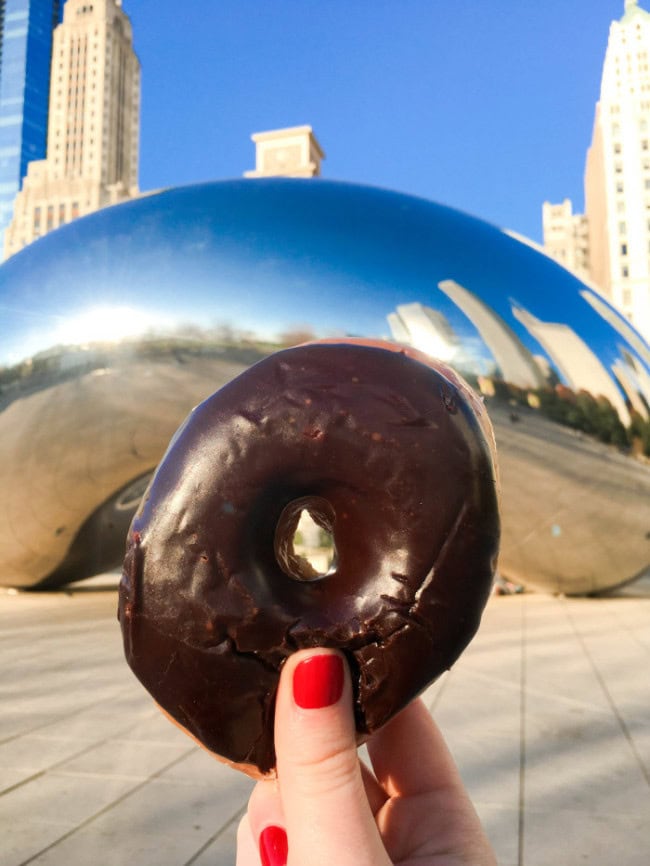 Brunchin': We met up with Sarah's friend Liz and her boyfriend for brunch before heading out on Sunday. We tried to go to Yolk but the line was out the door and with over an hour wait, we opted to try the Irish pub next door – D4 Irish Pub. And despite there being a big Notre Dame flag waving in the front of the restaurant, the food was delicious! I opted for the Corned Beef Eggs Benedict which was really good and filling.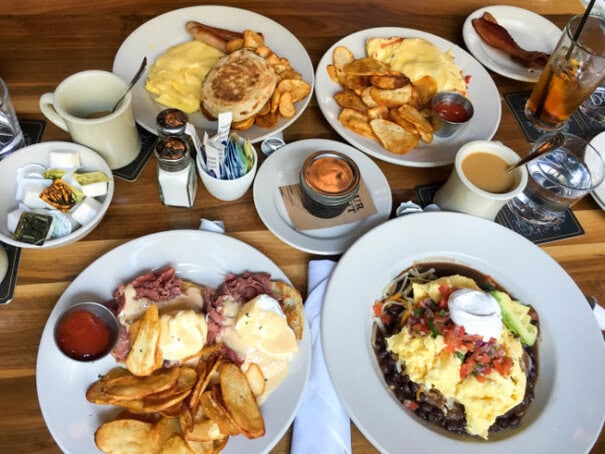 And alllllll, thattttt, jazzzzzzzz: And that was it. We headed to the airport, stocked up on some Garrett's caramel popcorn and hopped out respective planes back to Boston and Raleigh. All in all, a great girl's weekend and successful second foodie conference. I'm already starting to look at the schedule for next year to see what cities I've been wanting to travel to and hopefully lining that up with some other conferences. And despite not as much networking as my last conference, I did come away with some new things to try out on the blog and definitely felt a little reenergized and inspired to keep it up. And I love having great friends who are always willing to go on a little travel adventure with me. In case you haven't seen one of my favorite musicals, Chicago, I always love this quote: "No, I'm no one's wife … But, oh, I love my life .. And all that jazz!"