Triple Chocolate Chip Cookies
You know what we all need right now? As many chocolate chips crammed into a cookie as humanly possible. And that's what I've got for you today. This year has been more salty than sweet, but these cookies are the perfect blend of the two flavors. I know I've been gone from here for months, but I'm back with a few recipes that will make you happy that stretch pants are still allowed for the foreseeable future. These Triple Chocolate Chip Cookies are super simple and each bite is bursting with a trifecta of chocolatey goodness.
I feel like I'm going to confession. It's been four months since my last blog post. You know why? Because the world was ending for a while and posting about cookies didn't seem like the most important thing at the time. Plus, selling ham sandwiches on the internet during a pandemic is more stressful than you would think. And then I got a new job saving lives (kind of, I build healthcare mobile apps now). And since April I'm on my laptop Zooming it up for 9 hours back to back all day, so the idea of opening my laptop to write a recipe at night, haven't felt inspired to do that until this weekend. But now that people aren't afraid of me sending them cookies in the mail, so I'm not at risk of eating whatever I bake myself (despite stretch pants being approved at work forever) it felt like a good time to get back on my old shit: salted cookie-ing.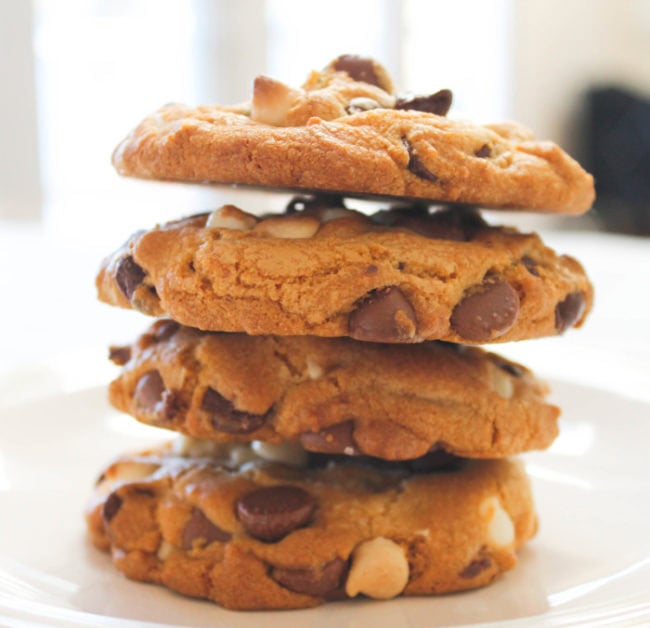 I literally love these cookies. Literally (said in a Chris Trager Parks & Rec accent). I'm all about simple these days. And these cookies are super simple and so friggin' good. I love a good cookie base recipe and this is one of my go-to's that I like to spice up with different mix-ins.
If I had to pick favorites, milk chocolate is where it's at. But mixed with semi-sweet and white chocolate chips creates the most beautiful marriage of sweetness in this cookie. And for the record, all chocolate brands are not created equal. While I'm typically a Nestle or Hershey stan, nothing comes close to Ghirardelli chocolate chips. They are definitely worth the extra cost, and I stock up whenever they are on sale. They were on my grocery essential list since the start of Covid and haven't come off since.
Aside from perfecting delicious cookie recipes this quarantine, I also have mastered the art of the manicure – an essential skill for a food blogger, especially in a crisis. I had perfected the life-saving skill of being a non-hugger years before Covid hit, so I'm all set in that area.
So if you're looking for a simply delicious new recipe to get back into baking, definitely try these Triple Chocolate Chip cookies. Enjoy!
Yield: 45 Cookies
Triple Chocolate Chip Cookies
Additional Time
30 minutes
Simple, quick and delicious - these triple chocolate chip cookies are ready less than an hour!
Ingredients
1 cup butter, browned (or melted)
1/2 cup granulated sugar
1 cup light brown sugar
2 eggs
2 teaspoons vanilla extract
2 1/4 cups all-purpose flour
1 teaspoon baking soda
1 teaspoon corn starch
1/2 teaspoon salt
3/4 cup semi-sweet chocolate chips
3/4 cup milk chocolate chips
3/4 cup white chocolate chips
coarse sea salt for sprinkling
Instructions
In a medium-saucepan over the stove, melt or brown the butter and let it cool a little before adding it to your large mixing bowl with the sugars. Combine the sugars and butter with a wooden spoon.
Add in the eggs and vanilla extract and mix well. Add the flour, baking soda, cornstarch and salt, and slowly mix in to the wet batter until the dry ingredients are fully incorporated.
Fold in the milk chocolate chips, semi-sweet chocolate chips and white chocolate chips until they are evenly distributed. Chill the dough in the fridge for at least 30 minutes to firm up. Preheat the oven to 375 degrees F during this time.
On a sil-pat or parchment-lined baking sheet, use a medium cookie scoop to place even-size balls of dough at least an inch apart. Press down lightly with your fingertips to flatten a bit, and top with a few chocolate chips. Sprinkle with sea salt.
Bake at 375 degrees F for 9-11 minutes, until the edges are lightly golden. Let the cookies sit on the tray outside the oven for a a few minutes to firm up before transferring to a wire rack to cool. Enjoy!