Reese's Pieces Peanut Butter Cookies
It's been a while, I know. But I'm back to the blog and ready to welcome fall head on with lots of delicious recipes, starting with these Reese's Pieces Cookies. It's never too early to start stocking up on Halloween candy, and I've always been a long-time lover of all things Reese's. I'm also a big believer that the bigger the cookie the better. I love thick, soft + chewy cookies over thin and crispy, and these cookies are wicked thick. Perfect for indulging in a sweet and salty treat with no guilt, since you only had one.
I've got a long list of reasons why I haven't posted a new recipe since Memorial Day. Life. Summer. Travel. The lack of natural light in my tiny apartment kitchen. Being around coworkers who don't love cookies (seriously, the lack of cookie leverage is starting to impact my career path). But as F. Scott Fitzgerald once said, Life starts all over again when it gets crisp in the fall. mmm. Apple Crisp. I feel a recipe coming on. But seriously. The full moon is gone. I just moved into a new condo with so much natural light that I am seriously excited to start taking baking photos again. Plus, lots of counter space to make giant baking messes. Oh, and a roofdeck with a grill. Did someone say cocktail recipes?
These Reese's Pieces Cookies are adapted from my Salted Peanut Butter Chocolate Chip cookies, which is the perfect base peanut butter cookie dough recipe if you are looking to experiment this fall. I actually made these way back in early May and just got around to editing the photos and writing up the recipe. But it's perfect timing with Halloween candy already stocking the shelves at CVS.
The key to getting these cookies big and thick is to make sure you really chill the dough well, and the combination of baking powder + baking soda. I was testing out my new stove today with my go-to chocolate chip cookie recipe to get a feel for how things bake in the oven (cookin with gas now, yeehaw), and omitted baking powder and, while delicious, the cookies were thinner and crispier than I typically like. To get the Levain Cookie-esque half-cookie shot, you need the baking soda + baking powder plus super chilled dough combo. And large balls. Always large cookie balls. The bigger the better.
So if you're ready to say goodbye to summer, and get your fall baking on, start with these delicious Reese's Pieces Cookies. I'm bringing these to work tomorrow with fingers crossed that my coworkers have changed their minds about cookies.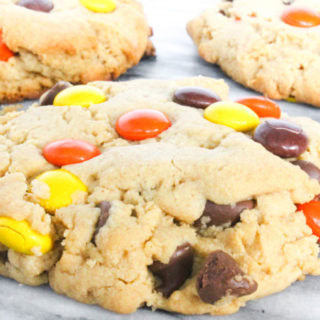 Yield: 30 Medium Cookies / 15 Large Cookies
Reese's Pieces Peanut Butter Cookies
The perfect sweet and salty combo for the peanut butter chocolate lover!
Ingredients
1 cup butter (2 sticks) melted and cooled
1 cup creamy peanut butter (do not use natural PB)
1 1/4 cups light brown sugar
3/4 cup granulated sugar
3 eggs
1 teaspoon vanilla extract
4 cups all-purpose flour
1 teaspoon baking soda
1 teaspoon baking powder
2 cups Reese's Pieces (plus some extra to top with)
Instructions
Melt the butter in a medium saucepan and set aside to cool.
In a large bowl, whisk together the butter and peanut butter. Slowly mix in the sugars until incorporated.
Beat in the eggs and vanilla extract.
In a separate bowl sift together the flour, baking soda and baking powder. Slowly add the dry ingredients to the batter mixing just until they are incorporated.
Fold in the Reese's Pieces until evenly distributed. Chill the dough for 15 to 30 minutes. Meanwhile, preheat the oven to 375 degrees F.
On a sil-pat or parchment-lined baking sheet, place large scoops of dough (about 3 tablespoons) at least two inches apart. Press down firmly, and top with extra Reese's Pieces.
Bake at 375 degrees F for 10-12 minutes, until the edges are lightly golden. Let the cookies sit on the tray for a few minutes to firm up before transferring to a wire rack to finish cooling. Enjoy!