Lemonade Sparkler
While the official calendar start to summer might still be a few weeks away, Memorial Day Weekend is always the unofficial start to summer in my mind. And there's no better way to kick off that summer feeling than by unpacking all those white pants you've had put away since Labor Day, and celebrate with a tall refreshing Lemonade Sparkler.
I've partnered up with my good friends at OXO to make this Lemonade Sparkler recipe, using one of their new citrus peelers from their Prep Peeler line. I never knew I needed more than one peeler until OXO sent me six to try out. It took me a lemon or two to get the lemon twist down to be blog photo worthy, but it was easy breezy with the OXO peeler.
One side is a peeler for your more traditional lemon peels, and the other side is used for quick and easy zesting. I can definitely see myself getting a lot of use out of that this summer for lemon muffins and desserts.
This lemonade sparkler drink was right up my alley too. Not to sweet, but very refreshing with the combo of sparkling water, lemon and mint. I'm not much of a gin-lover myself, so I substituted the gin for some ice cold vodka. Hell yeah that's refreshing. If cocktails aren't your fancy, you HAVE to try their corn peeler. We got some good use out of it Saturday night with our first corn on the cobs this season. Years of braces have prevented me from ever biting into a piece of corn ever again, but this was super easy and a lot less messy than using a knife.
So if you're ready to enjoy the sunshine (at least for a day or two in Boston before it snows or gets rainy and windy again) shake up a delicious lemonade sparkler cocktail extra classy style with a perfectly peeled lemon twist.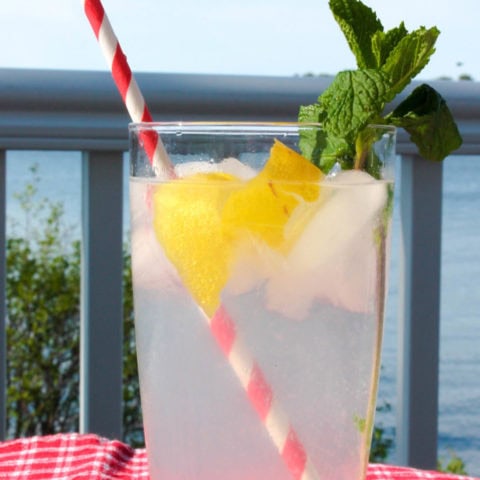 Yield: 1 Drink
Lemonade Sparkler
Skip the straw and get your nose close to the sunny scent of a long, thin spiral of zest. It makes this sparkly homemade lemonade even more refreshing.
Ingredients
Zest and juice from 1 lemon
2 ounces simple syrup, recipe below
2 ounces gin, optional
1 sprig mint
Sparkling water
Ice
Instructions
Wash the outside of the lemon. Use a sharp citrus peeler to shave a long, continuous strip of lemon zest. If the strip breaks, start right up where you left off.

Put some ice into a 16-ounce tumbler. Spiral the long strip of zest inside the glass from bottom to top, adding ice as you go to keep it in place.

Halve and juice the lemon. Put the lemon hulls, lemon juice, simple syrup (plus the alcohol if you are using it) into a cocktail shaker with ice. Shake very well and strain into the glass. Clap a sprig of mint between your palms and tuck into the glass. Top with sparkling water and enjoy.
Simple Syrup
Makes about 1 ½ cups simple syrup
Stir together 1 cup granulated sugar and 1 cup water in a small saucepan. Bring to a boil and cook without stirring until the sugar dissolves and the water becomes clear, about 4 minutes. Set aside to cool. Transfer to a squeeze bottle.