Spring Cleaning with OXO
If you live in the northeast you may need a calendar reminder that it is in fact spring. With Mother Nature's spastic weather lately, there's no doubt that many of us are still in winter hibernation and a bit behind on our spring cleaning. Luckily, my friends at OXO and Method sent over a few of their favorite products to help me jump start my spring cleaning in the new apartment.
When I moved back to Boston from Raleigh, I decided to prioritize location, location, and location over square footage in my apartment hunt. So I traded in my 1200 sq.ft apartment in the south for 600 square feet of a waterfront(ish) apartment in the Seaport neighborhood of Boston. I've also been lucky enough to trade in my twice-weekly airplane commute for a 10-minute walk to my client site. Not too shabby. But, now that I both actually live in my apartment during the week and have the opportunity to cook most of my meals again, my apartment gets messy real quick. Especially my kitchen, which is small, but somehow can turn into a large mess quickly.
I started first with my kitchen sink. I love to cook – and have been trying to prep my breakfasts, lunches and dinners during the week, which usually results in a kitchen sink full of pots, pans and dishes to clean. This Sink Organizer with Flip-Down Sponge Holder makes holding, draining and organizing your sink a snap.
Next up is this Large Sink Mat. If getting excited over a sink mat isn't an indication that I'm really an adult, I don't know what is. This handy dandy mat protects dishes from chipping and scratching, and is also designed to allow air and water to flow freely to help prevent mildew build up.
I've started trying to prep more food on Sundays so that I can easily assemble my lunches in the morning, or throw together a quick healthy dinner when I get home from a long day of work. While I love roasting lots of different veggies, my pans have seen better days lately. This
Palm Brush
has been really effective at scrubbing out the toughest stains without leaving a mark. It's durable for thorough cleaning, while also being safe for non-stick, ceramic and glass cookware. I've also been using the
Dish Squeegee
to help clear out leftover food from plates and bowls before loading them into the dishwasher.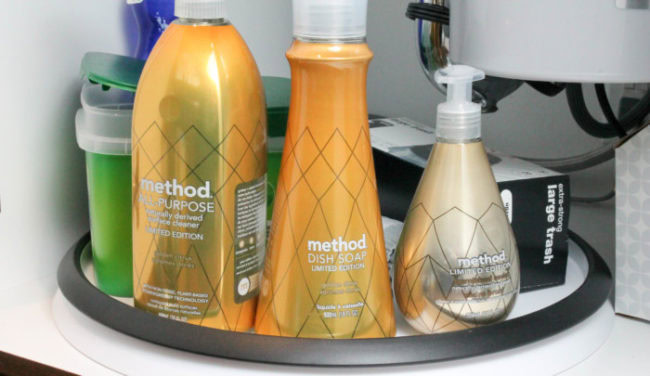 This 
16″ Turntable 
really came in handy when trying to optimize my limited kitchen storage space. The non-slip feet and a deep ledge help the turntable keep items in place. It fit perfectly under my sink and lets me access my most-used products easily.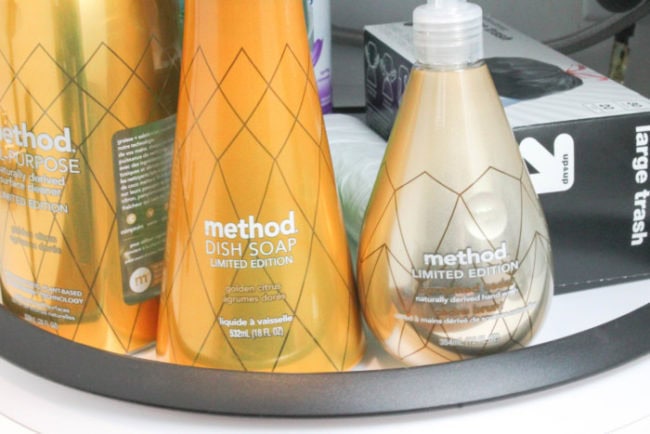 I've been a fan of Method cleaning products for a while now, as they are naturally derived and have a non-drying formula for soft, clean hands. This new
limited edition
collection of metallic finished bottles are perfect accents in your kitchen or bathroom.
 My advice with spring cleaning is to take it one room at a time. Even with a small apartment, I was feeling overwhelmed when I was unpacking after the move. I feel a lot more organized now that my kitchen has been re-organized and cleaned thanks to OXO and Method.
Disclosure: This post is sponsored by 
OXO
, but all opinions are my own.