Peanut Butter Bark
My favorite time of year: clearance Easter candy. It's also when my biggest source of protein comes from Cadbury and Reese's eggs. One of the easiest and most delicious uses for leftover candy is this saltine toffee bark. The base is super simple, and then you can modify it with whatever you've got on hand. In this case, I've got a basket chock full of peanut butter goodies that helped to make this sinfully delicious Peanut Butter Bark.
I think Easter brings a much better selection of candy than Halloween. Halloween just means it's more socially acceptable to eat candy earlier in the day and in larger quantities, but Easter brings seasonal goodies like Cadbury mini eggs, and all different forms of Reese's peanut butter cups. Two years back I made this Cadbury Mini Egg Bark, which is one of my favorite recipes, though I do not often find myself with leftover mini eggs. So this year I went full on peanut butter explosion.
After putting the chocolate on top of the toffee and melting it, I added a few dollops of peanut butter and let  it melt down before swirling it around. Then I chopped up some mini Reese's cups and peanut butter M&Ms and sprinkled on top. And to finish it off with just a little more peanut butter, I added a handful of Reese's Pieces. Sweet baby Jesus is this good. Just look at those layers of sweet and salty chocolate peanut butter goodness. I put my batch in the freezer to harden a bit more since the peanut butter wasn't setting as firm as when I make the regular chocolate version.

So if you find yourself in a pickle with lots of leftover candy this Easter season, whip up a batch of this dangerously addicting sweet and salty Peanut Butter Bark. Enjoy!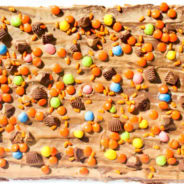 Peanut Butter Bark
Yield: 10 Servings
Prep Time: 10
Cook Time: 10
Total Time: 20 + 1 Hour to Chill
A dangerously addicting way to use up leftover peanut butter candy.
Ingredients:
2 sticks butter
1 cup light brown sugar
1 sleeve Saltine crackers
2 cups milk chocolate chips
3/4 cup peanut butter
1 cup Reeses Pieces candies
16 Mini Reese's cups, chopped
1/2 cup Peanut Butter M&Ms
Sprinkles
Directions:
Preheat the oven to 400 degrees F. Line a 13x9 baking pan with parchment and spray with non-stick spray. Place the saltines in an even layer, leaving a bit of space in between each cracker.
In a medium saucepan, whisk together the butter and sugar until melted. Let it come to a boil and then let it boil without touching it for 3 minutes. Pour the hot toffee mixture over the saltines. Bake at 400 degrees F for 5 minutes.
Sprinkle the milk chocolate chips evenly over the toffee and pop back in the oven for 1 minute. Use a spatula to evenly spread the melted chocolate over the toffee. Dollop the peanut butter onto the hot chocolate and let it sit for a minute before swirling it with a butter knife or spatula.
 Top with sprinkles, M&Ms, Reeses Pieces and chopped peanut butter cups. Let it chill for 1 hour before breaking into pieces to serve. Enjoy!