Italian Wedding Cookies
This week was a rough one. Often when a national tragedy happens, people say it hits "too close to home." This time, that phrase resonates … since I grew up just two towns over from the Newtown shooting and have many friends, including my best friend, who are teachers in the immediate surrounding towns. I am happy that they are all okay, but it's still heart wrenching to watch the news.
In an effort to have this post not be a total debbie downer, I figured I'd try to bake some comforting recipes this weekend, both of which are my Grandma's recipes. You hear a lot of stories about my Grandpa, because he's hilarious and I love him. A fellow food blogger from the cookie swap read my blog and described me saying "she loves champagne and her grandpa." I'd say that's accurate. My Grandma was a pretty amazing lady herself and unfortunately passed when I was in college. I do remember distinctly every Christmas growing up how my Grandma would have one day at her house where my mom and uncles would bring all their mixers over and spend the entire day baking Christmas cookies. Maybe that's where my baking genes come from. I was talking to my Grandpa on the phone the other day about his favorite Christmas cookies. He reminded me of these Italian Wedding cookies that Grandma used to make and how his special job was to sprinkle the jimmies on top while the frosting was still warm (a very important job).
I'm sure at this point, my mom's already crying at this post, but I figured it was worth posting some pictures that I came across this weekend that made me smile: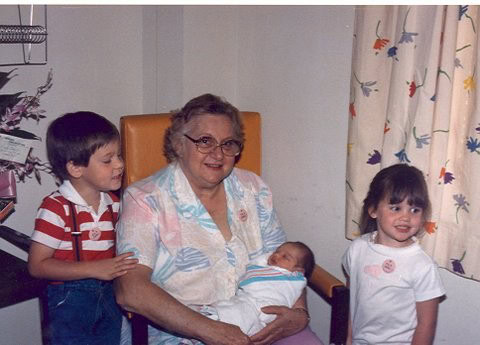 1988 was a good year. My brother was rocking suspenders, and my sissy was born. I appear to be having a good hair day.
I mean obviously I was destined to be his favorite.
So in the spirit of finding comfort in things, here's my Grandma's recipe for Italian Wedding cookies.
This batch makes 72 cookies, and can be easily cut in half.
Cookie Ingredients:
5 cups flour
1 cup granulated sugar
2 sticks butter
2 eggs
2 tsp baking powder
1 tsp baking soda
½ tsp salt
1 pint (16 oz) sour cream
1 tsp vanilla extract
Frosting Ingredients:
2 sticks butter
2 tsp vanilla extract
2 boxes confectioners' sugar
½ cup milk
Step 1: Preheat oven to 350 degrees. Cream together butter, sugar, eggs, sour cream and vanilla extract.
Step 2: In a separate bowl sift together the dry ingredients. Mix the dry ingredients into the wet mixture. The resulting dough is thick.
Step 3: Using a small cookie scoop (or good size teaspoon) shape the dough into small balls and line up on a sil-pat lined or parchment lined baking sheet. Bake about 12 minutes until lightly browned on the bottom.
Step 4: To make the frosting, in a small saucepan on the stove melt the butter over low heat. Add in vanilla extract. Slowly whisk in confectioners' sugar and mix until it is smooth and frosting like. Add milk and stir until well incorporated.

Step 5: Carefully while not burning your fingertips, dip the top of the wedding cookie into the frosting so that the top half is coated.
Step 6: While the frosting is still warm on the cookie, sprinkle jimmies or colored sugar on top. Let these cool on a wire rack to let the frosting harden.
These cookies are absolutely delicious. Very soft and chewy with a nice sugary frosted top. They were a staple in our house at the holidays growing up.
My Grandpa was giving me some solid advice yesterday when I called him to tell him I was going to attempt to paint my bathroom by myself. My Grandpa is my mom's dad, which is the side of the family that is much more handy. I inherited my Dad's ability to fix things (aka  — call someone to do it for you … although he did impress with installing a closet rod for me recently.) Anyway, my grandpa gave me some good painting tips, mostly about painters tape and painting ceilings. I made a friend in the paint department at Home Depot who had no faith in my ability to paint since I just randomly picked a color from the little swatches, but he did manage to upsell me on all the supplies I needed.
I have paint in my hair, and all over my clothes, a ruined manicure, and almost ate it when I tried to put the ladder in the bathtub, but at the end of the, I have to pat myself on the back for a paint job well done!
Before:
After: