Holiday Gift Guide | For The Baker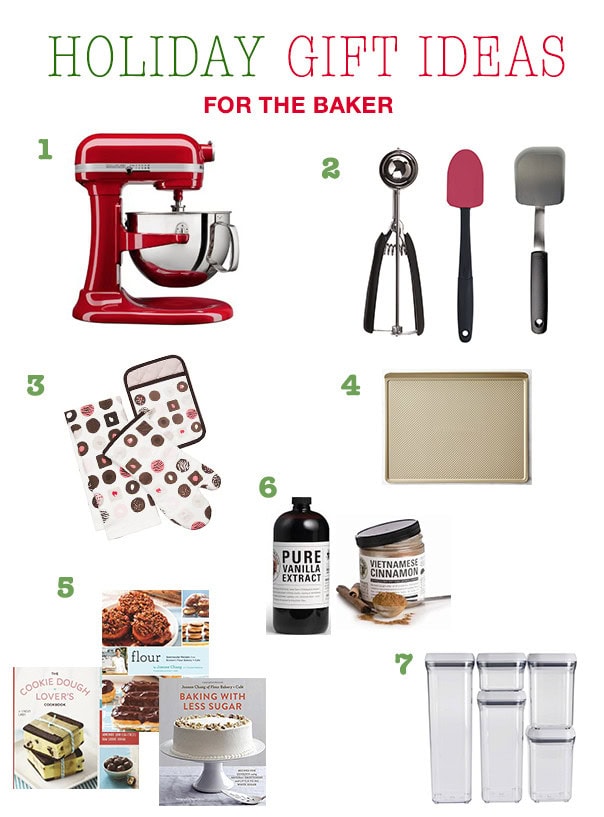 Whether you're the baker in your family or the best cookie taste tester around, I've rounded up some of my must-have kitchen essentials for baking. From cookbooks, to prep, and key ingredients to storage, these are a few of my favorite things that keep my kitchen stocked and running like a well oiled machine. 
My kitchen is chock full of all kinds of gadgets, appliances, and shelves of cookbooks. So when people ask me for ideas for people who love to bake, I have a list a mile along of suggestions. When gifting kitchen supplies to a baker, I recommend buying something that they might not splurge on themselves, but that is still considered a kitchen essential. Not some weird gadget like a Pickle Picker Upper that is just going to take up room in their drawers. You can also never go wrong with a cookbook, and I recommend one with a story behind it from a place, particular recipe or food type that they like. So without further adieu, here are my top seven kitchen must-haves:
1. KitchenAid 6Qt Mixer – If you don't already have a KitchenAid, buy this one immediately. This 6Qt mixer is one of the largest sizes and currently is on sale for almost 50% off! I've never seen prices this good, and even the smaller sizes are currently more expensive than this 6 Qt size. A KitchenAid is a baker's essential. It's perfect for all kinds of recipes from mixing to beating to whipping and everything in between. They also come in a rainbow of colors and look great sitting out on your kitchen counter all year round. If you live in a small space and a counter-top mixer just isn't in the cards for you right now, this KitchenAid hand-mixer gets the job just just as well for about $30.
2. OXO Spatulas + Scoops – I have containers on containers on drawers on drawers of different baking tools, but I use these three OXO products on a regular basis. Long gone are the days of unevenly baked cookies using teaspoons to measure out dough. With this Medium Cookie Scoop you can pop out even-size balls of dough that bake evenly and delicious every time. The Silicon Spatulas from OXO are super sturdy and never fall apart like the wooden ones that I've gone through so many of. Perfect for scraping the last bite of batter out of the bowl. The Silicon Cooke Spatula is the smoothest way to transfer your cookies from the tray to the cooling rack without risking them breaking.
3. Kate Spade Kitchen Set – Every baker needs a supply of cute potholders, oven mitts and kitchen towels. I love these fun sets with a variety of different designs from Kate Spade. This cookies and chocolate design is perfect for the baker in your life. Aprons can be both fashionable and functional these days too. I love this cute Kate Spade "Eat Cake for Breakfast" apron. Another spot that I love to get aprons for gifting is Anthropologie. They have a great selection of fashionable aprons and pot holders that are perfect for gifts.
4. William Sonoma Cookie Sheets – Quality cookie sheets are a perfect gift for bakers. Because these are the essentials that we often cheap out on buying, but there's a huge difference in quality and not burning your cookies if you invest in the nicer quality baking sheets. I have several of the William Sonoma non-stick sheets that have lasted a long time. One thing you can pair with these sheets as a gift are the King Arthur Flour Parchment Baking Papers. While I do love the silicon mats for baking sheets, when it comes to convenience and protecting the baking sheets, these parchment baking papers are already pre-cut and you just throw away at the end of each use.
5. Cookbooks – I love to both give and receive cookbooks. I have a bakers rack in my kitchen with 3 shelves of cookbooks that I keep on display. And while most of us are inclined to search for recipes online, I still love to browse the big and bright imagery in cookbooks when looking for recipe inspiration. The Cookie Dough Lover's Cookbook is written by Lindsey Landis of the popular Love & Olive Oil blog and is full of ways to use her eggless cookie dough recipe. The cookie dough truffle is worth the cost of the book alone. Being from Boston, my favorite book to gift is Joanne Chang's Flour Cookbook which contains recipes from her popular Boston bakery Flour. My favorite recipe is the homemade Oreos. And if you need a little less sugar in your life, but still want to keep it sweet, I also recommend Joanne Chang's Baking with Less Sugar cookbook that she released earlier this year.
6. King Arthur Flour Cinnamon + Vanilla – Bakers love quality ingredients. I'm more inclined to buy whatever vanilla is on sale if I am doing large quantities of baking, but I love when my mom sends me a package from King Arthur Flour. Two of my favorite ingredients, which you can also often get at Sur la Table, are the large bottles of Vanilla Extract and Vietnamese Cinnamon. This cinnamon is super potent and can totally up the ante on any of your recipes that call for cinnamon. Because a little goes a long way, this container will last you for a long time.
7. OXO POP Container Set – This is a gift I've seen on all of my friends wedding registries recently. And since I'm pretty far from registering for anything of my own, I finally invested in the 10-piece set when I moved to NC this fall. These containers are great for storing your ingredients like flour, sugar, brown sugar, and chocolate chips and keeping them dry and fresh for a long time. If you're OCD like me, you'll love how your cabinets look when all of these containers are neatly stacked and organized with your favorite ingredients.
So if you're looking to give the gift of baking this holiday season, you'll be in good shape if you pick from any of the items on this gift guide. One of my favorite ways to gift is to combine a few items in a nice mixing bowl. Happy gifting and happy baking!