Zucchini Chocolate Chunk Muffins
These Zucchini Chocolate Chunk Muffins are chock-full of green veggie goodness and delicious cinnamon flavor that you might almost convince yourself that they should count as your daily serving of veggies!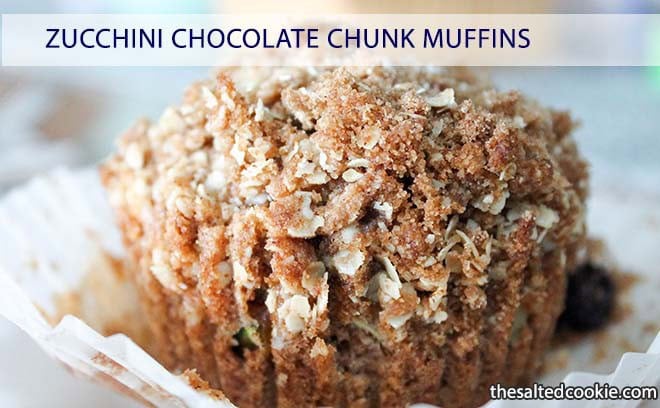 I have a love love relationship with zucchini and my hand-held OXO spiralizer. And while my go-to is spiralizing up some zucchini noodles for dinner with grilled chicken and tomatoes, I knew I had to start experimenting with spiralized desserts. Last week I gave you these Spiralized Peach Pie Bars venturing into uncharted spiralizer territory with my peach experiment. This week I had this giant zucchini that my friend Heather gave me from her garden just staring me in the face saying "spiralize me, bake me!"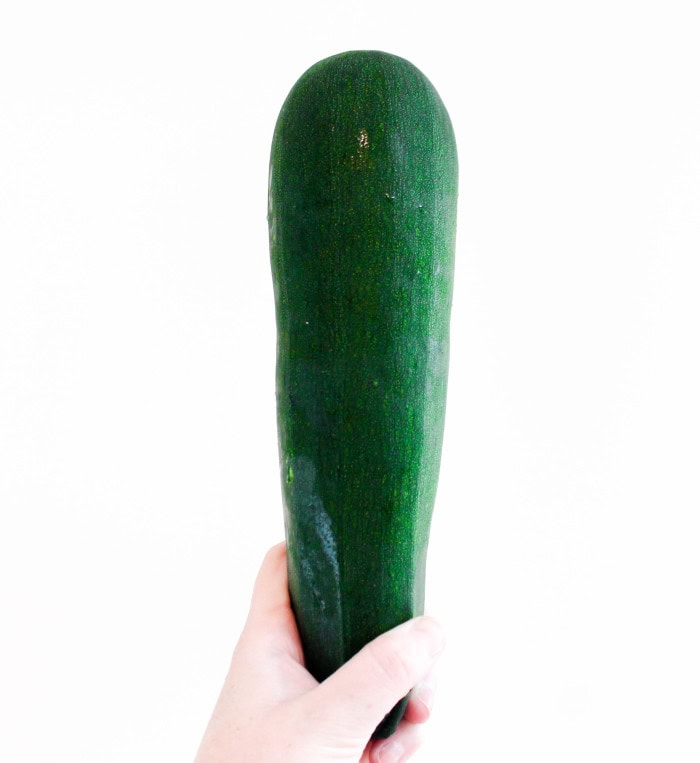 Once I got over the fact this giant zucchini was talking to me, I got to thinking about different ways to bake with zucchini. Believe it or not, I have not yet ventured into Zucchini bread recipes before. Something about putting vegetables in my sweet treats just didn't appeal to me. But there's a first time for everything and I decided to peruse the interwebs for some different zucchini bread recipes. Of course I ended up at my tried and true blog for all things muffins, Sally's Baking Addiction, and I figured I could not go wrong using her zucchini bread recipe for muffins. Personal preference is muffins over bread. Part of it is portion control (self control) and the other factor is I am more confident in my ability to not over/under cook muffins than I am with breads.
Sally uses a grater for the zucchini, but I've been on a big spiralizer kick so decided to take that approach and then use kitchen shears to just cut up the zoodles into really small pieces. Manicures and graters don't go well together so I try to avoid them for the most part. I think the real key to this recipe, aside from filling them chock-full-of fresh zucchini, is going overboard with the streusel topping. It gives the soft, chewy muffins a nice crunch on top that is just delicious. The chocolate chunks are optional, but why would anyone leave them out? Warm melty chocolate muffin … forgetaboutit!
Yield: 6 jumbo or 12 regular-sized muffins
Ingredients:
Streusel Topping 
2/3 cups old-fashioned or quick oats
1/2 cup packed light or dark brown sugar
2 Tablespoons all-purpose flour
1/2 teaspoon ground cinnamon
1/4 cup butter, cold
Muffin
1 large egg, beaten
1/2 cup packed light or dark brown sugar
1/2 cup granulated sugar
1/2 cup vegetable oil
1 cup spiralized zucchini (about 1 large), cut into small pieces
2 teaspoons vanilla extract
1 and 1/2 cups all-purpose flour
1/2 teaspoon baking powder
1/2 teaspoon baking soda
1/2 teaspoon salt
2 teaspoons ground cinnamon
1/4 teaspoon ground nutmeg
 3/4 cup semi-sweet chocolate chunks (or chips)
Step 1: Preheat the oven to 425 degrees. Line 6 jumbo muffin tins with paper liners and spray with nonstick spray. If using regular muffin tins, line 12 tins with paper liners and spray with nonstick spray. Set aside.
Step 2: First prepare the streusel. Combine the oats, brown sugar, cinnamon and flour together in a medium bowl. Using two forks or a pastry cutter (my preferred method) cut in the cold butter until the mixture is coarse. Set aside.
Step 3: To make the muffin batter whisk together the beaten egg, brown sugar, granulated sugar, oil and vanilla. Use your spiralizer (or grater) to create zucchini noodles out of the large zucchini. Use kitchen shears to roughly cut them into tiny pieces.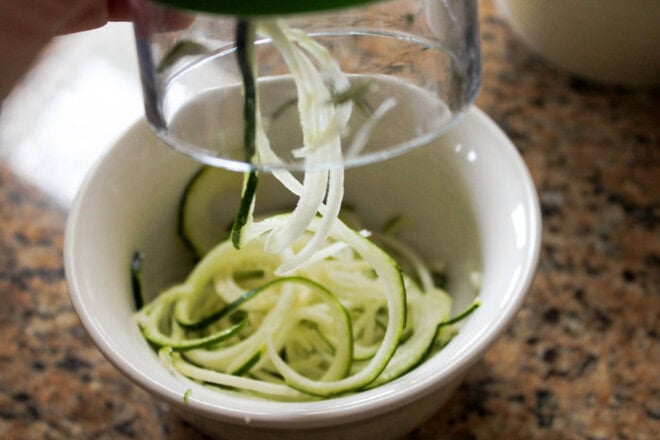 Oodles of zoodles!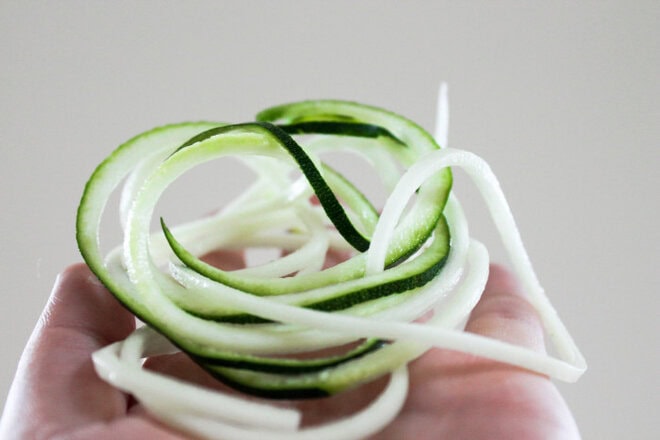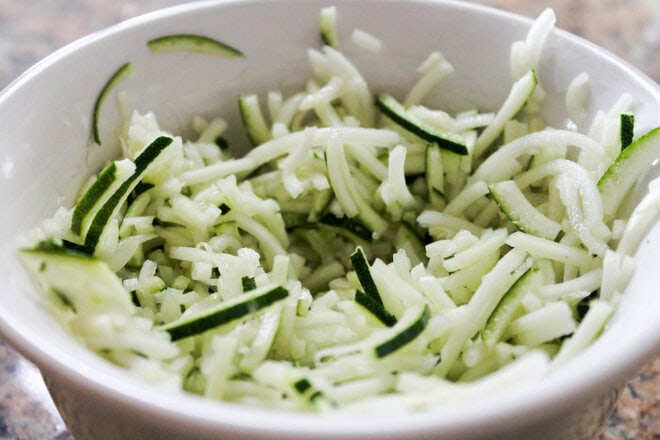 Step 4: In a separate bowl, sift together the flour, baking powder, baking soda, salt, cinnamon and nutmeg. Pour the wet ingredients into the dry mixture and stir with a wooden spoon until the dry ingredients are fully incorporated. Gently fold in the chocolate chunks.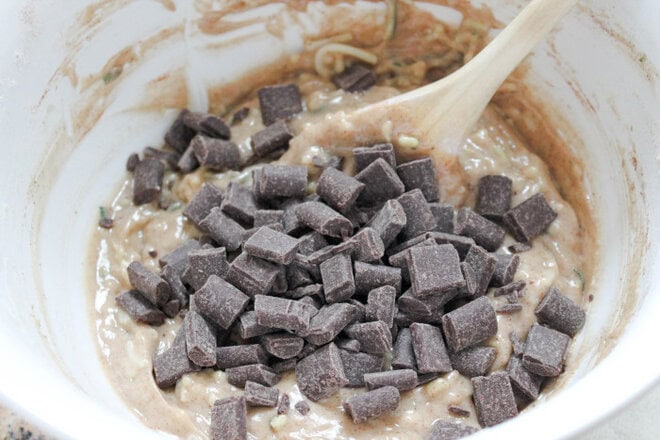 Step 5: Evenly distribute the batter into the muffin tins. Generously top with the streusel mixture. Bake at 425 degrees for 5 minutes. Then reduce the temperature to 350 degrees and continue to bake for 15-18 minutes, or until a toothpick comes out clean from the center. If baking in regular-sized tins, reduce the cooking time to 12-14 minutes, watching to ensure the tops do not burn.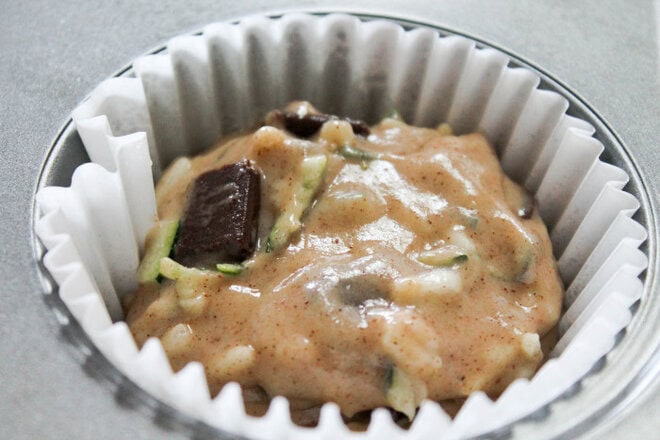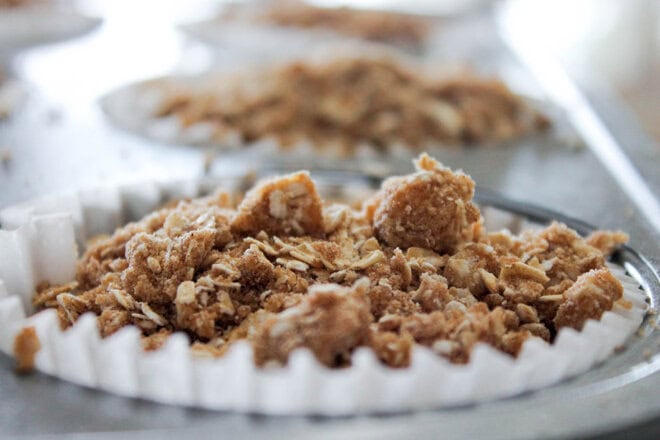 Oh sweet baby Jesus. I don't think I will ever be able to look at zucchini the same way again after biting into one of these fresh out of the oven steaming hot muffins. Let's start from the top … literally. Look at this crunchy overflowing cinnamon, oaty, sugary streusel of the Gods. Don't you wish you could just lick the screen right now?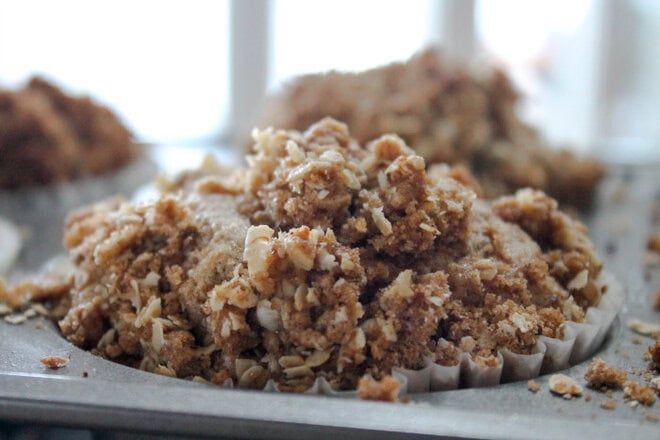 And then once I take the paper liner off … I mean that's the money shot right there right?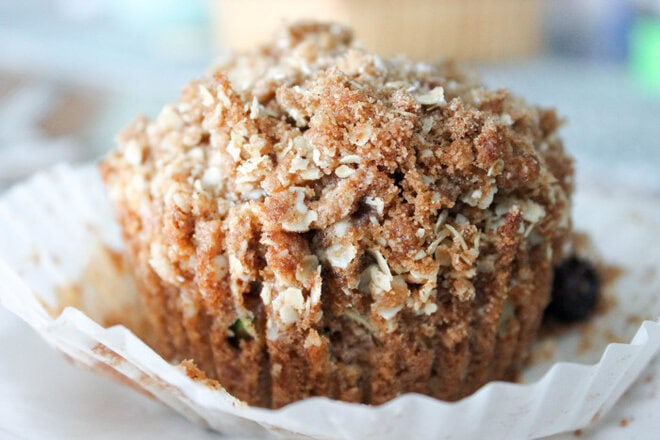 Wrong. This is the money shot. I cut this bad boy in half, put it in the microwave for 20 seconds to really up the ante on this and threw on two slices of butter … and just watched it melt into all the nooks and crannies. Hey, watch it, you're drooling! But look closely … that is steam coming off of the muffin. Look closer and you'll see Skip photo-bombing in the background. But I mean … come on!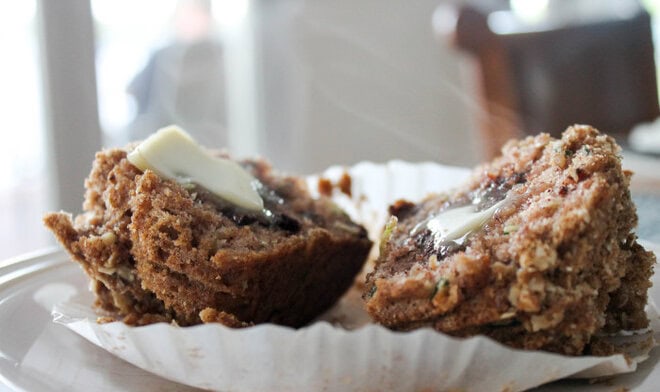 Not convinced yet? Fine … let's get EVEN CLOSER. <Insert Angels Singing here>
Honestly, this is a recipe I'm going to put in the reserves as one of my go-to recipes anytime I need to pull something delicious together quickly. And my mind is already working on ways to incorporate bananas and peanut butter into different variations of this.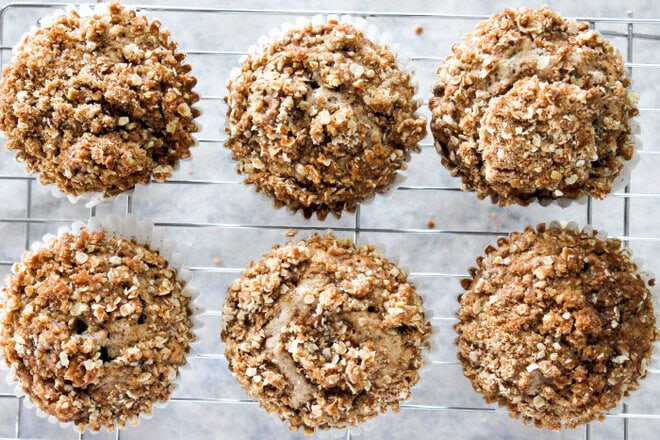 The FDA might want to consider revisiting the Food Pyramid after trying these to make a special spot for a daily dose of Zucchini muffins. My Grandpa was the lucky recipient of these treats this week. I sent them home with my Mom on Sunday and he gave me some initial feedback over the phone tonight that he really liked them (tough critic over here), but I told him to try the microwave + butter version tomorrow and get back to me with more feedback. For my first foray into zucchini sweet treats, I'm pretty happy with how these came out. The spiralized possibilities are endless!