Spiralized Peach Pie Bars
These Spiralized Peach Bars are a great way to incorporate fresh summer fruit and are jam packed with peach goodness! Using OXO's handheld spiralizer you're able to get lots of great peach flavor in every bite!
When I was at the Indulge Conference a few months back OXO was one of the main sponsors of the event and I got to learn a lot more about their different product lines after already being a big fan of their tools for many years. It was at this conference when I was introduced to the Greensaver product line, which I've been now gifting to friends and family because I'm such a big fan! So when OXO reached out asking if I was interested in participating in a campaign for the OXO Hand-Held Spiralizer I think I hit a new world record for fastest email response time ever.
If you haven't spiralized, you haven't lived. I jumped on the spiralizing bandwagon after discovering the blog Inspiralized a year or so ago, and I think I have even convinced my body that I prefer zucchini noodles over regular pasta now. Spiralizing is a great way to incorporate more fresh fruits and vegetables into your diet in a fast, easy and fun way. For someone like me who is constantly on the road, the spiralizer helps me whip up fast, healthy and delicious meals quickly. Zucchini is my go-to spiralized item, but I've also had some great experiments with white potatoes, sweet potatoes, cabbage and a few other veggies. I was relying on my big spiralizer for the past year which gets the job done but is definitely bulky, a bit of a challenge to clean and takes up some valuable cabinet space in my condo. So I told that big spiralizer that I "needed some space" and made way for the new love of my kitchen life: my OXO Hand-Held Spiralizer.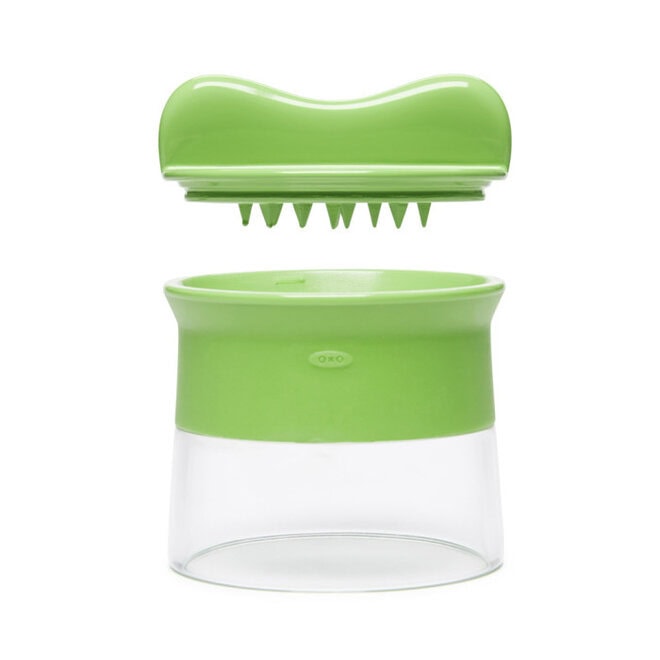 My initial instinct in creating a new recipe was to head straight for the zucchini, but I'm a dessert girl and so I wanted to stay true to my blog and use the hand-held spiralizer to bake up a delicious sweet summer recipe. And I had a big bowl of fresh peaches staring me straight in the face, so I decided to repurpose my Apple Pie Bar recipe from last fall with peaches. (Though I did make this recipe again using half zucchini and half peaches and it was delicious!) One of the challenges I faced last year with the apples in the Apple Pie Bar recipe was getting them sliced small enough that they baked evenly and the bars could be easily eaten hand-held without a fork and knife. You might be thinking … Can you even spiralize a peach? If there's one thing I learned from Forrest Gump, it's that you the spiralizer possibilities are endless.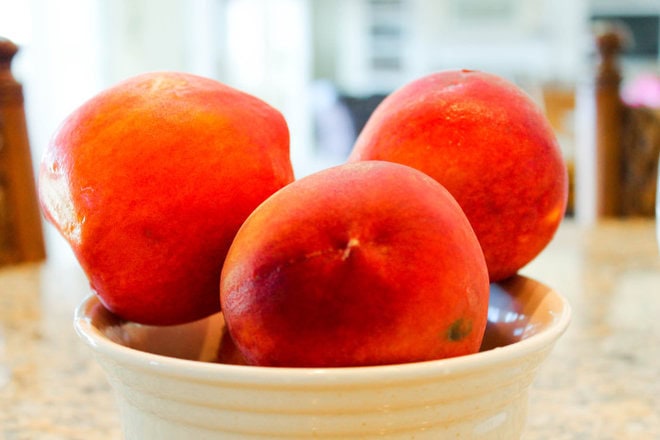 Ingredients:
Shortbread Crust
1/2 cup unsalted butter, melted
1/4 cup granulated sugar
1 teaspoon vanilla extract
1/4 teaspoon salt
1 cup all-purpose flour
Peach Filling
4 small peaches
2 Tablespoons all-purpose flour
2 Tablespoons granulated sugar
1 teaspoon ground cinnamon
1/8 teaspoon ground nutmeg
Streusel
1/2 cup old-fashioned oats
1/3 cup light or dark brown sugar
1/4 teaspoon ground cinnamon
1/4 cup all-purpose flour
1/4 cup unsalted butter, cold and cubed 
Step 1: Preheat the oven to 300 degrees. Line an 8×8 baking dish with parchment paper and spray with non-stick spray.
Step 2: To make the crust, mix together the melted butter, granulated sugar, vanilla extract and salt together in a bowl. Add the flour and stir until everything is combined. Press the mixture evenly into the baking dish. Bake for 15 minutes at 300 degrees while you prepare the rest of the ingredients.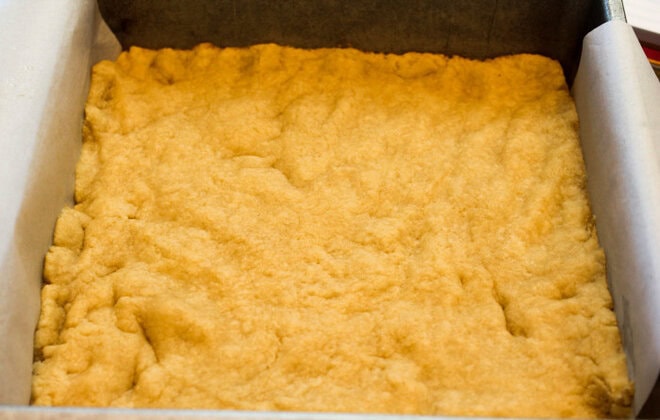 Step 3: To make the peach filling, spiralize each of the peaches using the hand-held spiralizer just until you hit the red part indicating you're getting close to the pit. The easiest way to get the most out of the peach is to spiralize each of the four sides. Using the OXO Hand-Held Spiralizer was much easier on peaches because I could maintain a good grip on the peach the whole time and I felt like I was able to really get the most out of each peach. 
Is a peach noodle called a Poodle?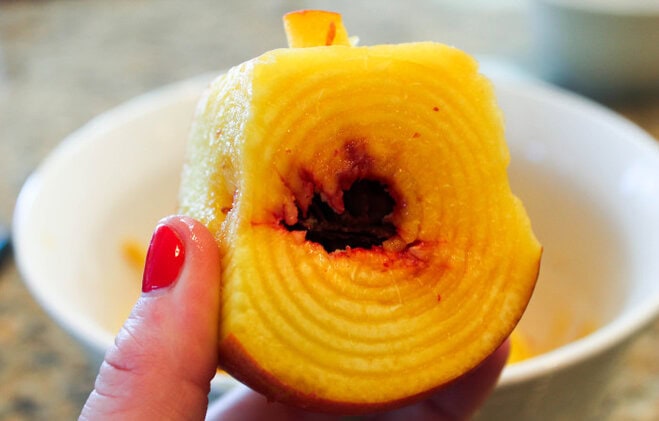 Step 4: Using a kitchen scissors (or a knife) cut the peach noodles into small pieces (roughly a half inch to an inch long). This will just help to make sure there's no Lady and the Tramp style long peach noodles in the bars. Combine the peach pieces, flour, granulated sugar, cinnamon and nutmeg in a large bowl until all of the peaches are evenly coated. Set aside.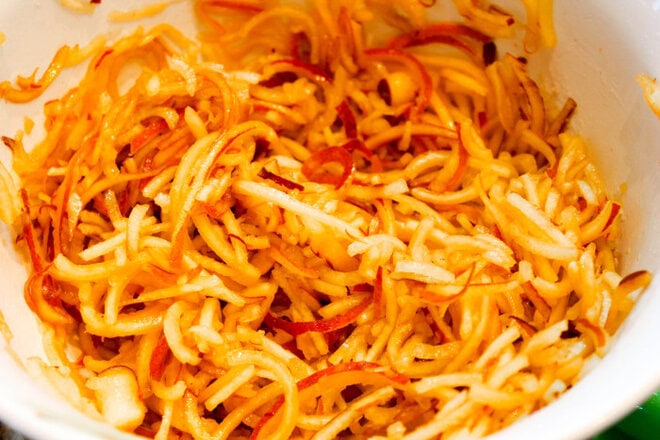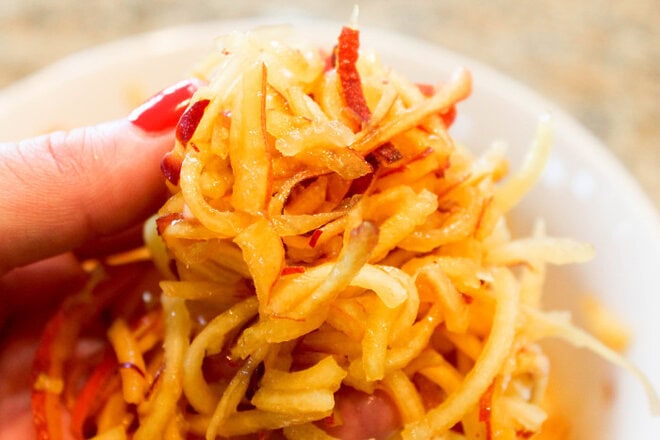 Step 5: To make the streusel topping, whisk the oats, brown sugar, cinnamon and flour together in a medium bowl. Cut in the chilled butter with either a pastry blender or two knives until it is coarsely blended.
Step 6: Remove the crust from the oven, and increase the oven temperature up to 350 degrees. Spread the peach mixture in an even layer on top of the warm crust, making sure to press them down to fit tightly. Sprinkle the peach layer with the streusel and bake at 350 degrees for about 30-35 minutes or until the topping is golden brown.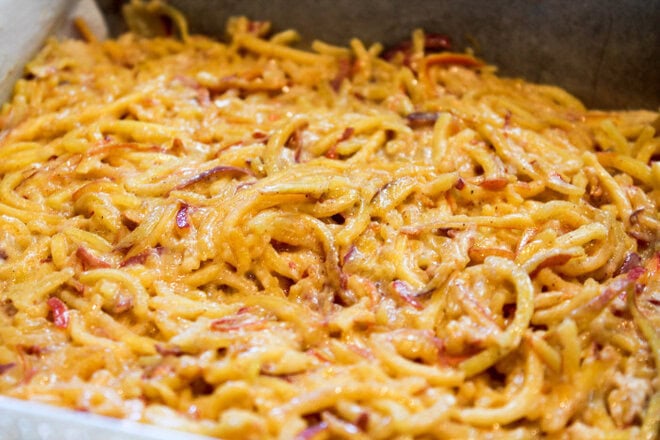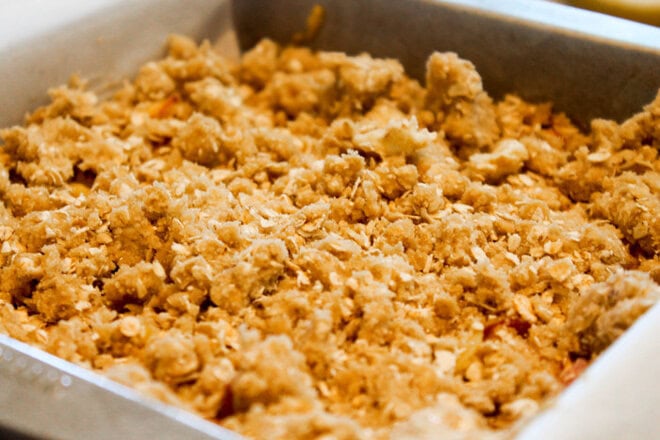 Step 7: Remove from the oven and let the bars cool to room temperature and then put them in the fridge to chill for at least 2 hours in order to cut the bars.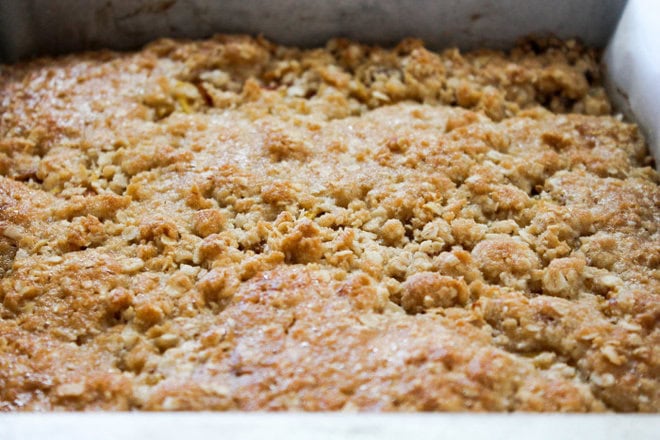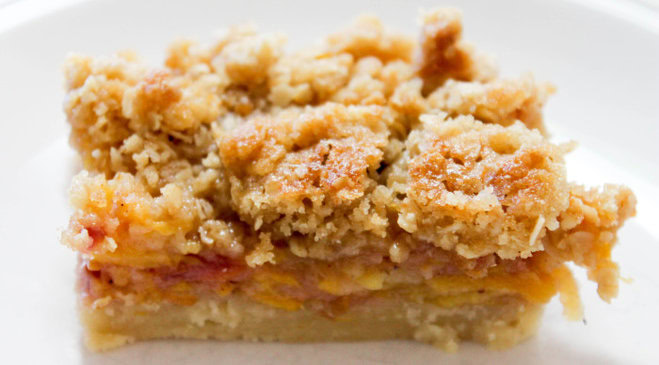 These bars taste just like a delicious peach pie, but are easier to transport and hand-held! Plus with the spiralized peaches you get so much peach in every bite.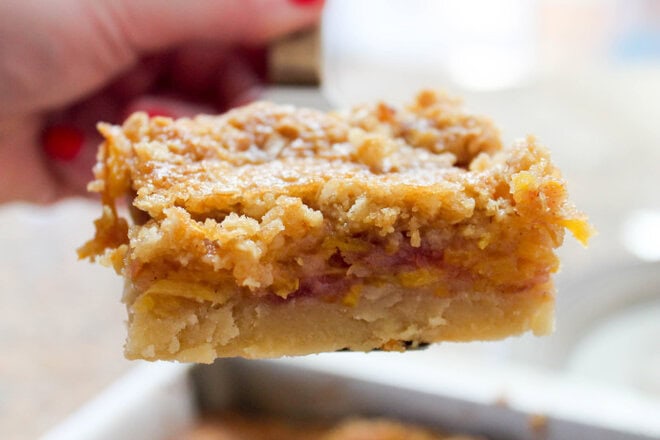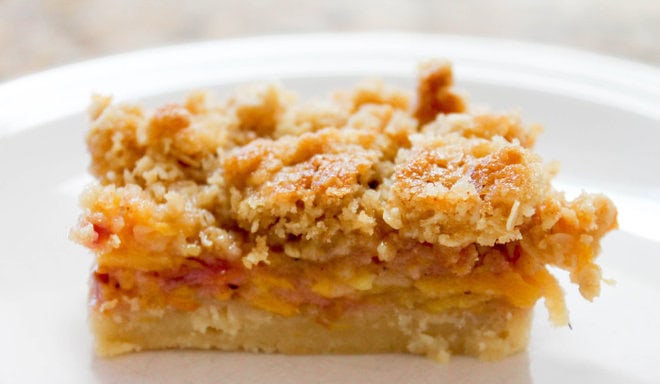 Simple and delicious!I will definitely be bringing these for my next girl's night or even brunch. I think you can easily get away with these as a delicious brunch treat.  And anything that makes my life easier and less cluttered is definitely a good thing, and I've gotta say I am a big believer in this OXO Hand-Held Spiralizer. It's so easy to use, clean, and I even threw it in my bag last weekend to bake up a few treats for my friend's bachelorette weekend. Can't wait to see all the other delicious treats I can bake using my OXO Hand-Held Spiralizer!
Disclosure: This post is sponsored by OXO, but all opinions are my own.