Caramel Chocolate Chip Cookies
It's Wednesday. It took me a few minutes to actually think about what day it is. Or where I am. It's a funky travel week and I feel totally disoriented. I didn't fly out until Tuesday this week which was a nice treat to have four days at home. Right now I'm on a train from Philly to DC and then I'll end up in Virginia by the end of the night. Given how bananas crappy the internet is on the train right now I am pretty sure I'm going to lose half of this post mid-writing it or just end up posting it way late tonight when I end up at the hotel. Anyways, I'm happier to be on a train than a plane right now, or a car, considering it's a bit of a snowy mess in Philly and DC tonight. Though there's no Pinkberry at the Dulles airport so I'm pretty bummed about that for this week's Fly-Home-Thursday.
Anyways, let's get to the important stuff – the cookies. During one of my recent aimless wandering shopping trips to Target, I was browsing the baking aisle for some new inspiration and came across these new Nestle Delightfulls which are caramel-filled milk chocolate chips. They had a container for peanut butter filled chips which was empty, but I can't wait to get my hands on a bag of those. Sunday afternoon I was going to my friend Sarah's to celebrate her birthday and fake watch football for a bit. And one very redeeming quality in Sarah and probably a key reason we became fast friends is our mutual love for cookies. So I figured this would be the perfect chance to try out a new cookie recipe with these caramel chips.
For my first foray in baking with these, I decided to keep it simple and just follow the basic Nestle Tollhouse chocolate chip cookie recipe and use a combination of these caramel-filled chocolate chips and regular milk chocolate chips. Based on how good these turned out I'm definitely going to be experimenting more with these soon. Obviously with some browned butter cookies, but maybe even some muffins and banana breads. The possibilities are salty, sweet and endless!
Ingredients:
1 cup (2 sticks) butter, softened
3/4 cup granulated sugar
3/4 cup brown sugar
1 teaspoon vanilla extract
2 eggs
2 1/4 cups all-purpose flour
1 teaspoon baking soda
1 teaspoon salt
1 cup milk chocolate chips
Step 1: Preheat the oven to 375 degrees. Beat the butter and sugars together until creamy. Add in the eggs and vanilla and mix well. Scrape the sides of the mixer before adding in the dry ingredients.
Step 2: Whisk together the flour, baking soda and salt and gradually add to the wet batter on a low speed until incorporated.
Step 3: Add in the caramel-filled morsels and milk chocolate chips and mix on a low speed just until evenly distributed.
Step 4: Scoop even-size balls of dough on a sil-pat or parchment-lined baking sheet. Press down lightly with your fingertips before baking. I didn't add any coarse salt on top because the dough tasted salty enough, but I did top a few with extra chocolate chips to be more photogenic. Bake at 375 degrees for 9 to 11 minutes, just until the tops are golden brown. Let them sit on the baking sheet for about 3 minutes to firm up before transferring them to a cooling rack. 
I'm a big fan of these caramel filled chips. They definitely add a really nice sweet flavor to spice up the normal chocolate chip cookie nicely. And when you bite into one of these warm cookies fresh out of the oven, the ooey gooey caramel is a nice surprise. If I can get my hands on the peanut butter chips soon, I think a browned butter peanut butter cookie with peanut butter filled chips will be unreal.
I brought these to Sarah's place Sunday afternoon because I needed the real opinion of some tough cookie critics. Maybe people were just amped up on football adrenaline (SPORTS!!), but these got some really good reviews from everyone who taste tested. The only people disappointed were my coworkers Tuesday morning when I showed up cookie-less in Philly (again). I really need to do something nice for my new coworkers .. like actually show up with cookies when I say I'm going to.
But last week I was able to bring some cookie happiness to my colleagues. We had a really nice dinner on Thursday night at The Oyster House in Philadelphia and on the walk home (home being the hotel we live in) we stopped by Insomnia Cookies, which I had been eyeing for a while but had yet to try. So I bought a dozen cookies for my team and we ate them in the street like savages. Or pigeons. Or whatever is an accurate comparison for attacking a pizza box full of fresh out-of-the-oven delicious cookies. They were SO good. I'm still dreaming about the peanut butter one. In exchange for treating for cookies, I made my team pose for this lovely shot.
I was trying to explain this cookie goodness to my Grandpa the other day over the phone. I was telling him how Insomnia Cookies is only open from 4pm to 3am and they deliver. Grandpa was asking who needs cookies at 2am? Everyone. Everyone needs cookies at 2am Grandpa.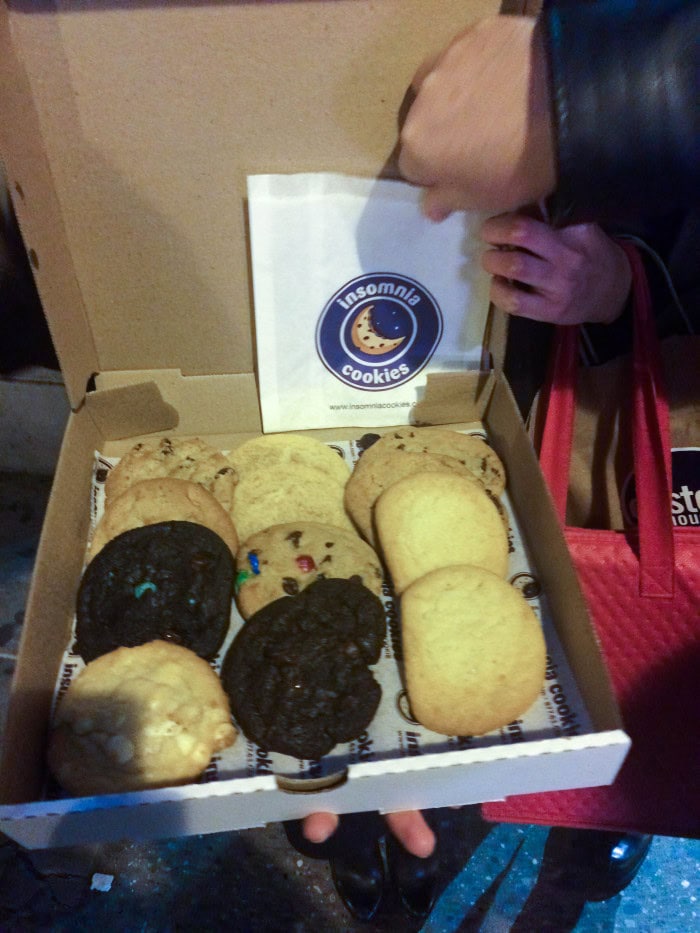 So let's do a quick photo recap of the weekend. Mostly because I'm 20 minutes away from DC and determined to finish at least writing this post before then. I flew home from Philly on Thursday and convinced my coworker to get onboard with the Pinkberry for dinner routine that I've adopted. We circled over Logan for an extra 25 minutes Thursday night, which is a worse torture than circling over PHL in the morning on Mondays, because all I want on Thursday night is to get home, take a shower, and sink into my couch and bed as quickly as possible.
Friday was a big day for house projects while I was working from home. My new dishwasher arrived mid-day and was a super quick and painless installation which was a nice surprise. I realized over Christmas that I'm officially old because I spent some time browsing the appliance aisles of Sears with my parents while I narrowed down my selection of dishwasher and then purchased it in Boston and have been anxiously awaiting it's arrival. My old dishwasher sounded like an airplane was taking off and just got wicked lazy about actually cleaning the dishes well. So this new Bosch one is silent and does it's job right. Yay adulthood!
Later in the day the Crate and Barrel delivery guys brought my new media stand for the family room. I've been trying to find a good TV stand for two years, and spent some time toying with the idea of mounting my TV and researching how to assemble a TV bed.  I picked this out two weekends ago shopping with my favorite furniture buddy Lauren, and talked the C+B people into some good discounts. Lauren even found an additional discount online Friday so I saved an extra $40. Wahoo.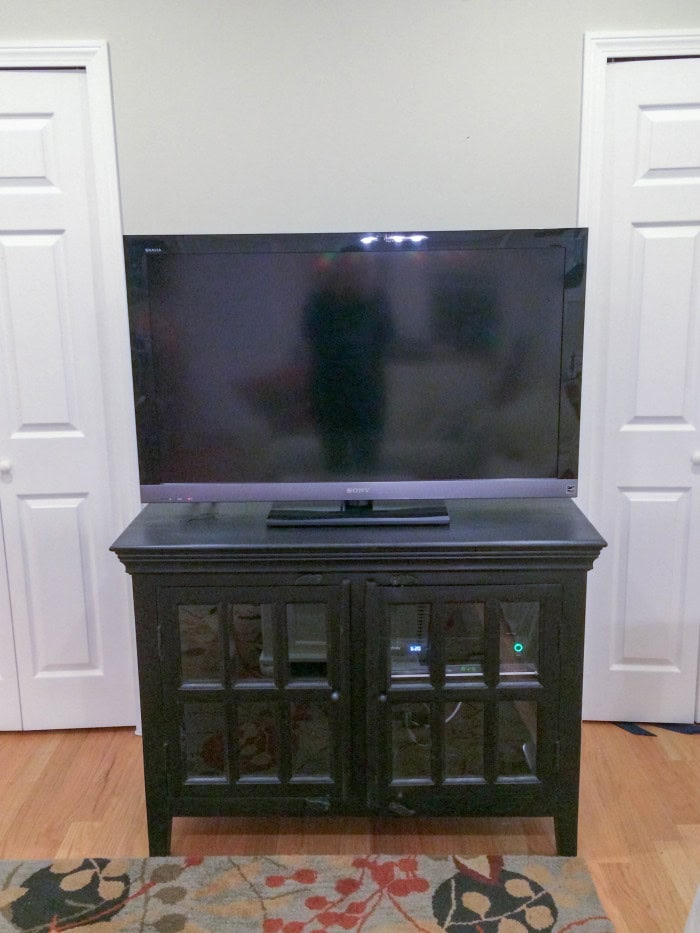 I'm not an artsy person, but being a homeowner I've learned that you do need to actually put things on the walls. I've been trying to find some larger art for the walls in my family room. My brother had gotten me this great Boston College campus map from City Prints Maps Art two years ago as a housewarming gift. I was emailing with one of the owners of the site to try to find a Cape Cod print which I thought would go nicely in the house. They did this custom print of Harwich – my favorite part of the Cape – where the lake we live on is right in the center. They did such a nice job, I was so happy with how it came out and it looks perfect on the family room wall. If you're looking for a good gift, I highly recommend working with these guys, it was such an easy process and I couldn't have been happier with the result.
Friday night my friend Caitlin was coming up from Connecticut to visit her parents for the weekend. We originally had plans to go out to eat, but after so much eating out while on the road I just can't eat in restaurants on weekends anymore. So I picked her up from the train station and we cooked a nice dinner of chicken, zucchini noodles and garlic bread which we enjoyed very relaxed in sweatpants. We also tried Jeni's ice cream for the first time, which I have heard great things about but think a $9.99 price tag for a pint of premium ice cream seems a little high. But it was definitely a nice treat- we had the dark chocolate peppermint flavor, and it was really good.
Saturday I did a bunch of things. Got mani/pedis on Newbury Street with my friend Gabby. And ran a bunch of errands. Sunday morning my friends Molly and Amanda came over for brunch, which I was also happy to host at my place instead of a restaurant. We had baked bacon (I'm a big fan of this cooking method now), a vegetable frittata, lots of fresh fruit and skillet potatoes. It was so relaxing to just sit in sweats and not feel rushed like you do at a busy brunch place. Honestly I think I'm going to start having open invites on the weekends for anyone who wants to come over and have a meal cooked for them or bring a bottle of wine. Cooking is something I miss so much when on the road, so it's a great way to fit in seeing friends in a relaxed way and cooking while I'm home.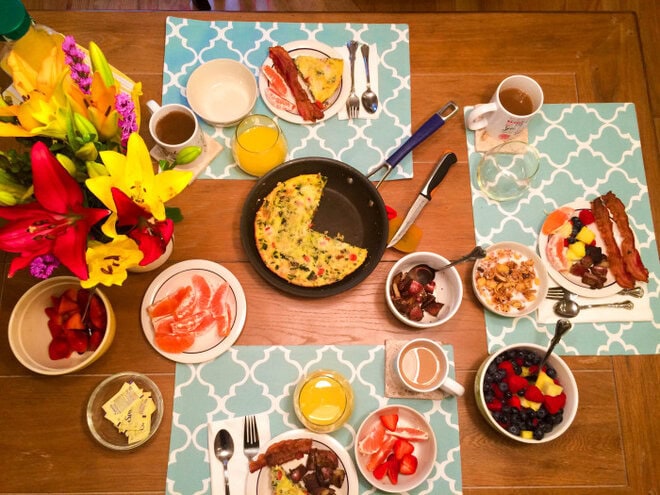 Sunday was nice to fake watch some football and see Sarah and friends on her birthday. No Sunday scaries because I got to work from the Boston office on Monday. How about this view of Boston from up high in the Hancock Tower?
And even better, this view, of the delicious lunch I had with my favorite Back Bay lunch buddy Josh at Met Bar on Newbury Street.
Monday night I fit in a good hour of tennis with my friend Heather, who was so sweet and made me this delicious chicken pot pie that I enjoyed steaming hot for dinner while editing photos for this post.
So that's it for this week. Looks like we're actually going to get some snow in Boston this weekend, which I can't complain about (but I will) because we've had a pretty tame winter to date. And it will be a good excuse for a Sunday Netflix marathon. And maybe cooking for anyone within walking distance. Next week is another bananas cray cray week with travel heading to both Philly and Denver. I'm hoping to squeeze in a quick visit with my college bestie who lives out that way so I'm not totally dreading 3 flights in 4 days. And with that, I'm packing this laptop up and headed into DC for dinner. (Post script: We had a great dinner in DC to wait out the traffic before the 45 minute drive to lovely scenic Virginia. Check out my instagram @thesaltedcookie to see the Smore's dessert that was unreal. Not a bad way to end a long hump day).