Nutella Stuffed Cinnamon Sugar Muffins
Tuesday is the new Sunday for blog posts apparently. I'm definitely a little less punchy on a Tuesday in Philadelphia than I used to be on a Sunday night in Boston, but if I tried to post on Sunday nights now before my weekly Monday 4:30am wakeup call I think I'd scare most of my readers away. I've started to adopt old lady routines to get myself all relaxed and not stressed out before flying out on Mondays. It usually involves hot baths with lavender, turning my phone off for a bit, and going to bed early. By Tuesday I usually can tell what day of the week it is and I've adjusted to another week of hotel life. The one good thing about this travel schedule is that it's made me a little more diligent about baking earlier in the weekend and not leaving recipe creation until late night Sunday. Because I like to try to get someone else to eat the baked goods earlier in the weekend since now I don't have the luxury of easily transporting baked goods to work Monday morning. I do miss my Sapient cookie list sometimes.
This week I decided to do some early morning Saturday baking in time for what was supposed to be a tough tennis match in the afternoon. Friday we had a belated holiday party for our entire women's tennis team – past and present – which involved a Yankee swap. A shockingly rowdy and inappropriate Yankee swap for a diversely-aged group of ladies. I'll leave it at that, it's definitely one of those "you had to be there" kind of stories. So as my contribution to the Yankee Swap I bought the Cookie Dough Lover's Cookbook and Sally's Baking Addiction. I already have the Cookie Dough book and it's one of my favorites to gift. I've had my eye on Sally's Baking Addiction since I love her blog, so because I knew I wouldn't be able to steal back my own gift, I ordered an extra copy for myself. I was browsing through it with my morning coffee on Saturday and came across the recipe for these Nutella Stuffed Cinnamon Sugar Muffins. For home tennis matches we have to bring some snacks which people rarely even eat, but I figured this was a good time to test out a new muffin recipe. I happened to have all of the recipes on hand so figured I would give it a try. I'm not usually a big Nutella fan, but the combination of a fresh-outta-the-oven cinnamon sugar muffin with melty Nutella … I'm a believer.
Ingredients:
Muffins
5 tablespoons  butter, softened
1/2 cup granulated sugar
1 egg
1 teaspoon vanilla extract
1/2 cup milk
1 and 1/2 cups all-purpose flour
1 and 1/2 teaspoons baking powder
1/2 teaspoon ground cinnamon
1/4 teaspoon ground nutmeg
1/2 teaspoon salt
8 teaspoons Nutella
Cinnamon-Sugar Topping
1/4 cup granulated sugar
2 teaspoons cinnamon
3 tablespoons unsalted butter
Step 1: Preheat the oven to 425 degrees. Line 8 regular-sized muffin tins with muffin papers or grease with non-stick spray. (I do both).
Step 2: In a mixer, cream butter and sugar together for a few minutes. Beat in the egg, vanilla extract and milk. (I used Buttermilk this time). Slowly stir in flour, baking powder, cinnamon, nutmeg and salt until just combined, being careful not to overmix.
Step 3: Spoon 1 heaping tablespoon of batter into the muffin cup. Top with 1 teaspoon of Nutella in the center of the muffin and top with another heaping tablespoon of batter on top. I was able to make 9 muffins, but I think you can make 8 if you fill each tin to the top.
Step 4: Bake at 425 degrees for 5 minutes, after which reduce the temperature to 350 degrees and bake for an additional 15-17 minutes until the batter is set. Let the muffins stand for about 5 minutes outside of the oven to finish setting.
Step 5: While the muffins are setting, make the cinnamon sugar topping. Melt the butter in the microwave and in a separate bowl mix the cinnamon and sugar. Dip the top of each muffin into the melted butter and then dip it into the cinnamon sugar moving it around to ensure it is well coated. I was being lazy and impatient and mixed the sugar with the melted butter, but they still turned out pretty delicious anyway.
I think these cinnamon sugar muffins would be great on their own, but once you take a bit and the melty Nutella hits your taste buds, oh baby is that a life-changing muffin. I'm talking Angels singing and rays of sunshine kind of muffin. I think I'm definitely doing to be doing some experimenting with this recipe. Maybe a banana muffin with a peanut butter inside. Or cookie butter in a muffin. Endless muffin possibilities!
So quick recap (actual quick one this time) of last week. It was the first travel week back to work after a nice airplane-free holiday break. I'm back in lovely Philadelphia which I am actually trying to try to embrace a little bit. Although it was in the negatives with the windchill last week, so I primarily stayed indoors as much as possible. I was reunited with my work friend Maya. It's important to find people on your project team who enjoy the same things you do: food, the gym, and endless amounts of vino. We've decided to start trying some new restaurants (though GrubHub delivery to the hotel when it's cold is a pretty nice deal). So we ventured to try a really good Mexican place El Rey, where we had tacos for two and guac. Dinner of champions.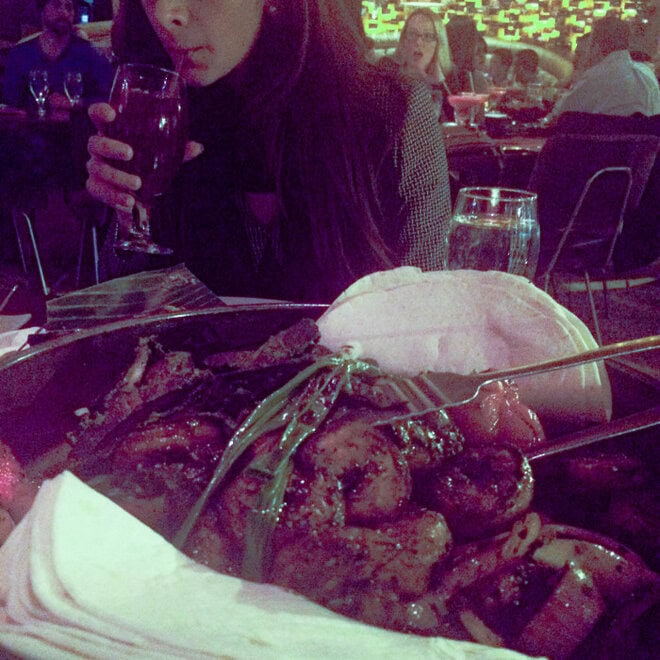 The rest of the week in Philly involved it being too cold to do anything notable. So Friday night we had the Yankee Swap and tennis party, which was just fun and memorable. This picture does not do justice to the actual scene taking place. Yankee Swaps are intense!
Saturday's tennis match was a total bust. We crushed them in 45 minutes without breaking a sweat. After running a bunch of errands, I was happy when my friend Amanda and I decided for sweatpants and vino instead of going out. I've been wanting to try some baking in my cast iron skillet, so this seemed like a good opportunity to whip up a cookie skillet. It was my first time making it and damn was it good. We taste tested it and luckily Amanda brought the rest home to the boys who crushed it in less than 5 minutes. This is another area I think I could definitely experiment in.
Sunday night I adapted my nightly old lady routine to fit in a little more friend time with my friend Ashley. We had a good routine of going for long walks around castle island and ending them at the all-you-can-eat-sushi place in Southie which has since CLOSED since our last walk (RIP Pan Asia). So we did our best to recreate the experience, by freezing our butts off in this chilly walk.
Then ordering an array of sushi from Terayki house. It's no Pan Asia, but it's good. And probably much better for our waistlines.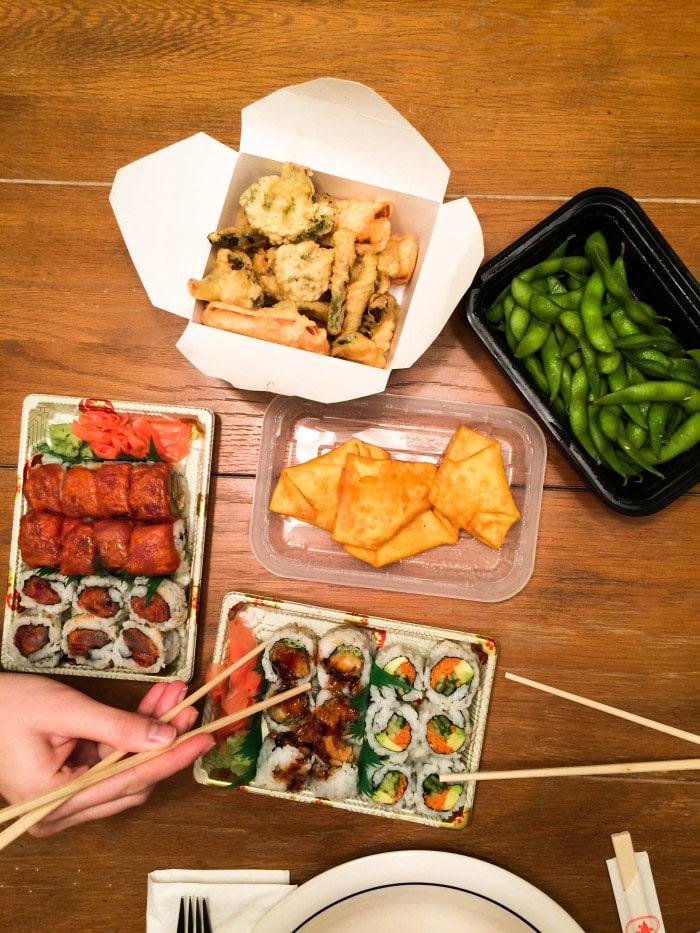 So that's it. Another chilly week in Philly but one more day and then it's Fly-Home Thursday. Wahoo. And I just found out that with MLK Day on Monday I don't have to fly on Monday! Which means my Boston friends should be in for some good cookies on Monday morning somewhere somehow. Hooray!