Pumpkin Toffee Cookies
Holy Bananas. I have finally emerged from the black hole of my Breaking Bad binge where I have spent the past 3 weeks. My addiction to Walter White and Jesse Pinkman consumed my life. Don't worry, cookies were still baked every Sunday but these posts were delayed as I watched back to back episodes to find out what happened to my meth-dealing TV friends. But I'm happy to say after a complete binge of finishing the final two seasons in 3 days this weekend on my trip to NYC, I am now free from my nightmares of being chased by the Mexican drug cartel. Do I recommend you start the show if you haven't seen an episode yet? Well ask yourself this — do you need to go to work, leave the house, or sleep soundly for the next month? If not, sure get yourself on Netflix and start your addiction to Heisenberg's blue stuff. But if you need to remain an active member of society and don't want to constantly be looking behind you if Tucco's henchman are about to shoot your car up or Hank is trying to track down your meth distribution strategies, than honestly, don't start watching the show. But if you DO watch it, I have to agree with all the hype that the season finale is epic and solid and will leave you satisfied. 
But to my dedicated salted cookie fans, I apologize for my Breaking Bad related ADD lately, but I am back and fully dedicated to you and cookie baking as we enter the best time of the year for cookies: the holidays. First, Happy Halloween party people. I have lots of fond memories of Halloween as a kid, because we lived in a great neighborhood for trick-or-treating. My mom did a solid job with throwback thursday pics today and found some of these gems. If you have seen me in grown-up form, you can tell I have been the exact same since I was a small nugget of a human. I always look like I am about to crack a joke, or I am holding back laughter in a serious moment.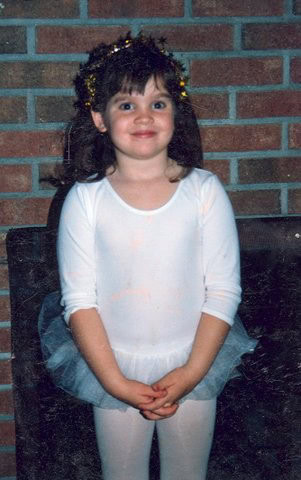 Anyways, I went to NYC last weekend to celebrate my big bro's 30th birthday. So when I got back Sunday night, I needed to whip up a quick cookie because I know better than to show up to the office Monday without cookies in tow. So I picked up some canned pumpkin and toffee from the grocery store on my way home and whipped these autumnal (i love that word, say it with me … awwwTUMMMnal) treats Sunday night. Pumpkin lovers beware, these are so addicting some of my coworkers admitted to eating more than 3 of these in one sitting.
Ingredients:
1/2 cup butter, softened
1 1/2 cups granulated sugar
1 cup canned pumpkin puree (not pumpkin pie filling)
1 large egg
1 teaspoon vanilla extract
3 cups all-purpose flour
1 teaspoon baking soda
1 teaspoon baking powder
1 teaspoon ground cinnamon
1 teaspoon ground nutmeg
1/2 teaspoon salt
1 1/2 cups Heath Toffee Bits
Step 1: Preheat the oven to 350 degrees. Cream together the butter and sugar. Add in the pumpkin, egg, and vanilla and mix well.
Step 2: Sift together the flour, baking soda, baking powder, cinnamon, nutmeg and salt. Add the dry ingredients to the wet mixture and beat until well incorporated.
Step 3: Add in the toffee bits until evenly distributed.
Step 4: Using a medium-cookie scoop, scoop even-size balls of dough onto a sil-pat or parchment-lined baking sheet. Bake at 350 degrees for 12-14 minutes.
These cookies are Autumnally delicious. The toffee is a nice salty sweet crunch that compliments the soft fluffy pumpkin cookie base. These cookies were a huge hit at work and people came back for seconds, thirds, and maybe even a few for fourths. I also was feeling generous on Monday and added a few people to the highly-coveted cookie distribution list.
NYC was a lot of fun last weekend. It's always fun to get the siblings together, and we are big on birthdays in our family. So when oldie mc olderson was turning the big 3-0, we had to make it a family event. The funniest part of the weekend was Friday night when we went out to do karoke for Dan's birthday. His best and funniest friend Mike is a writer on the Jimmy Fallon show, and so when he got up to do karoke it was hard not to cry from laughing so hard.
This is us now: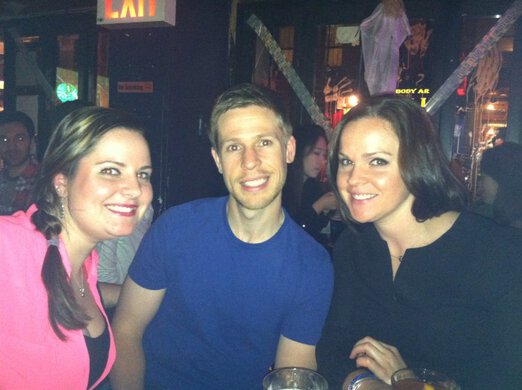 And on Halloween back in the early 90s. I make this face pretty regularly still.
On Saturday my favorite sister-in-law and I did some sisterly bonding at my true mecca (no, not Home Depot) Bloomingdales. And after doing some damage to the credit card there, we went to cheer on Alabama at a Bama gamewatch where they dominated those Tennessee Vols. ROLL TIDE. And after a lovely brunch on Sunday morning with our parents, I hit the train for another 4 hour Breaking Bad binge.
I bought lots of candy for trick-or-treaters in our neighborhood, but unfortunately the great people of Boston don't know how to drive when it drizzles so every road was a parking lot and by the time I got home tonight we only got one trick-or-treater. And because having candy in the house is the same as having blue meth within 2 feet of Skinny Pete, I needed to do something with this candy immediately to avoid eating it. So I used my peanut butter Snickers blondie recipe from last year, and adapted it by adding in a bunch of M&Ms, peanut M&Ms, Snickers, Twix and Milky Ways all chopped up. Delicious, chocolate, and peanut buttery crunch in every bite. I think my coworkers will appreciate the sugary Friday morning surprise.