Monkey Chunkies
Another Sunday, another late night blog post. I have a good excuse tonight for waiting until the last minute to write this, and it has nothing to do with the Superbowl. Although I will say I did enjoy Beyonce's half-time show. I'm going to start whipping my hair around like that at the bars and see how that works for picking up guys. This weekend was both relaxing and productive. Usually it's one or the other. I took Friday off to spend the day down the Cape with my parents. It's so quiet down there in the winter, it's still my favorite place on earth. My mom and I went shopping in Chatham to find some Cape Cod chotchkies for my condo. We also spent a long time looking through all of the photo albums to get some good pictures to hang around my room.
My roommate and I are going to start a mirror and picture hanging company called "Nailed it!" because we have successful hung 3 large mirrors and several complicated picture frames this weekend, including drilling some holes in the wall, learning how to use a level, and pretending how to use a stud finder. Each time we would hang something, we'd step back, assess our work, and then fist pump and yell "nailed it!" like the mature mid-twenties ladies that we are. So that's what we were doing tonight while the rest of the world was watching football. We'll probably need to send some of these cookies to the girl upstairs who must think we don't know how to use a hammer and have some wicked terets.
Last week I made those Chunky Lola cookies from Flour Bakery and I couldn't help but think I really wanted to come up with something as simple and delicious as those. Honestly, I just wanted a cookie with a better name than listing all of these ingredients out. These Monkey Chunkies are not it, but it's an experiment that still turned out well. My taste tester was my friend Caitlin today who came over to witness the cookie experimenting, and can attest that I make up everything on the fly. Which also means, some of these measurements might be a little rough.
Ingredients:
1 stick butter

6 tablespoons smooth peanut butter
1 cup brown sugar
1/2 cup granulated sugar
1 egg yolk
1 teaspoon vanilla
3 bananas
2 cups flour
1 teaspoon baking soda
1/2 teaspoon salt
1 1/2 cups instant oats
1 cup peanut butter chips
2 Ghiradelli Bittersweet chocolate bars
Step 1: Preheat the oven to 350 degrees. In a medium saucepan over the stove melt the butter and peanut butter. Set aside to cool.
Step 2: Combine brown and granulated sugars. Once the melted butter mixture is cooled, mix the butter and sugars together. Add in the egg yolk and vanilla and mix well.
Step 3: Mash together the bananas in a separate bowl. I use a mash potato masher because it's more effective than a fork.
Step 4: In a separate bowl, sift together the flour, baking soda and salt. Incorporate into the wet ingredients. Add in the oats and mix well.
Step 5: Coarsely chop the chocolate bars. You can also use the Ghiradelli chocolate chips, I would estimate about 2 cups. The bars were on sale today and I like the bigger chunks anyway. Add in the chocolat chunks and then add in the peanut butter chips. These are optional but I figure why not.
Step 6: Refrigerate the dough for at least half an hour. It's better to chill it for longer, but we wanted to start the taste testing. Using a small cookie scoop, place even-size balls of dough on a sil-pat or parchment-lined baking sheet. Bake at 350 degrees for about 12-15 minutes.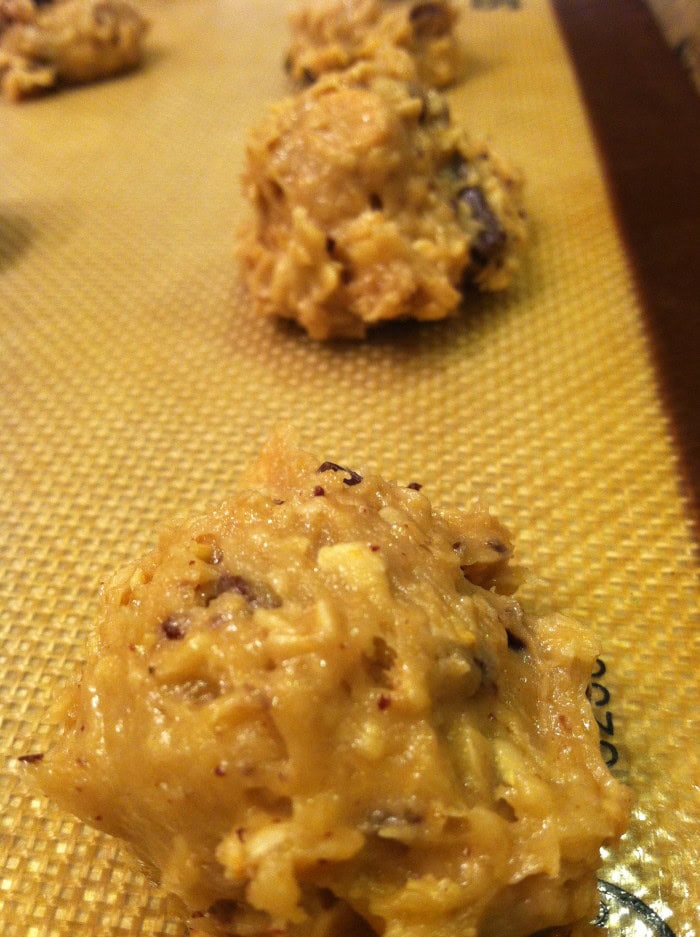 These turned out pretty good. I like the way the Chunky Lola from last week had a little more of a crunch to it. These are a little more cakey, but still really good. I wanted to put coarsely chopped peanuts in there too, but I forgot to buy them. I love anything peanut butter and banana flavored and I am really starting to love baking with bittersweet chocolate. Plus, with eggs, peanut butter and oatmeal, these are pretty much acceptable as breakfast for my coworkers tomorrow.
Here is a sampling of some of the mirrors and photos we hung this weekend. Seriously, nailed it.
Front hallway, with the table from West Elm that I put together. Took the mirror out of the bathroom and put it in the hallway. And there is some Cape Cod flare.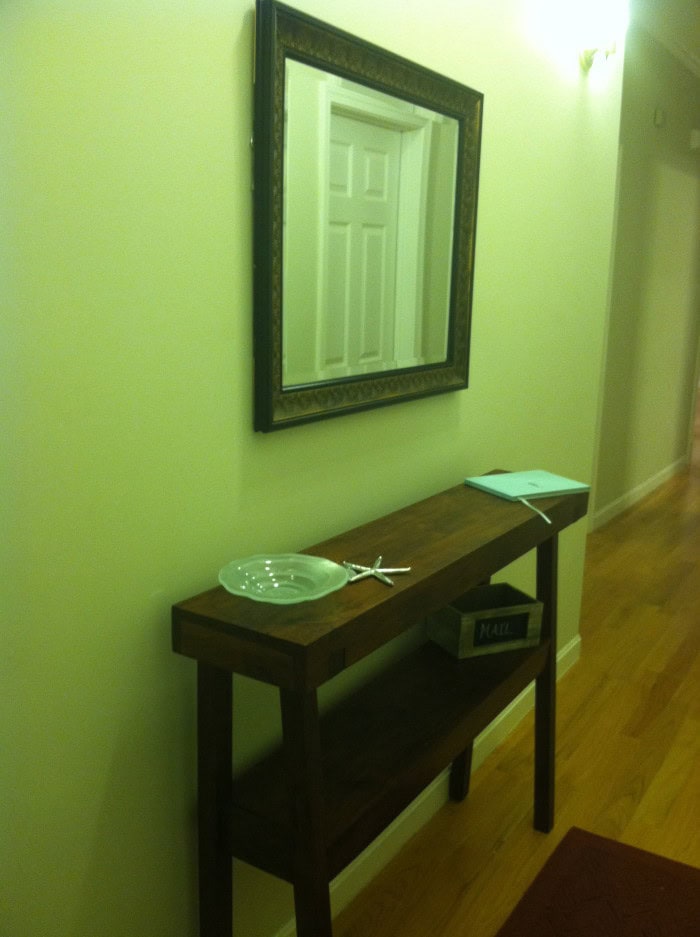 Bedroom photos. This involved stud finding, drilling holes, using anchors and trying to keep it level. I just need 2 more photos to finish this one.
This is the perfect photo for the second half of the long hallway. It's a really cool map of Boston College that my brother got me.
And to finish it off, I'll be posting more of these in the coming weeks, but I'll leave you with this photo I found this weekend. You know how much I love my Grandpa, because he is hilarious and he is my good luck charm for finding parking spots. But it's clear to see even when I was a tiny little nugget, I found him very funny. I called him this week because I wanted him to watch the new reality show Southie Rules (dont bother, its trash) so that he could see the neighborhood I lived in. He hated the show (as anyone with any sense would) but he did say he liked seeing all the houses in Southie that had the bay windows I tried to describe to him. And now when I call him at night as my good luck parking spot finder charm, he knows exactly the block I am driving round and round 🙂