Browned Butter Pecan Chip Cookies
Freezing cold. Bad weather forecast for tomorrow. Lingering headache from a pinot-filled Saturday night. 4am alarm set. 5am cab. 6:20am flight to Philly. Now that's a recipe for a wicked case of the Sunday scaries. There needs to be a socially acceptable human-version of hibernating for the winter like bears do. I could put on some comfy sweats, crawl into a dark hole and watch Netflix until Summer arrives. Winter is coming. And unlike Elsa, the cold bothers me. All the time.
So I survived the first two weeks at my new job. Hooray. Both weeks involved Mon-Fri travel, which meant when I landed at 7:30 Friday night and came home, I was passed out hard on the couch by 9:00. For my current project, I'll be working in downtown Philly which is kind of interesting since I've never really been to Philly. Last time I worked there for 4 months I was way out in the burbs about an hour outside the city. But being downtown is kind of nice because it will be easier to get into my regular city-living routine quickly. So I was able to get one very important key takeaway about my new project team last week: they like cookies. Praise Jesus. Because if there is one thing I know how to do, it's bake cookies to get people at work to like me. Now the tricky part is going to be getting the cookies from Boston to Philly on Monday mornings so that by the time they get to work they aren't all smushed. And there's not tons of space available in my carry-on for extra things, so I have them currently in my laptop bag and we'll see how that goes tomorrow morning.
So I got to thinking last week. First impressions are everything. My team already knows that I am sarcastic and filled with one liners. That took all of about 3 minutes to establish that baseline. So for the cookie first impression. It has to be a good one. Mind blowing. But also needs to be able to easily be easily transported 300 miles. Clearly, browned butter is always a crowd pleaser with me. And the cookie needed to be salted, of course. So because I am a really experienced technology consultant who is an expert at the internet, I googled "the best browned butter cookie." And voila. I get this recipe from Joy The Baker. Bam. Solid choice. And my friend Molly had two of them last night and gave them a rave review, so fingers crossed my new coworkers feel the same.
Ingredients:
1 cup unsalted butter, softened
1 cup light brown sugar
2 teaspoons vanilla extract
1 teaspoon molasses
1/2 cup granulated sugar
1 egg
1 egg yolk
2 1/4 cups all-purpose flour
1 teaspoon salt
1 teaspoon baking soda
1 cup bittersweet chocolate chips
1/2 cup coarsely chopped pecans
Coarse sea salt, to sprinkle on top
Step 1: Place half of the butter (one stick) in a medium saucepan and brown it. Remember to keep whisking until after it gets foamy, and as soon as it turns amber and you see the brown bits, turn the heat off and transfer to a separate bowl and let it cool to room temperature (or stick it in the fridge for 15 minutes).
Step 2: Beat the remaining stick of softened butter with the brown sugar for about 3 minutes until the mixture is very smooth. Beat in the vanilla extract and molasses. A trick for measuring molasses is to spray the measuring spoon with nonstick spray so that it glides right off. 
Step 3: Pour the cooled browned butter into the mixing bowl along with the granulated sugar, and beat on a high speed for about 2 minutes until smooth. The mixture should be fluffy. (Perfectly acceptable at this point to scream ITS SO FLUFFY). Add in the egg and egg yolk and beat for another minute.
Step 4: Sift together the dry ingredients – flour, salt, baking soda – and slowly add to the mixer on a low speed until everything is incorporated.
Step 5: Fold in the chocolate chips and pecans until evenly distributed. Wrap the ball of dough in plastic wrap and refrigerate for at least 30 minutes. You have to do this step because of the melted butter, and this will help your cookies maintain a better shape and not get all flat when you bake them. 
Step 6: Preheat the oven to 350 degrees. On a sil-pat or parchment-lined baking sheet, use a small cookie scoop to place even-size balls of dough at least an inch apart. Press down lightly with your fingertips and top with a dash of coarse sea salt. Bake at 350 degrees for about 10-14 minutes, until they are golden brown. Let them sit on the tray on top of the stove to set for a few minutes before transferring them to a cooling rack.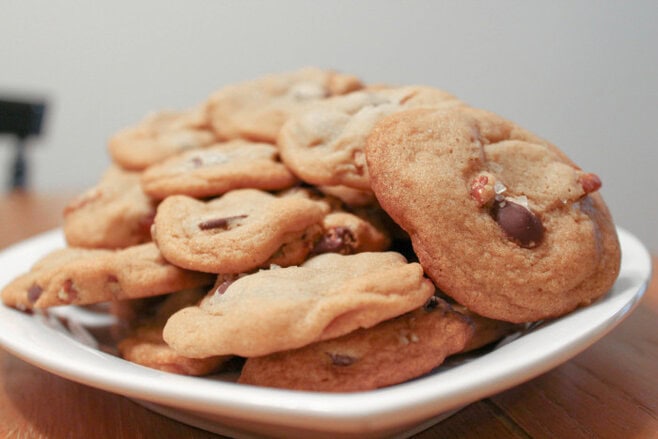 I completely support Joy the Baker's naming of these cookies that they are BEST browned butter chocolate chip cookie. The browned butter and regular butter combo makes these cookies really soft and chewy. I also think beating everything for longer durations of time so it gets fluffy really helps the consistency too. And the bittersweet chocolate and pecan combo? Well, forgettaboutit. Let's hope my new coworkers feel the same about the sweet and salty combo tomorrow morning. 
So let's see. How to recap last week quickly, because it's 9:30pm and I need to get up early and I think there's still a little pinot in my body that I didn't fully sweat out this morning making my head a little foggy. So I'm back at the consulting thing. George Clooney "up in the air" style, all the way. Becoming a pro at packing a carry-on, hotel living and trying to get as many points as humanly possible because that's a status symbol in the consulting world. I already hit Gold status with SPG last week. I'm still in a hate-hate relationship with US and American Airlines. Because it's going to take forever to get status with them, which means twice-weekly anxiety attacks over being in boarding zone 5 and not getting my bag in the overhead.
Here are two views I am becoming very familiar with. First, this is the view from the office I am working in right now. Not too bad. You can see New Jersey. I even ventured to "south Jersey" last week because the hotels were sold out in Philly for a Kidney convention. Yep.
And this is my twice-weekly view. The Philadelphia airport is legitimately one of the worst clusters I've ever experienced. But consistently. Consistency is the only thing PHL has going for it. If you're delayed for under an hour, than you're on time. 
Last night Colleen and Molly came over for dinner. After eating out every meal the past two weeks, the last thing I wanted to do was go to a restaurant. So I made chicken parm and zucchini noodles and we drank all the red wine. And then went to Lucky's for more red wine and dancing. Almost all of my best nights in Boston have been spontaneous Saturday nights that end at Lucky's. The highlight of the night was our Uber cab driver over to Lucky's, where Molly engaged in a riveting conversation with the driver over her infatuation with Somali Pirates. I'd try to explain it, but it was definitely one of those 'you-had-to-be-there' moments to fully appreciate it.
This morning I painfully sweated out all of the red wine with an early morning spin class. And then had a great brunch with my friend Stacie at Stephi's in Southie. So that's it. Not as much hilarity as normal, blame it on the adjustment of not being funemployed. Fingers crossed for good travel weather tomorrow and more importantly, that I get some thumbs up ratings from my new coworkers.